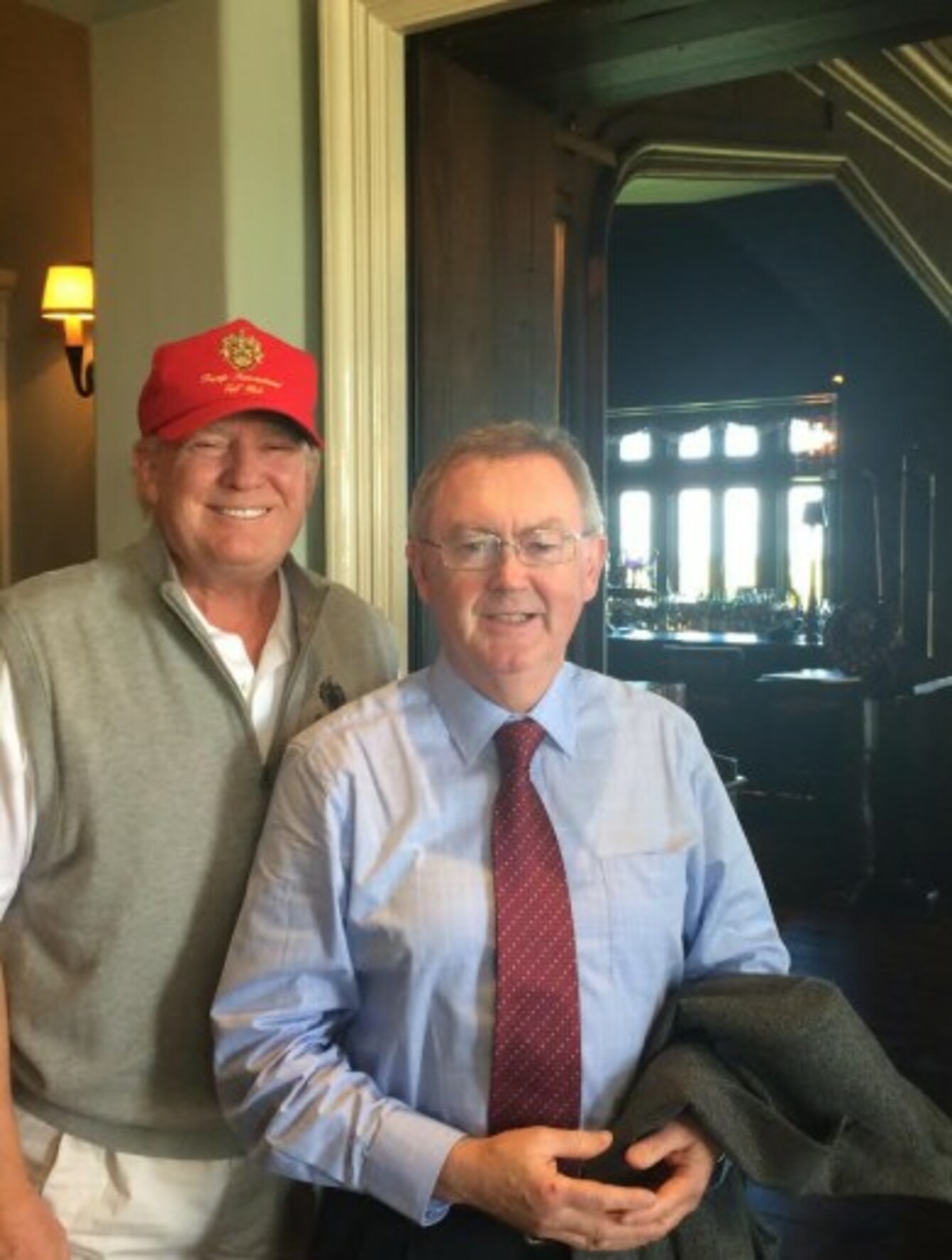 Image: RTÉ
Image: RTÉ
US BUSINESSMAN DONALD Trump arrived in Ireland yesterday, promising 'hundreds' of jobs at Doonbeg golf resort, which he picked up for the bargain price tag of just €15 million earlier this year.
The billionaire made few specific promises in terms of jobs when speaking to reporters at a press conference in Shannon yesterday — though when questioned, mentioned plans for an initial investment of at least €45 million.
He also said he expected the hotel and golf venue would be employing many more people in years to come, as a result of plans to build a new ballroom at the course.
"A lot of people work in ballrooms — they generate a lot of taxes and they generate a lot of jobs," he told reporters.
RTÉ's Seán O'Rourke had the opportunity to grill the tycoon a little more closely on the issue in a one-on-one interview at Doonbeg on his mid-morning Radio 1 programme today — asking Trump whether his announcements at the airport had merely been an example of 'truthful hyperbole'.
The phrase is one of Trump's own: he once defined it as "an innocent form of exaggeration".
On the ballroom plans, O'Rourke asked the businessman whether he could foresee the resort's current high-season workforce of around 250 people being doubled, once the project is completed.
"I could… One of the reasons I'm here is to site the ballroom," Trump said.
There will be more jobs than there ever have been before — but more importantly, the people who have the jobs will keep them.
Trump had also made a claim at yesterday's press conference that 93 per cent of people in Aberdeen approved of his plans to redevelop a golf course there.
The stat's previously called into question, O'Rourke pointed out — notably in the course of a BBC documentary some years ago. Trump was unable to explain to the origin of the figure to the presenter of that programme, Emily Maitlis — and despite a promise to get back to her with the details, his organisation couldn't either.
The Irish broadcaster's probing didn't yield anything further:
Seán, it was done by one of the newspapers, they did a survey a while ago and they had a 93 per cent approval rating.
But asked if he could remember the name of the paper…
No, but I can get it for you, I can get you the information — I had never heard it was questioned.
Before finishing up, O'Rourke also managed a question about the billionaire's unique hairstyle — which has been the subject of countless jokes over the years.
"It used to bother me, years ago," Trump said of the jibes — insisting that it was categorically not a hairpiece.
The RTÉ veteran wasn't giving up, however — pointing out that Trump had, in fact, been wearing a cap throughout the course of the interview in spite of their indoor location.
Oh, I took it off. I have it off all the time.