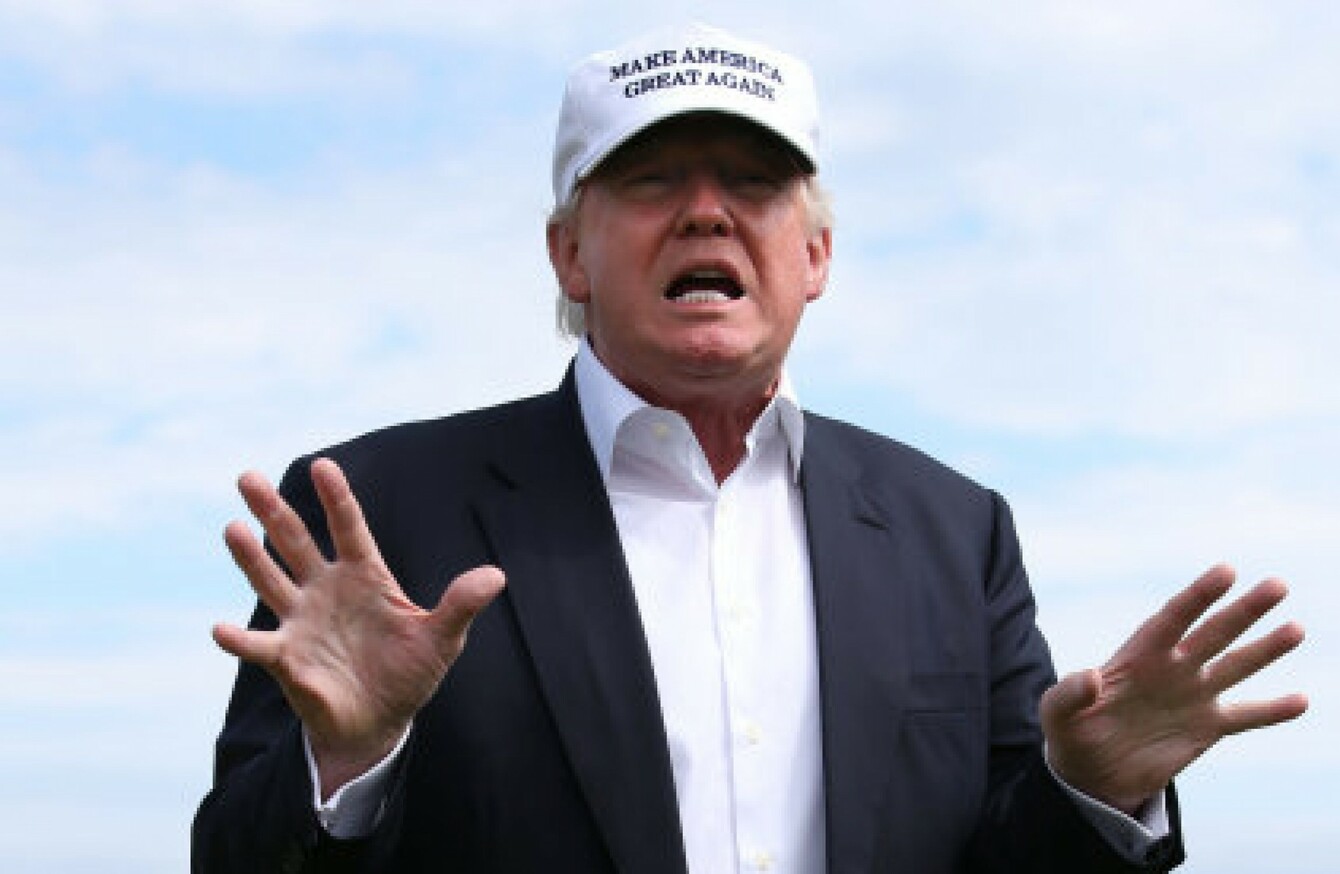 Image: PA Wire/PA Images
Image: PA Wire/PA Images
DONALD TRUMP'S COMMENTS on immigration sparked concern for the undocumented Irish living in the US throughout his campaign, now that he has been elected, that concern has turned to fear.
The Republican regularly stated his plans to track down and deport illegal US residents if he became president.
In an interview with CNN in August, Trump was asked if he would deport those who have lived in the US peacefully but without papers, he said:
There is a very good chance the answer could be yes … we're going to see what happens.
US Immigration Attorney with USAVisaNow.net Caro Kinsella told TheJournal.ie that she's hoping he didn't mean everything he said:
I'm hoping what he stated during the campaign was just to get votes, the first speech he gave after being elected was much calmer. He's a businessman so he may have just been selling something to the public to get votes.
Between 11 and 12 million illegal immigrants are believed to be living in the US, some 50,000 of those are understood to be Irish. During his campaign the Republican outlined three ways that he wanted to deal with illegal immigrants.
He said he planned to take away the birthright of US citizenship from children whose parents are illegal, referring to them as 'anchor babies'.
He also said he wanted to cut federal funding to the 300 sanctuary cities in the US that adopt policies designed not to prosecute people solely for being undocumented.
Describing Trump's other promise to have a mass deportation within his first 100 days in office, Kinsella said, "A mass deportation is physically and technically not possible – it was done for shock and awe.
She said the system would be overloaded as there are millions of undocumented people in the US and the system simply wouldn't be able to tolerate it.
Yes people can be deported – but the thought of pulling people from their sleep and jobs is not going to happen.First they go through the deportation centre and then they have the right to a hearing before an immigration judge and the right to fight their case and discuss the reliefs available to them.
'People are afraid'
"It makes me very nervous to be honest with you. It's nervous times and worrying times ahead."
Mike from Donegal has been living in New York illegally for the past 23 years. He explained to Drivetime on RTÉ Radio 1:
I came here as a young fella when I was 19 years of age. You don't have any thoughts, I just came over travelling and ended up staying.
"Now I'm married to an Irish girl from Donegal and I have three American kids aged 13, 12 and 5."
Asked if he's worried that he could be deported, Mike said, "I can't say it's not going to happen, it's possible. There's no point in me saying I'm not worried, I am.
"He's in and nothing can be done about it and nothing can be changed … the only people who can help us is the Irish Government."
Kinsella said she has witnessed this type of concern steadily increasing over the past year in the shadow of Trump's threats.
"We were getting a flurry of emails and calls every time the media reported something he said. Their question was, 'If Trump gets in, how will that effect my case?'
In the last 12 months it has been gathering momentum. People have been getting more and more anxious and since he's won, that concern exponentially increased.
Executive Director of Chicago Irish Immigrant Support, Michael Collins reiterated this to TheJournal.ie and stated how, "The two months preceding the election have been extremely busy for our legal program.
People are afraid. The past two months, and in the days since the election, we have had a higher than usual amount of immigration inquiries … we have also gotten calls from Irish immigrants who are now looking to return home.
"I anticipate this to increase dramatically over the coming weeks. People will try to get their paperwork in order before he takes office."
Uncertainty 
With the future looking uncertain for many Irish who have set up their lives in America, what is the Irish government doing to help?
Minister for Housing, Planning and Local Government Simon Coveney said the government will continue to advocate for the millions of undocumented Irish, saying, "We will work with you."
When asked by TheJournal.ie what the Irish government planned to do, Coveney said:
We will continue to work with those people regardless of the administration in the US and we will continue to advocate on Capitol Hill, in the Senate, as we have done, and in the White House.
"The relationship between Irish people abroad and Irish people at home needs to be a strong one and this government has a responsibility towards those people and we take it very seriously."
#Open journalism No news is bad news Support The Journal

Your contributions will help us continue to deliver the stories that are important to you

Support us now
When asked if the negotiations between the American and Irish governments to bring about more rights for the undocumented Irish are dead in the water, Coveney said:
"Well, look let's wait see. I think we shouldn't jump to conclusions based on a campaign, as I have said, that has been very divisive and difficult. I think we need to judge Donald Trump now on how he behaves and what he says as a president and let's wait and see where that takes us."
Ireland's first emigrant senator, Billy Lawless, empathised with the undocumented Irish, saying, "They do not know what the future holds or whether they are safe."
He added that the Vice-President Elect has a great affinity for Ireland and was one of the few Republican congressman to advocate for common sense immigration reform.
"Mike Pence is a key figure in the Trump administration and Minister Flanagan must do all that he can to engage him."
Lecturer in Migration Studies at University College Cork, Dr Piaras Mac Éinrí, told TheJournal.ie:
"There was a time when the undocumented Irish fighting for recognition in the States had to decide whether to fight for recognition as a special case compared to other minority groups, or to fight alongside them for status.
The Irish had that extra bit of clout because of political and business leaders with Irish connections – such as McCain but those days are gone now.

If a cold wind starts blowing about undocumented migrants, then there's no reason to believe that the Irish will get a special deal.
Caro Kinsella also added that it's really important to try and stay calm.
Trump may not do anything. He may just have wanted the media attention. It's a great way to get publicity  and he might have been saying it to fund his campaign.
However, she also urged people to make sure they are on the best visa for them and to get their documentation in order.
"My key advice is act now, don't procrastinate, understand your visa. Make sure you're on the strongest visa for your needs – don't just go with one because your friend is on it.
"Also, don't leave it to the last minute to extend your visa or change it – do it in advance as there may be delays in processing visas, a lot more people are anxious and are applying for visas."
Additional reporting by Christina Finn.