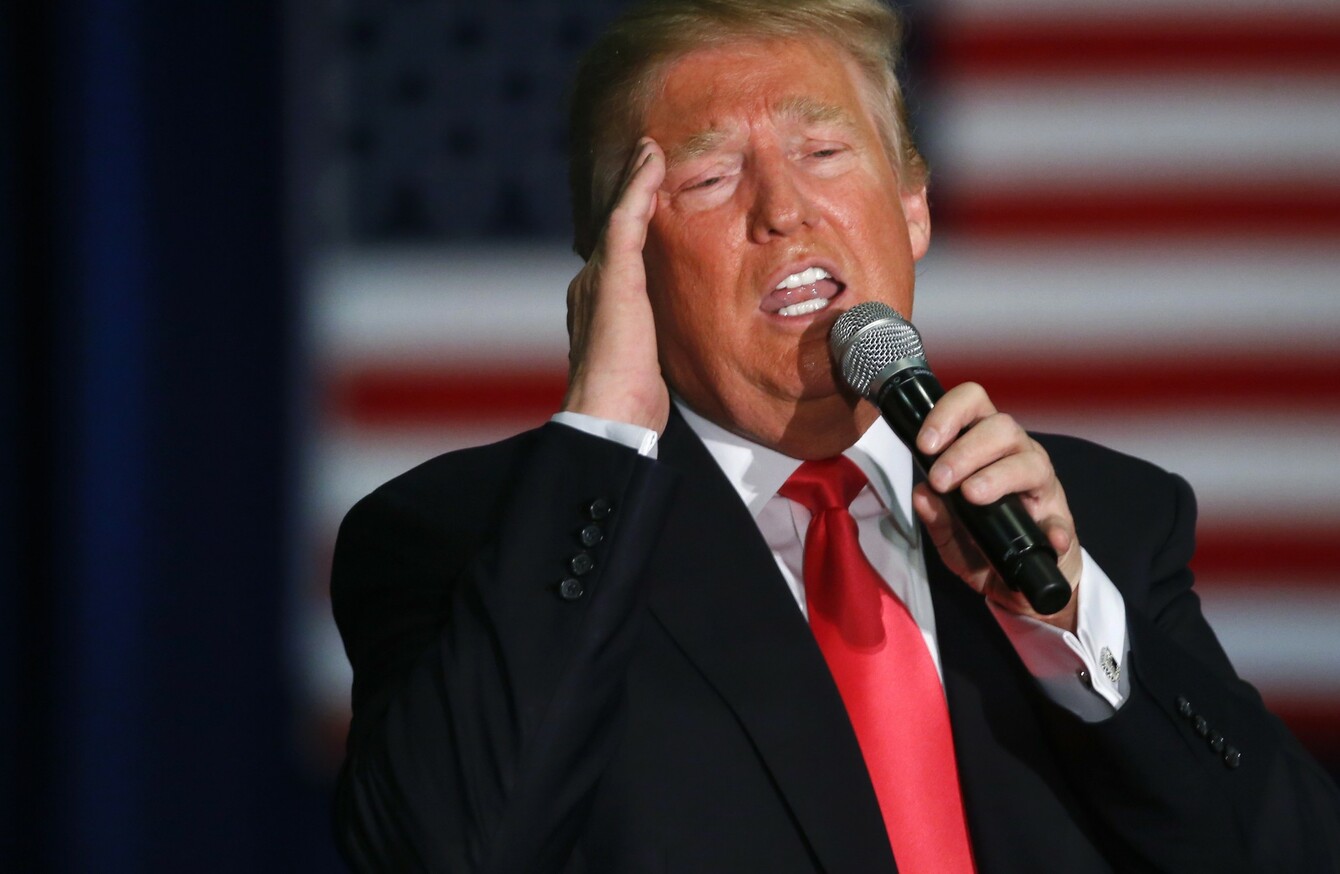 Trump is threatening to come from behind in the Wisconsin contest.
Image: AP/Press Association Images
Trump is threatening to come from behind in the Wisconsin contest.
Image: AP/Press Association Images
FOLLOWING A ROCKY week, White House hopeful Donald Trump is battling fiercely for the state of Wisconsin which votes today.
If Trump, who is riding a wave of anti-establishment anger, manages to snatch a surprise victory in the Midwestern US state, it could suffocate the campaign of his main rival Ted Cruz.
"If we do well here, folks, it's over," Trump claimed at a town hall event yesterday in the town of La Crosse.
Like Trump, Democratic frontrunner Hillary Clinton is at risk of losing Wisconsin, as she seeks to fend off a surging Bernie Sanders who has won five of the last six state-wide contests.
But for Clinton too, April could prove a sunny month, as the former secretary of state and one-time first lady leads rival Sanders by significant margins in New York, which votes 19 April, and Pennsylvania, one of five states to cast ballots a week later.
Trump, the 69-year-old real estate mogul from New York, leads handily in those states as well.
Wisconsin is seen as a Ground Zero of sorts for the anti-Trump movement as the race enters a pivotal phase.
Should they halt Trump there, it would show renewed strength in the presidential campaign of Cruz, the 45-year-old conservative senator from Texas.
If the brash billionaire instead manages to win the state, the birthplace of the Republican Party, it would deal a crippling blow to Cruz, whose campaign is seen as the last chance to prevent a Trump nomination.
"For Cruz, it's a very important win. For Trump, it's not a critical loss," says University of Iowa professor Timothy Hagle.
It has been a bumpy period for Trump. Although his campaign has seemed bulletproof up until now, his latest controversial statements — on abortion, Cruz's wife and a journalist who said she was roughed up by Trump's campaign manager — have further alienated women voters, polls indicate.
With polls for the Wisconsin Republican primary showing Cruz holding a 10-point lead, Trump barnstormed the heartland state to rally support.
And perhaps as a way to soothe women voters' concerns about Trump and soften his image, Trump said his wife Melania was joining him on the campaign trail.
Turning point?
Trump doubled down on some of his more controversial assertions of recent days — that the United States should consider leaving NATO and that Japan should be responsible for its own nuclear defence.
"I want to help other nations, but we don't want to be the fools, we don't want to be the dumb patsies that we are all over the world," he said yesterday, slamming NATO members that "haven't been paying" their share for years.
The winner of today's Republican primary will take most of the 42 delegates on offer. If Cruz wins, he will certainly claim it as a turning point in the race, but mathematically speaking, he will struggle to overcome his overall delegate deficit.
Currently, Trump has 739 delegates, Cruz has 466 and moderate John Kasich, the governor of Ohio, has 145, according to a CNN tally. To win the Republican nomination outright, a candidate needs 1,237.
#Open journalism No news is bad news Support The Journal

Your contributions will help us continue to deliver the stories that are important to you

Support us now
Both Trump and Cruz have called on Kasich to bow out, but the Ohio moderate has refused, insisting he would be the logical Republican choice in the event there is a contested nominating convention in July.
Trump stressed he could sew up the nomination before the confab in Cleveland.
"I think we're going to get there on the 1,237 if you want to know the truth," Trump predicted.
Cruz was similarly positive, telling voters in Wisconsin that "our campaign still has a clear path" to crossing the delegate threshold before the convention.
Some experts said Cruz's assertion flies in face of the delegate math.
"There's no chance he can get to 1,237," said veteran election watcher Larry Sabato of the University of Virginia.
"No question about it, it's simply a matter of whether Trump gets to 1,237. If he does, it's over," Sabato added.
If he doesn't, then we go on to other ballots (at the nominating convention) and anything can happen.