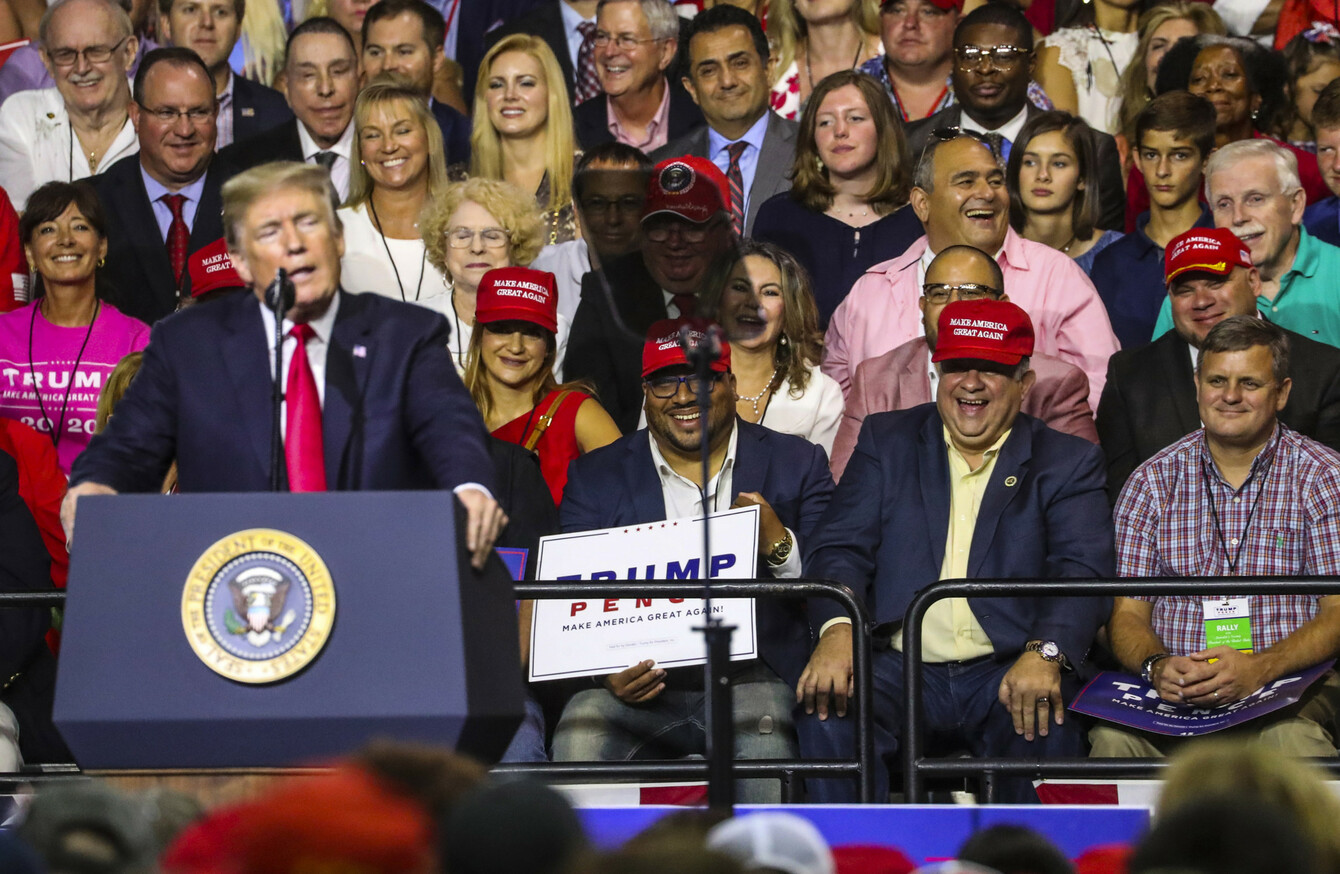 President Donald Trump gives a speech in Florida, July 2018.
Image: SIPA USA/PA Images
President Donald Trump gives a speech in Florida, July 2018.
Image: SIPA USA/PA Images
PRESIDENT DONALD TRUMP'S administration is mired in a perpetual "nervous breakdown", with staff constantly seeking to control a leader whose anger and paranoia can paralyze operations for days, according to a new book by the highly-respected journalist Bob Woodward.
The Washington Post, which obtained an advance copy of the book by the veteran chronicler of modern presidents, has reported that Woodward describes Trump pressing his staff for actions that could lead to major conflict – leaving them little choice but to disregard his orders.
In one anecdote, Trump questioned his National Security Council on 19 January about why the United States maintained a costly presence on the Korean peninsula.
"We're doing this in order to prevent World War III," Defense Secretary Jim Mattis said.
After that meeting, according to Woodward, Mattis said to colleagues that Trump had the understanding "a fifth- or sixth-grader" (or a 10- or 11-year-old child).
Woodward's much-awaited book, Fear: Trump in the White House, shows aides routinely ignoring or acting to block orders by the US president.
Gary Cohn, who was the chief White House economic advisor, went so far last year as to steal an order from Trump's desk that, if the president had signed it, would have cancelled the US-South Korea trade agreement.
At a meeting on 27 July 2017, Trump was asked by Cohn about keeping US troops in South Korea:
"So Mr President, what would you need in the region to sleep well at night?"
"I wouldn't need a fucking thing. And I'd sleep like a baby," he replied.
After Trump left, Secretary of State Rex Tillerson said: "He's a fucking moron."
In April 2017, after Syria's Bashar al-Assad attacked civilians with chemical weapons, Woodward reports, Trump demanded Mattis assassinate Assad.
"Let's fucking kill him! Let's go in. Let's kill the fucking lot of them," Trump told the Pentagon chief.
Mattis agreed to take action, but after he got off the telephone, he told an aide that the United States would take "more measured" steps against Syria – which eventually came as a punitive air strike.
'Crazytown'
Woodward, who does not name his sources but apparently had extensive access to many White House insiders, describes some of Trump's top aides and cabinet members as having deep disdain for him.
Chief of Staff John Kelly told colleagues he saw Trump as "unhinged" and "an idiot".
According to Woodward, Kelly said:
It's pointless to try to convince him of anything. He's gone off the rails. We're in crazytown. I don't even know why any of us are here. This is the worst job I've ever had.
In response to the extracts of Woodward's book, the White House issued the following statement by spokesperson Press Secretary Sarah Sanders:
"This book is nothing more than fabricated stories, many by former disgruntled employees, told to make the President look bad.
While it is not always pretty, and rare that the press actually covers it, President Trump has broken through the bureaucratic process to deliver unprecedented successes for the American people. Sometimes it is unconventional, but he always gets results.
"Democrats and their allies in the media understand the President's policies are working and with success like this, no one can beat him in 2020 – not even close." 
Kelly also responded to the comments that were attributed to him:
"The idea I ever called the President an idiot is not true. As I stated back in May and still firmly stand behind:
I spend more time with the President than anyone else, and we have an incredibly candid and strong relationship. He always knows where I stand, and he and I both know this story is total BS. I'm committed to the President, his agenda, and our country. This is another pathetic attempt to smear people close to President Trump and distract from the administration's many successes.
The looming release of Woodward's book, according to reports, has had the White House on edge for weeks.
The writer, one of a duo with Carl Bernstein whose reporting for the Post on the Watergate scandal brought down president Richard Nixon, has published powerful and often embarrassing insider books on presidents George W Bush and Barack Obama.
The book is scheduled for official launch on 11 September.