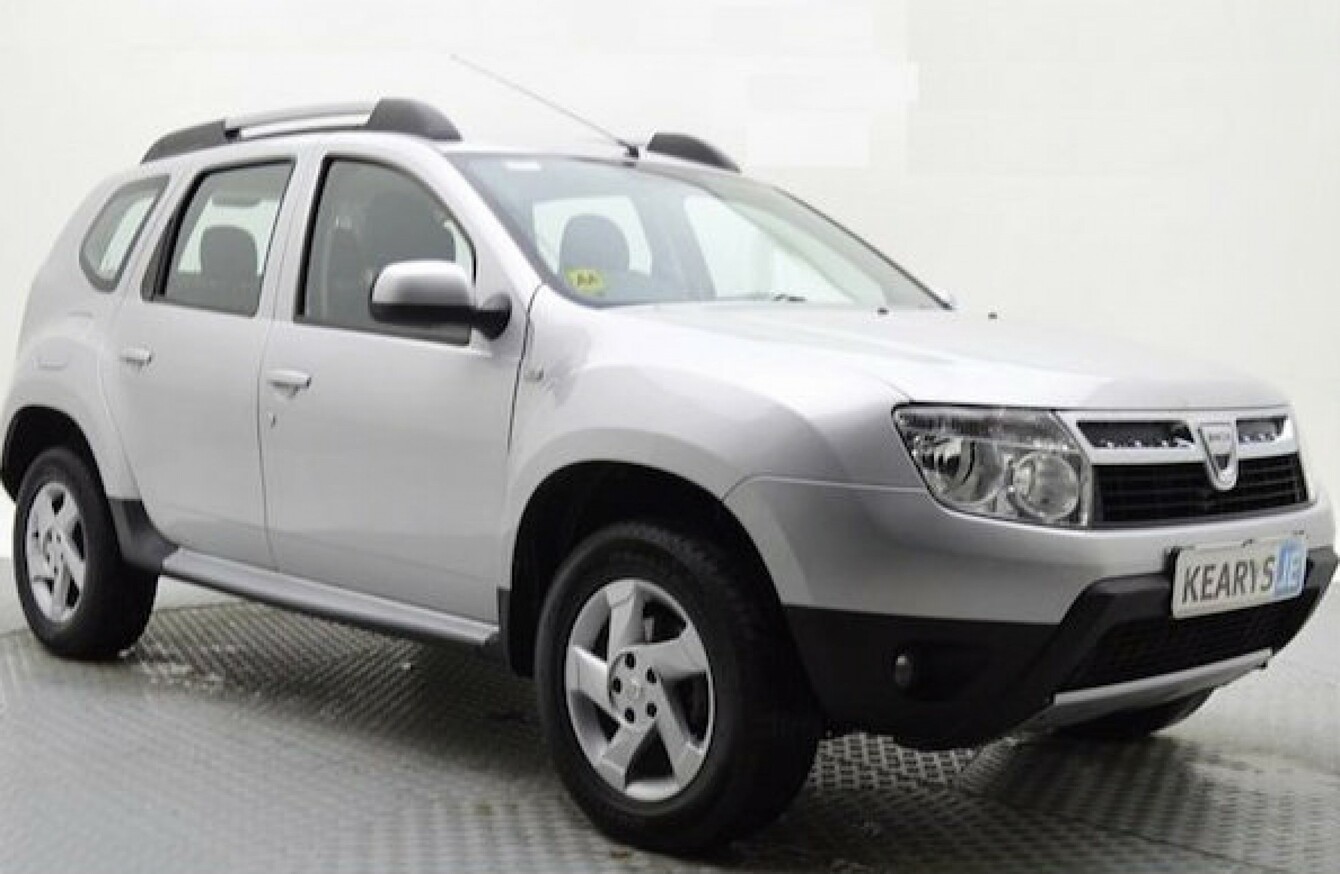 Image: Kearys Renault/Dacia Cork
Image: Kearys Renault/Dacia Cork
LOOKING FOR A rugged SUV with all-wheel drive that is spacious and decent to drive? Then take a look at this 2015 Dacia Duster in Signature trim with a €15,990 price tag.
The Dacia Duster is one of the cheapest 4×4 SUVs on the market but just because it is cheap, that doesn't mean that it hasn't got all mod cons. (It has.) It also has good off-road capabilities and drives well.
It is really spacious with plenty of leg and head room in the front and rear. The boot holds a good 475-litres or 1,636 litres with the rear seats folded.
The 110hp 1.5-litre dCi diesel engine is borrowed from parent company Renault, and mated to a six-speed manual gearbox.
This particular model has remote locking, electric front and rear windows, air-con, cruise control, an on-board computer and Bluetooth. It is fitted with alloy wheels and roof rails and is in excellent condition.
Nissan Qashqai
Got a little bit more of a budget but still want a manual, diesel, SUV with four-wheel drive? Then this Nissan Qashqai might be worth your consideration.
With a price tag of €16,450 this particular model is more expensive than the Duster but it does have a lot more kilometres on the clock – 129,232km compared to the Dacia's 43,750.
However, what the Nissan does have is a proven track record as being a best seller in Ireland and it holds on to its resale value well.
Its 1.6-litre diesel is more refined than the Dacia and the cabin is better insulated making this car quite a quiet ride. However, the boot isn't as large as the Dacia's. It can hold 439 litres or 1,585 litres with the seats down.
This particular 2012 model comes with alloy wheels, air-con, multi function steering wheel, electronic front and rear windows, Electronic Stability Programme (ESP), Bluetooth and stop / start technology.
So, if you want a newer car with fewer kilometres on the clock, a big boot and roof rails than the Dacia is the car for you. But if you want something with a bit more refinement, a more comfortable ride and good resale values then the Qashqai might be the one for you.