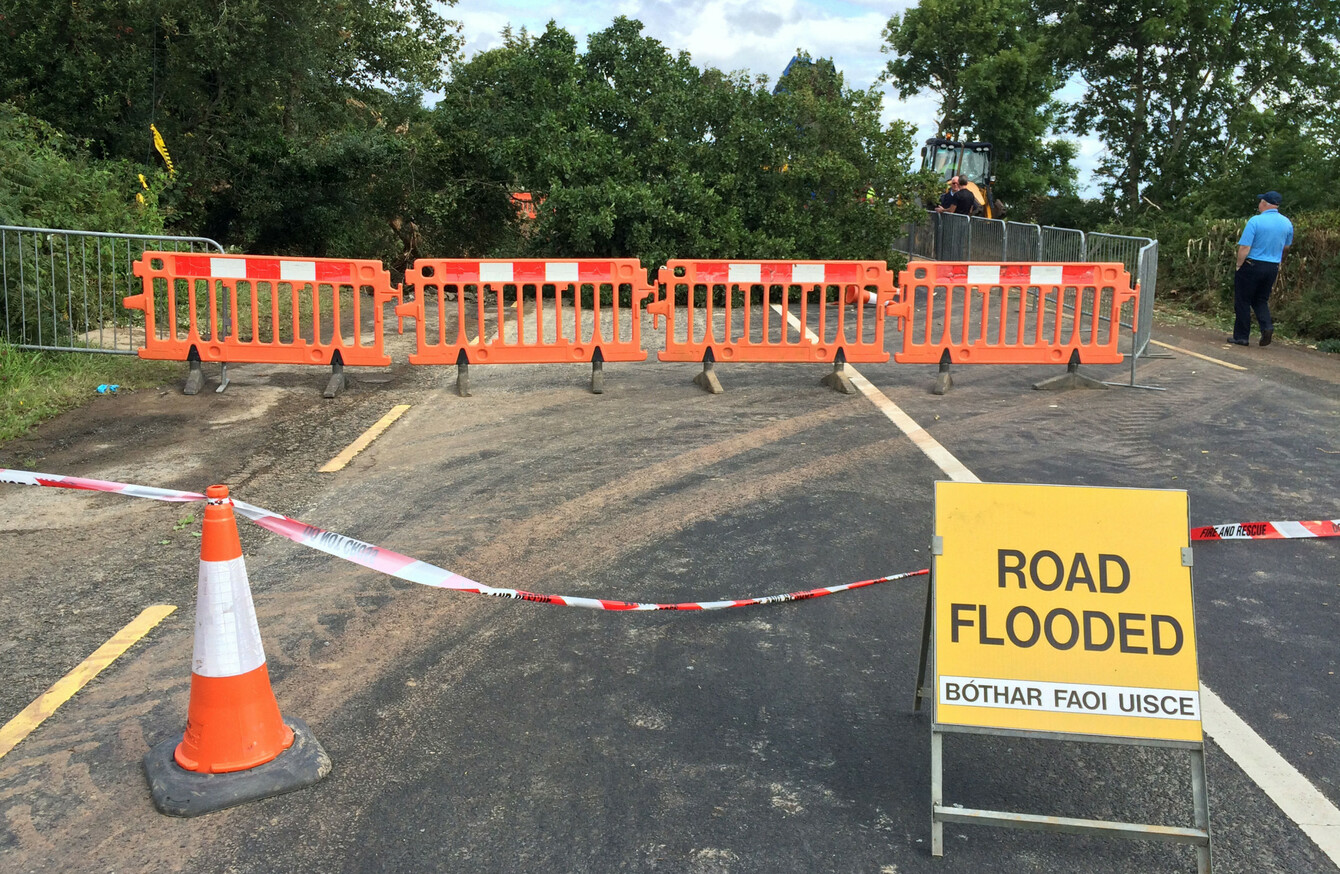 Flood damage on the main Derry to Moville road in Donegal
Image: Brian Hutton/PA Images
Flood damage on the main Derry to Moville road in Donegal
Image: Brian Hutton/PA Images
FARMERS IN FLOOD-hit regions of Donegal will be able to avail of compensation from the government of up to €15,000 as part of support measures outlined by Minister for Agriculture Michael Creed.
Torrential weather a few weeks ago affected dozens of families, after a month's rain fell in just a few hours. People were displaced from their homes and farms, while roads and bridges were badly damaged.
Local councillors told TheJournal.ie that the sheer devastation caused by the flooding is only now becoming apparent, and will take a great deal of time to clear up.
A flood damage survey, completed by the department and Teagasc, was conducted after the awful conditions swept through the area beginning 22 August.
"I witnessed first hand some of the very significant problems that a number of farmers experienced as a result of the sudden flooding event," Creed said.
Confined primarily to the Inishowen region, in Donegal, the flooding caused significant damage to livestock, to fencing, brought significant debris onto farmland and also caused the loss of hay, silage and crops.
The Irish Farmers' Association welcomed the news, with its chairman Michael Chance saying "it's important to deliver this support speedily and to all farmers who have been affected".
In the wake of the damage caused, its president, Joe Healy, said: "The farming community is reeling from the shock of what happened. In some cases, stock has been lost and in other cases, land and crops are submerged under water. Farm families have been cut off because of damage to roads and bridges.
They are facing ruin because of the losses they have suffered.
Speaking to Highland Radio, the Donegal chair of the Irish Natura and Hill Farmers Organisation Henry O'Donnell said that local farmers "welcomed it with open arms", but needed to see what the scheme will look like.
"We need to see what exactly will be covered," he said. "What we will be looking for now is a simple scheme where farmers are compensated."
O'Donnell added that, "in a very small number of cases", the scale of the devastation on some farms was such that €15,000 may not be enough to cover the damage and loss of earnings.
Local Fianna Fáil councillor Martin McDermott said that he is aware of farmers facing damage of up to €60,000 to replace lost livestock, crops and damaged equipment and land.
He told TheJournal.ie: "It's a start, but it'll probably not go far enough. We have some people – farmers included – who've lost their livelihood here."
Creed said that "while it is not possible to address all of the problems the floods caused on farms, the measures I have announced today will specifically direct support to those that have borne the brunt of the flooding".
The details of how to apply to the scheme are expected to made available on the Department of Agriculture website in the coming days.
"Some degree of normality"
While farmers have been offered supports, families whose homes were destroyed, clubs, community groups and small businesses have also been offered assistance to in the wake of the flooding.
Last week, Donegal County Council revealed that 47 families have registered as displaced following the floods and some of them "will not be able to return to their homes for some time".
McDermott said: "A lot of people have just realised the extent of the damage that some people have. There are a lot of main roads that have to reopened. It'll be another month to six weeks before they are.
As for the families who've been forced out of their homes, it could be till Christmas before they get back into them.
Local councillor Bernard McGuinness told TheJournal.ie that progress had been made, but it would take some time for things to return to normal for a lot of people.
"It's been a very traumatic few weeks," he said. "Not in my lifetime have I seen anything like this happen. It's unprecedented."
He said that the housing situation is still being worked on and that, now that the school year has begun, buses have been organised to make sure children displaced from the floods are taken to their local school.
"It's a particularly tough time for the children," he said.
The Fine Gael councillor also commended the response from the local community in coming together to offer each other support in the flooding aftermath.
Assistance is also being provided by the Department of Social Protection and the Red Cross, with the latter putting two funds in place for small businesses as well as community, voluntary and sporting bodies.
McDermott said that the "reality on the ground" is that there's much work to be done.
"There's a lot great work being done by the [Donegal County] Council," he said. "But as days and weeks go by, these things become less and less of a priority in the wider scheme of things in a national sense."
The Fianna Fáil councillor is worried that the underlying issues that caused the floods – with rivers bursting their banks – was not being solved while relief efforts are ongoing.
He said: "We need a reality check. If you go back 20 years, people used to clean the rivers. That's not done anymore, but it was the biggest culprit on the night of the floods."
Dredging was an issue that was highlighted during other recent flooding episodes, such as in Galway and Wexford in 2016. Any such instances of dredging are coordinated by State agencies.
McDermott said he'd be raising the issue of the rivers – which now contain mud, silt and other various substances – at emergency meetings set up to find solutions to the current situation.
"Unless we clear this problem, I think it's a reality that this'll happen again," he said.