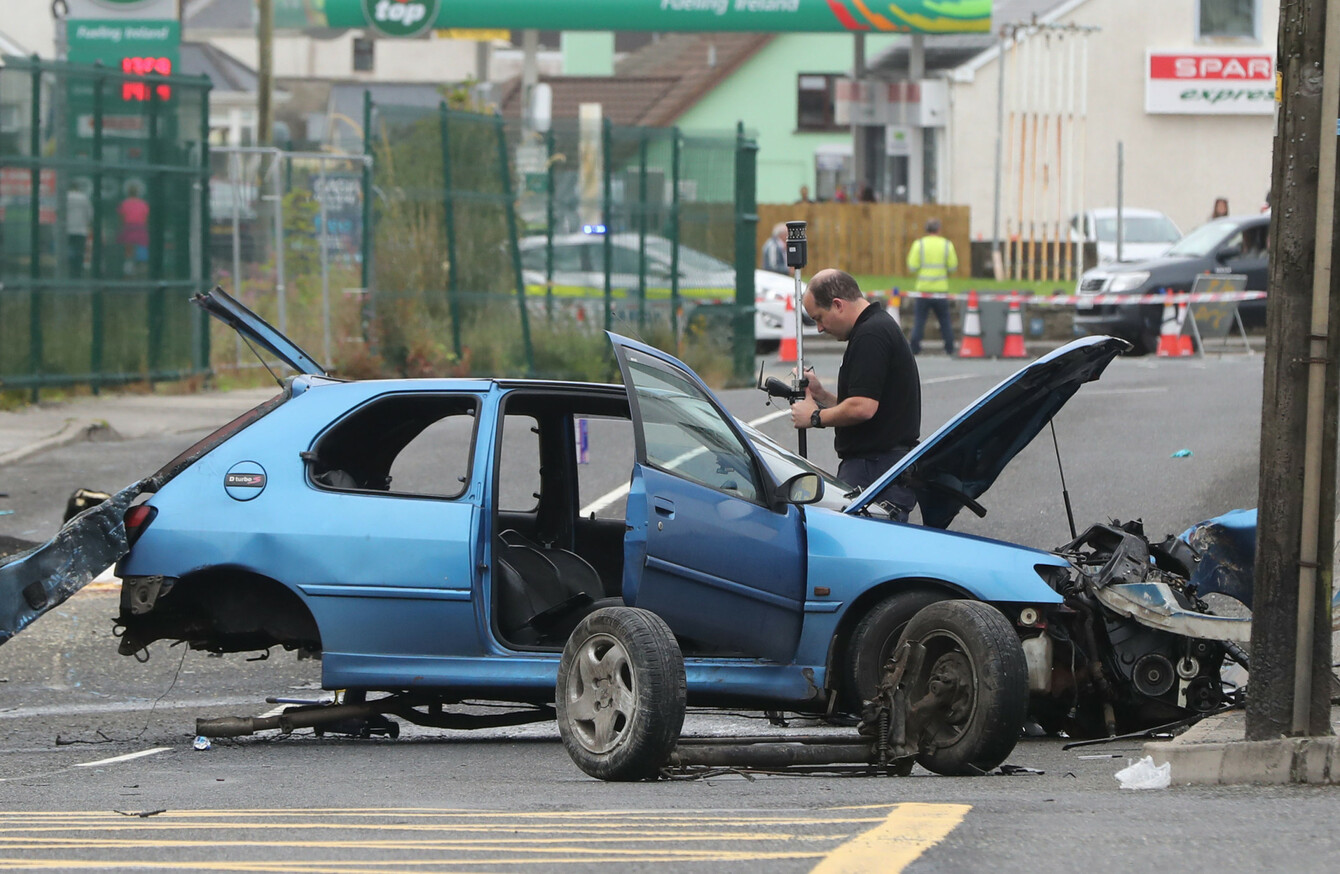 Gardai at the scene of a road accident where two people died and three were injured in Eastend, Bundoran, Co Donegal
Image: Niall Carson/PA Images
Gardai at the scene of a road accident where two people died and three were injured in Eastend, Bundoran, Co Donegal
Image: Niall Carson/PA Images
SHORTLY BEFORE 3.30AM last Sunday morning, a blue Peugeot 306 with five seats and six passengers was approaching Bundoran, Co Donegal.
Two of the passengers, Shiva Devine and Rachel Elliott, were probably still shaken after a near-escape just hours previously.
On that occasion, the two women had walked away unscathed after the car they were travelling in crashed and was badly damaged in an incident across the border in Fermanagh.
But as the blue Peugeot approached Eastend in the Donegal town, the young mothers, both in their 20s, they were about to go through a similar, yet more devastating experience.
It's still unclear what caused the accident that claimed the lives of Devine and another man, Conall McAleer, and left Elliot fighting for her life in Beaumont Hospital in Dublin.
All that's known is that at around 3.25am, the car they were travelling in smashed into the wall of a local garage before hitting a lamppost and coming to a stop.
Four people sitting in the back of the Peugeot were thrown from the car, and were found later lying side-by-side on the road on which they crashed.
A fifth man – also in his 20s – fled the scene, before presenting himself to gardaí and being released without charge.
Four people required hospital treatment, while Devine and McAleer were buried in Donegal and Fermanagh respectively.
Their deaths bring to 21 the number of people under 30 to have been killed on Donegal's roads this decade.
Six of those have come in the last 18 months alone.
Indestructible
Donegal Road Safety Officer Brian O'Donnell blames an "image culture" among young drivers for the statistic.
He says that despite a number of awareness campaigns by Donegal County Council and the Road Safety Authority, young people are still failing to get the message.
"It's something that seems to be endemic in society here," he tells TheJournal.ie.
"When you see what happened at the weekend, a lot of young people would have the mentality: 'that wouldn't happen to me'.
"They might be shocked initially, but the sad thing is that people will forget about what happened in a couple of weeks, and it'll go back to the same mentality again."
O'Donnell points to a number of factors contributing to road deaths among young people in the county, where overall road fatalities have decreased by 75% in the last ten years.
All of the usual suspects feature: drink-driving, overloaded cars, and people not wearing seatbelts.
But one thing stands out above all else.
"Speed has to be the number one factor," O'Donnell says. "Young people think they're indestructible, and that's the problem."
Embarrassed
Much of what O'Donnell knows about young people's driving habits is based on what they tell him themselves.
As part of the council's effort to reduce road fatalities, a Road Safety working group meets with drivers to gauge what they think as soon as they get behind the wheel.
It's how he knows that seatbelts are viewed as "uncool" by young drivers, or about the practice of buying fake buckles to prevent the car's internal seatbelt alarm from ringing.
But he has also learned of another bad habit that is proving fatal to young drivers: embarrassment.
"They might be out in the middle of the night and they want to get home from wherever they are," he says.
"But they won't call their parents. Instead, there could be four or five people in the back of a car because they're afraid that if they ring their parents, they'll be grumpy."
#Open journalism No news is bad news Support The Journal

Your contributions will help us continue to deliver the stories that are important to you

Support us now
It's a mentality that O'Donnell says needs to change.
"No parent is going to say to their child 'make your own way home'," he says. "Young people need to realise their parents will come and get them."
Forgotten
The tragedy of an event like last week's crash in Bundoran will no doubt reverberate around the county for weeks.
O'Donnell says such crashes are "very deflating", because they make him question whether he could have done something.
But while he points to the shock and sadness in the communities affected by these crashes, he says they make little difference to how drivers behave.
As an example, he points to an annual roadshow that Donegal County Council runs for school children.
It sees emergency service workers who attend road traffic collisions, a parent who has lost their child in a car crash, and the survivor of a collision tell children the importance of staying safe on the roads.
"The shock is hard hitting and very effective, and there's huge demand from schools to stage it," O'Donnell says.
"It works for the couple of days afterwards, but it's probably forgotten about after a few days. I know of young people who have seen that roadshow who have died in accidents later."
Ultimately, he says the best way to get the message through to all drivers is to make them realise the magnitude of their actions every time they get behind the wheel.
"Stepping into a car is probably the most dangerous thing we do on a daily basis," O'Donnell says.
"We just need to make people aware that when they step into a car, they're stepping into a lethal weapon."