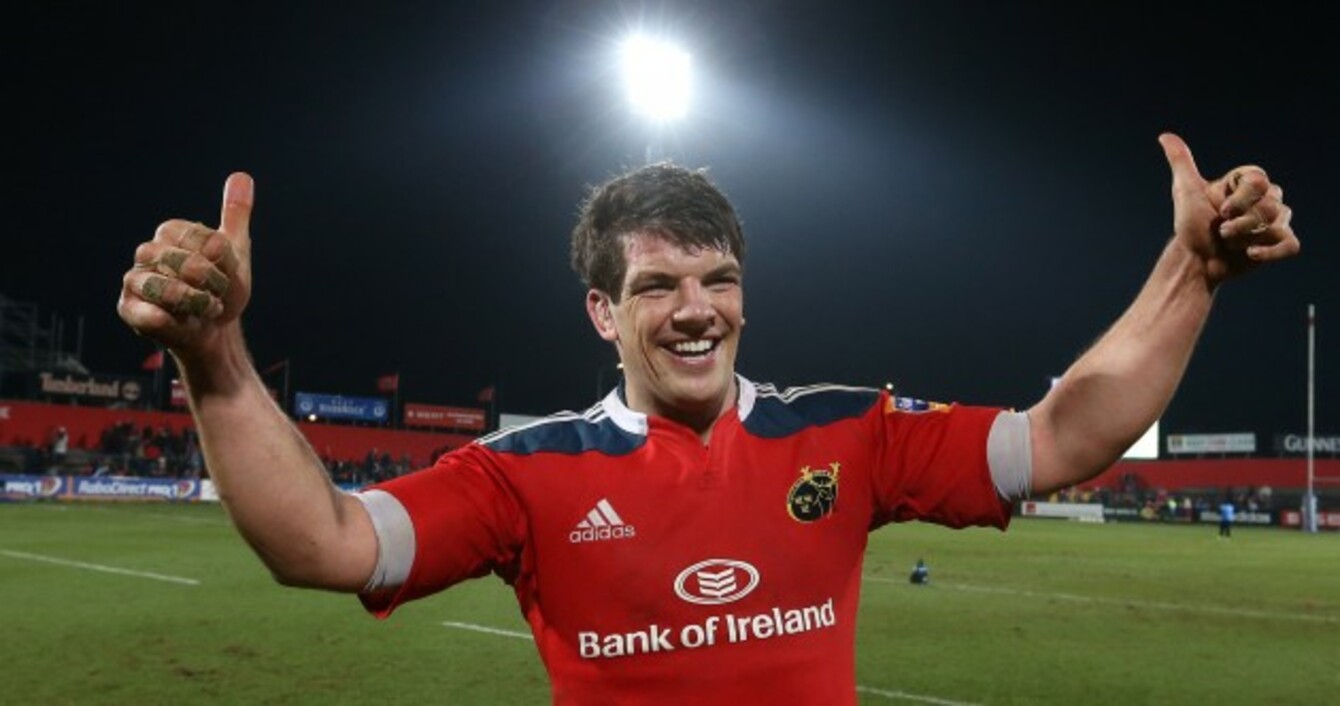 Image: Billy Stickland/INPHO
Image: Billy Stickland/INPHO
THE FUTURE OF marketing is "big data" and Irish lock Donncha O'Callaghan wants in.
The Ireland and Munster rugby star has been on a fundraising drive for 4Impacts, the business he founded early last year with the help of "serial entrepreneur" Pat O'Flynn.
O'Callaghan said he had been involved in many advertising campaigns during his 16-year rugby career and he had often seen the "disconnect" between the money spent on marketing and the ability to get hard proof of the results.
He said the data revolution had come to sport with comprehensive number crunching happening before and after every game, and the goal at 4Impacts was to provide the same "deep understanding" to the digital out-of-home (DOOH) advertising sector.
"This DOOH industry is growing at a very fast rate however it is one of the least served by effective data analytics," O'Callaghan said.
The Cork-based startup was spawned from an Irish Rugby program to help its players plot a career after leaving the sport and, to fuel its next stage of development, the company is now trying to raise €500,000 from investors.
It recently installed several hundred screens in retail and healthcare centres to develop its services, and its founders phope to have a fully-tested product ready for launch in 18 months
What is DOOH and how does all of this work?
The DOOH sector has been growing rapidly as smart screens are rolled out to replace billboards and other public advertising.
Co-founder O'Flynn, who previously had a hand in another Cork startup, biomedical firm Solvotrin, said 4Impacts was not gearing up to be a marketing company, rather its software would be used to mine various data streams to get more detailed information about customers for advertisers.
The information sources could include anything from facial-recognition software built into digital signs to social media networks.
All that data would then be crunched to better understand consumers' behaviour with one of the "holy grails" for the firm being the ability to trace shoppers from an advertisement all the way to the cash register.
We are a lot bigger (than advertising); what is most important about what we are trying to do is combining all of those facets of data to influence the path to purchase,"  O'Flynn said.
Part of the process involved logging individual mobile devices and then taking that data, which 4Impacts said would be rendered anonymous to protect users' privacy, to predict what individual consumers were likely to be interested in later on.
The information could allow businesses to target notifications or offers to their preferred audience and demonstrate where marketing campaigns were working or falling down.
The company, which has the backing of Enterprise Ireland, is aiming to finish its latest investment drive before the end of the year to fund further growth.