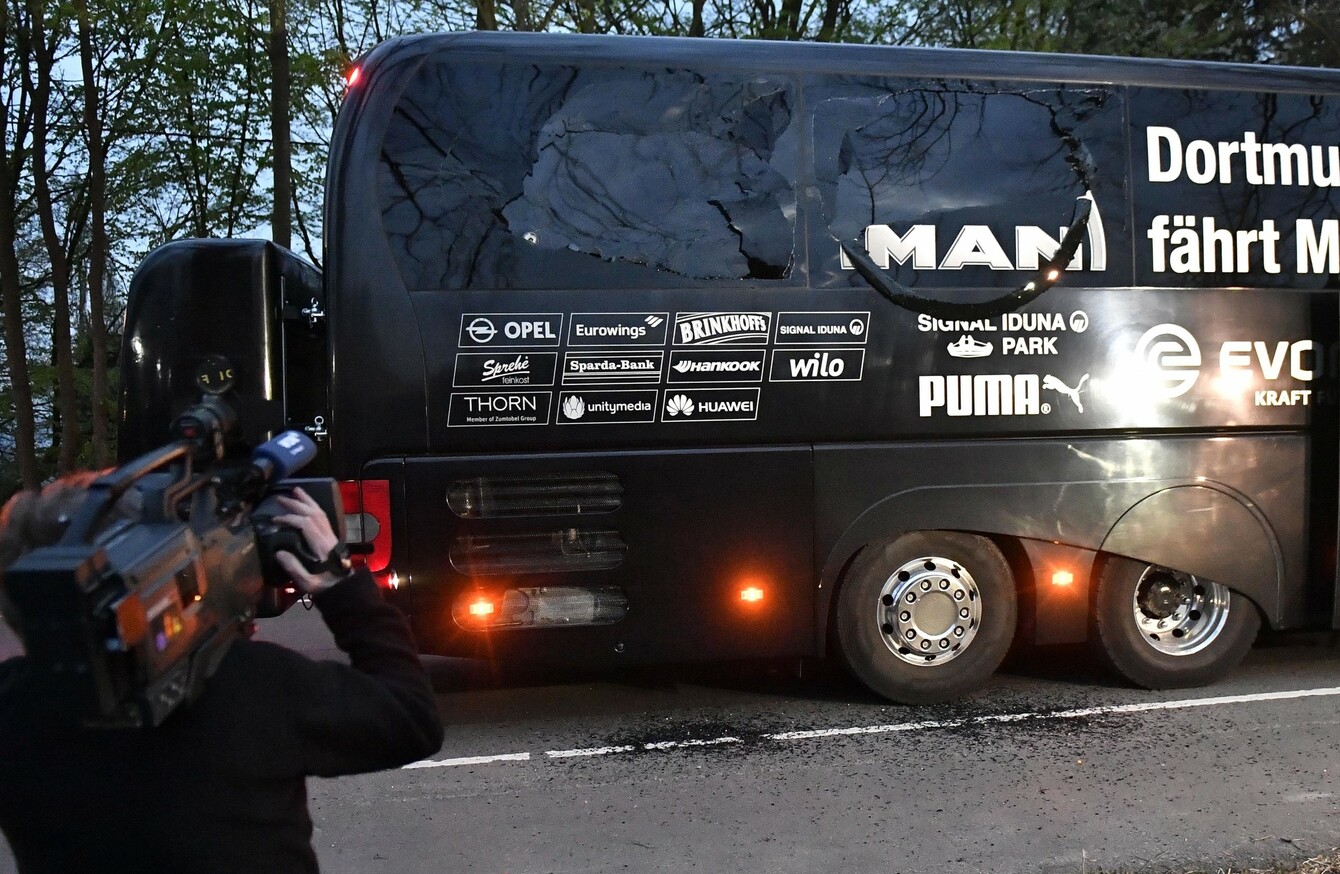 Image: Martin Meissner/AP
Image: Martin Meissner/AP
ONE 'ISLAMIST' SUSPECT has been detained over last night's Dortmund blasts a prosecutor says.
The assault, described by Dortmund city's police chief as a "targeted attack" against the team, shook German football ahead of crucial Champion League ties this week.
Investigations have focused on a letter claiming responsibility for the attack that was found close to the site of the blasts.
"The letter claims responsibility for what happened," prosecutor Sandra Luecke said late Tuesday, telling journalists that "its authenticity is being verified".
German authorities have held off from describing it as a terror attack, saying that it is too early to determine the motive.
But Germany has been on high alert since a series of jihadist attacks last year, including the Christmas market truck assault in Berlin in December that claimed 12 lives.
The explosives detonated minutes after Borussia Dortmund's team bus pulled away from the squad's hotel and headed for their quarter-final, first-leg, tie against Monaco.
Spanish international Marc Bartra underwent surgery on a broken wrist after he was hit by flying glass.
The quarter-final match will now be played on Wednesday evening, just hours before another Champions League clash in Germany between Bayern Munich and Real Madrid.
"We are assuming that they were a targeted attack against the Dortmund team," said the western German city's police chief Gregor Lange, adding however that it did not amount to an organised terror assault.
Shocked players
The bus had set off for the Borussia stadium about 10 kilometres away when "three explosive charges detonated" police said.
The explosives, which went off shortly after 7pm (5pm GMT), were hidden in a hedge and were set off as the bus passed.
The blast shattered the bus windows and the vehicle was burned on the right hand side.
"The bus turned onto the main road, when there was a huge noise — a big explosion," Dortmund's Swiss goalkeeper Roman Burki told Swiss media.
"After the bang, we all crouched down in the bus. Anyone who could, threw himself on the floor.
"We did not know if more would come."
Burki said Bartra was "hit by splinters of broken glass". Dortmund's press spokesman said the 26-year-old had broken the radius bone in his right wrist.
The club said other players were safe and there was no danger inside the Signal Iduna Park stadium.