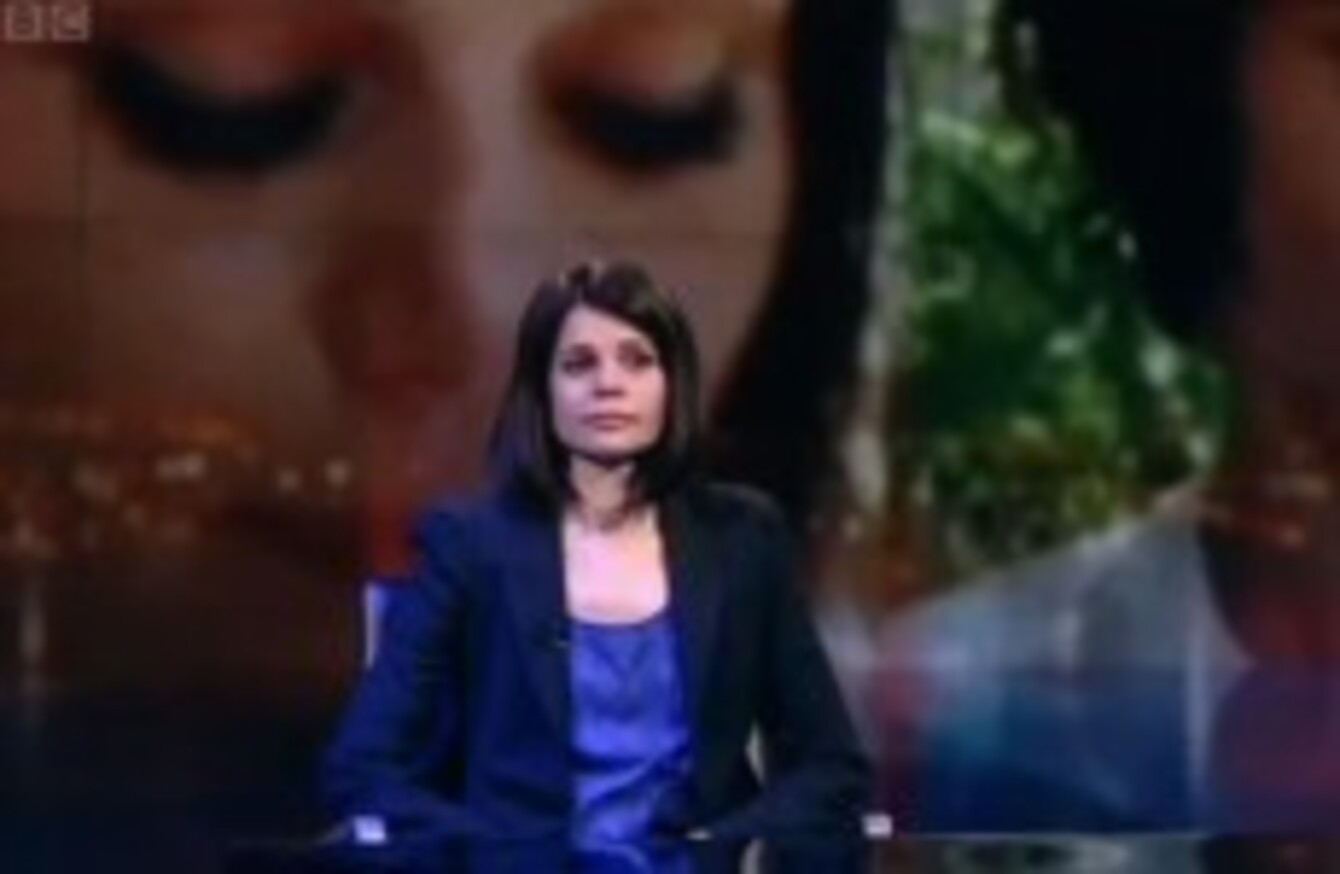 Jelena Lecic appeared on BBC Newsnight last night, explaining that it was she who was in the pictures, not Arraf
Image: BBC newsnight
Jelena Lecic appeared on BBC Newsnight last night, explaining that it was she who was in the pictures, not Arraf
Image: BBC newsnight
THE IDENTITY OF a Syrian blogger who it's claimed was abducted by armed officers in Syria earlier this week is being called into question after it emerged that images of a woman from London were used to portray her.
London woman Jelena Lecic appeared on BBC's Newsnight programme last night, and said that a picture, purported to be that of Amina Arraf, that has been circulated around the world this week was actually taken on her birthday in Paris last year. She says she saw her picture on The Guardian website accompanying a story about the abduction of Arraf.
Arraf, writing under the name Amina Abdullah, is behind the blog 'A Gay Girl in Damascus' which depicts life as a lesbian in the Syrian city, and provided commentary on the political situation. She had previously posted that she feared she was in danger, and on Monday a post appeared, apparently written by her cousin, which claimed she'd been abducted and bundled into a vehicle.
Now, however, there are doubts over her identity. ABC reports that it has been unable to locate anyone who has ever spoken to Arraf in person while NPR reports that it has tried match personal details Amina gave on her blog to public records but to no avail. In addition they failed to find public records for family members mentioned in her posts.
NPR has spoken with another blogger based in Montreal, who says she struck up an online friendship with Amina but never spoke to her on the phone.
The Guardian points out that activists in Syria often go to great lengths to conceal their identity for fear of being targetted by security forces.The Guardian also reports that an interview with Arraf that it carried last month had been conducted by a journalist in Damascus, who had attempted to meet with the blogger, but the meeting never happened. The interview was carried out by email, because Arraf said that she had been blocked from downloading Skype.