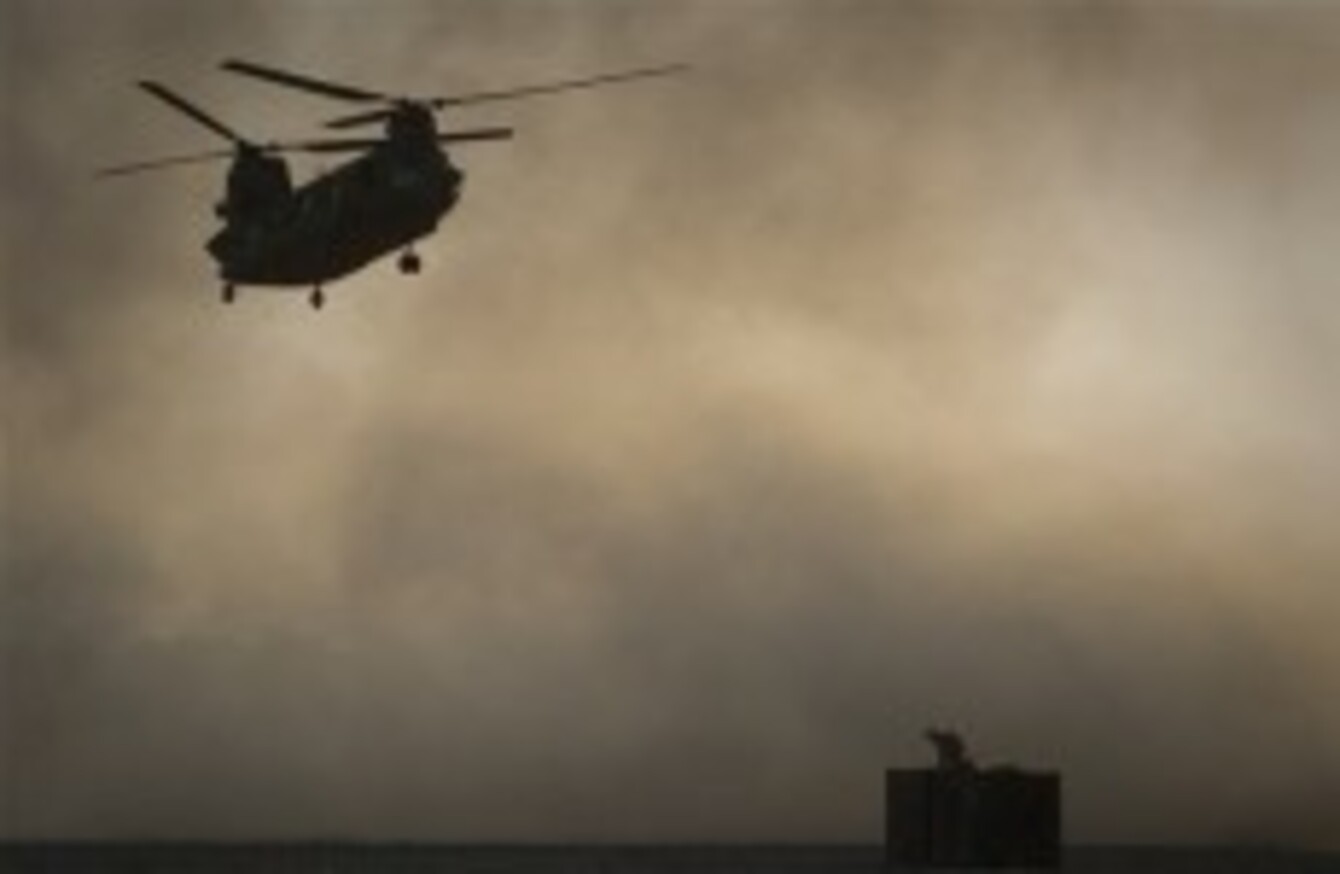 Image: AP Photo/Anja Niedringhaus, File
Image: AP Photo/Anja Niedringhaus, File
THE PRESIDENT OF Afghanistan has confirmed that 31 US troops and seven Afghan soldiers have been killed after a NATO helicopter was shot down by insurgents last night.
The attack took place in eastern Afghanistan during an overnight operation, and is the worst single-day loss of life suffered by coalition forces the ten-year conflict, the New York Times reports.
Afghan provincial spokesman Shahidullah Shahid said the helicopter crashed in the Sayd Abad district of Wardak province. The volatile region borders the province of Kabul where the Afghan capital is located and is known for its strong Taliban presence.
Taliban spokesman Zabiullah Mujahid told the AP that the Taliban fired on NATO and downed the helicopter, killing all the crew. He said eight insurgents also died.
The Taliban often exaggerate casualty numbers in their statements to the media.
Most of the crashes are attributed to pilot errors, weather conditions or mechanical failures. However, the coalition has confirmed that at least one CH-47F Chinook helicopter was hit by a rocket propelled grenade on July 25. Two coalition crew members were injured in that attack.
Meanwhile, in the southern Helmand province, an Afghan government official said Saturday that NATO troops attacked a house and inadvertently killed eight members of a family, including women and children.
NATO said that Taliban fighters fired rocket propelled grenades and small arms fire at coalition troops during a patrol Friday in the Nad Ali district.
"Coalition forces responded with small arms fire and as the incident continued, an air strike was employed against the insurgent position," said Brockhoff. He added that NATO sent a delegation to meet with local leaders and investigate the incident.
Nad Ali district police chief Shadi Khan said civilians died in the bombardment but that it was unknown how many insurgents were killed.
Helmand, a Taliban stronghold, is the deadliest province in Afghanistan for international troops.
NATO has come under harsh criticism in the past for accidentally killing civilians during operations against suspected insurgents. However, civilian death tallies by the United Nations show the insurgency is responsible for most war casualties involving non-combatants.
In south Afghanistan, NATO said two coalition service member were killed, one on Friday and another on Saturday. The international alliance did not release further details.
Additional reporting by the AP