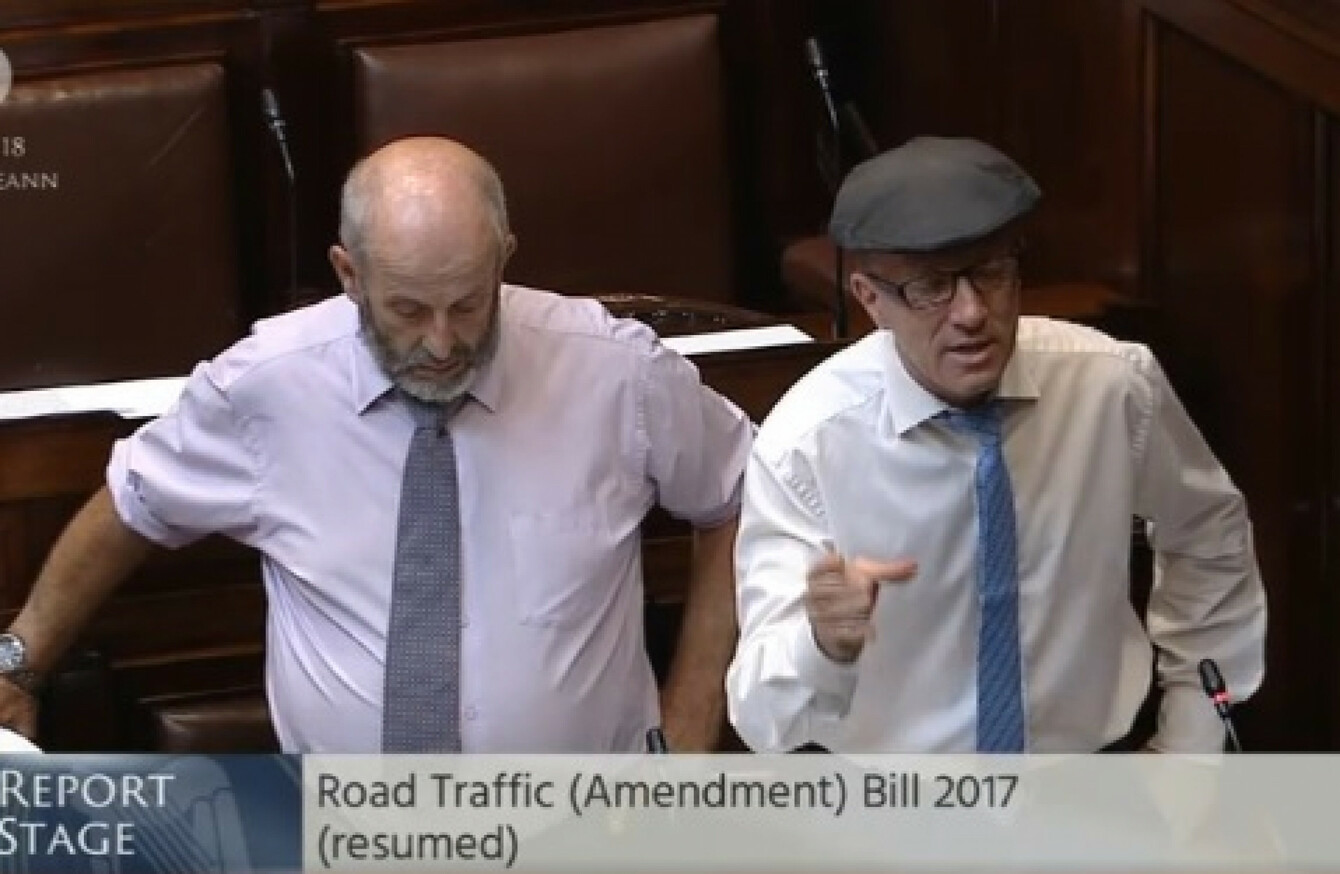 THE CONTROVERSIAL DRINK-DRIVING legislation that has been delayed in the Dáil for over a year has passed all stages in the Dáil.
The Bill was passed by 75 votes to 8.
As the result was announced in the House, there was applause by members, while Independent TD Danny Healy-Rae shouted: "This is sad day for rural Ireland."
Earlier today, Transport Minister Shane Ross appealed to rural TDs to stop filibustering his Road Traffic Amendment Bill.
There were bitter exchanges in the Dáil when Independent Kerry TD Michael Healy-Rae was accused of delaying the bill.
He said he was merely representing the people of Kerry and people that live in rural communities.
The Ceann Comhairle Sean Ó Fearghail had to intervene on a number of occasions this morning to calm matters. At one point when Tipperary TD Mattie McGrath interrupted Fianna Fáil's Robert Troy, he told McGrath to quiet down:
Let's not turn the debate into a farce.
After nearly 20 hours of debate, the Dáil unusually sat on a Friday to debate the controversial drink-driving legislation.
The Road Traffic Bill will impose stricter penalties on drink drivers.
Currently, anyone with a full license caught driving with an alcohol level between 50mg and 80mg is liable to three penalty points on their license and a €200 fine.
However, the Bill will see an automatic disqualification for drivers on their first offence of driving while over the permitted 50mg of alcohol per 100ml of blood.
The Bill will also make it an offence for car owners to allow a learner drive their car unaccompanied.
Filibustering accusations
Rural independent TDs such as Mattie McGrath, Michael Healy-Rae and Danny Healy-Rae have been accused of filibustering and delaying the progress of the Bill.
Before Sean Ó Fearghail agreed to proposal from TD Catherine Murphy under standing order 68 to close debate on final Bill, there were more bitter exchanges when government TDs were accused by the rural TDs of being "bullied" by Minister Ross.
Social Protection Minister Regina Doherty stood to her feet to tell McGrath and the Healy-Raes to "cop on".
Minister for Transport Shane Ross told TheJournal.ie this morning "the sooner this is passed, the more lives we save."
A spokesperson for the Irish Road Victims Association said the filibustering has been "soul-destroying for families having lost a loved one on the road and to see Dáil time being wasted in that manner".
This is a very simple amendment to the Road Traffic Act – it should have been passed very quickly. It has now been before the Dáil for over a year. We have sat in the Dáil and watched as people disgracefully waste Dáil time.
With the Bill passing in the Dáil, it will now progress to the Seanad.