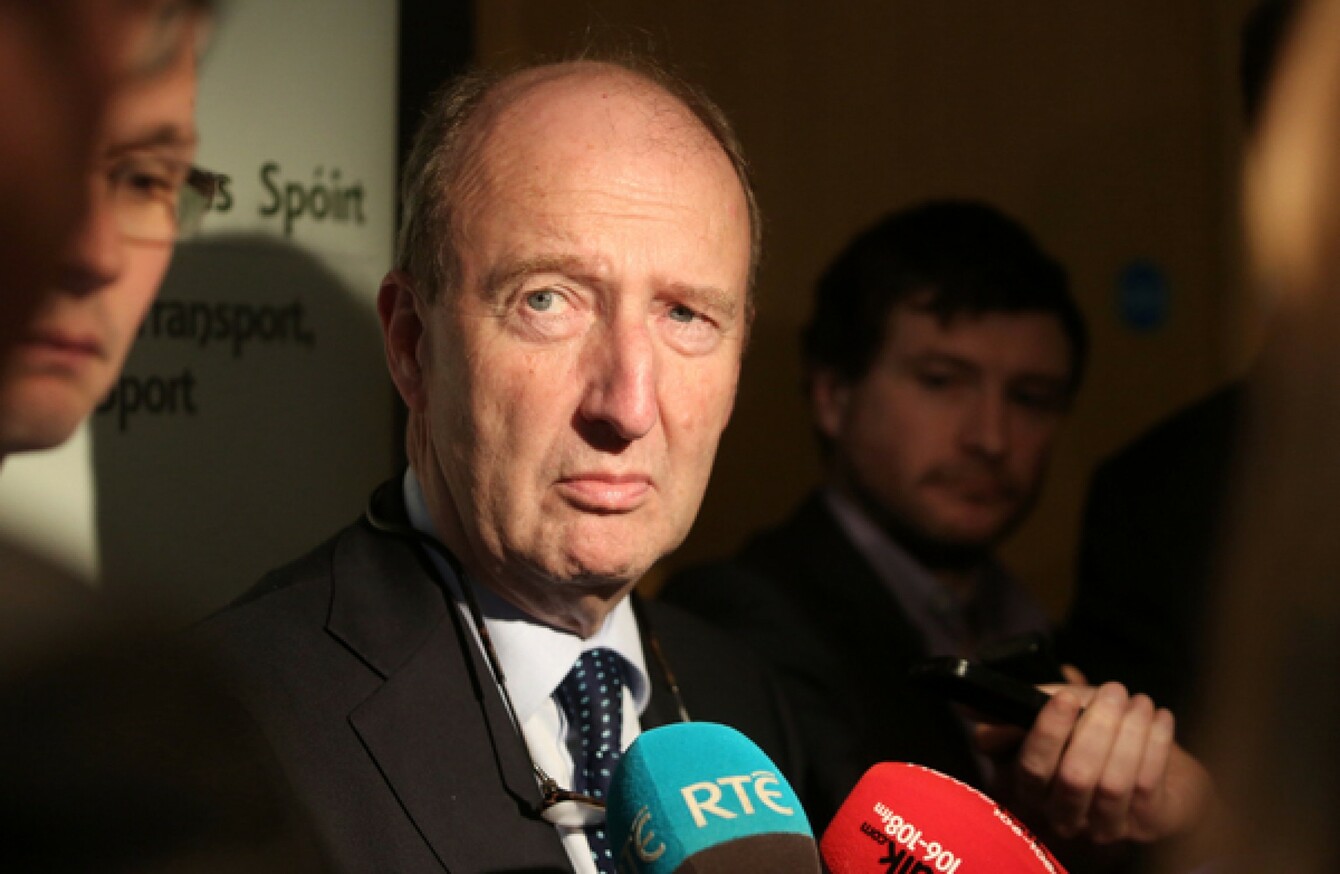 Transport Minister Shane Ross.
Image: Sam Boal
Transport Minister Shane Ross.
Image: Sam Boal
TRANSPORT MINISTER SHANE ROSS is on a collision course with rural TDs and Fianna Fáil over his new drink-driving law.
Ross is expected to seek permission from his Cabinet colleagues today for a free vote in the Dáil on the issue.
The new law will see drink drivers automatically disqualified from driving when caught over the alcohol limit.
The latest figures show there were 188 road deaths last year, an increase of 26 on 2015.
A Road Safety Authority (RSA) report revealed that between 2008 and 2012, alcohol was a contributory factor in 38% of all fatal collisions.
"I was disappointed with the number, they were really bad last year," Ross told TheJournal.ie.
Ross explained that there was an exception in the 2009 Act which allowed, in certain circumstances, for people who were caught breaching the alcohol limit to pay a fixed charge and get penalty points. This law allowed drivers avoid disqualification.
The minister said he was surprised to learn that in some circumstances you could drive and drink and not get taken off the road. "A lot of people were availing of it," he said.
Ross said it is his job to legislate and he found this loophole in the law to be totally unacceptable.
He clarified that the alcohol limit is not being lowered – but said anyone caught in breach of it would be automatically banned.
However, a number of TDs, including his Independent Alliance colleagues Kevin Boxer Moran and Sean Canney, are unhappy with some aspects of the new legislation and the impact it might have on rural communities.
Last week, Ross said he expected cross-party support on the issue, but Fianna Fáil have since indicated they will not be supporting the new Bill.
The minister said he would be astonished if the party blocked a law which aims to save lives.
Hitting back at Fianna Fáil over the weekend, Ross tweeted:
'Unintended consequences' 
Fianna Fáil's Robert Troy has said there will be unintended consequences to the proposed drink-driving laws.
"I believe there is better scope to save lives on our road by enforcing legislation, ensuring there is greater penalties for people who blatantly abuse drink driving, who are consuming multiple amounts of alcohol and getting behind the wheel of the car," Troy recently told Midlands 103FM.
He said the new law could impact on people who are on their way to work the day after having a few drinks and who might have a residual amount of alcohol in their system.
Troy added that the transport minister was yet to provide evidence that such a move would lower road death numbers and said the current laws are not being enforced.
Publicans in the countryside are also not happy with the minister's plans.
Mike Power from The Cat's Bar in Cappoquin, Waterford told TheJournal.ie the driving ban would have detrimental effects to the rural community.
"If an emergency took place, people would be afraid to drive their car even with just one drink," he said.
Meanwhile, Alan Gielty who runs Gielty's Bar and Restaurant in Achill Island  said:
It's going to affect every rural pub to be quite honest.
This sentiment is echoed by some of Ross' close colleagues, such as Boxer Moran and Canney.
Independent Alliance's Boxer Moran has said he will not be supporting his colleague's new drink driving law.
Free vote 
The Longford-Westmeath TD said he was told there would be a free vote on the matter, telling TheJournal.ie that he got elected on the back of the commitment that we would support rural communities.
He made it clear that rural TDs are in favour of tackling the issue of drink-driving, but he said he has concerns about the new law and the impacts it will have on those living in areas where there are no transport links.
Minister for State at Office of Public Works and Flood Relief, Sean Canney said there were certain supports put in place to aid transport in rural areas at the weekend, but more needed to be done.
While he said it is common for publicans to drive their customers home in the country, many are concerned about insurance liability issues.
Kerry's Michael Healy Rae has also been vocal about stricter laws.
In 2016, Healy Rae said there should be "a common sense approach in rural areas" whereby people could go out, have a glass or two of beer and drive home.
"There is nothing wrong with it," he added.
Canney said there are also other issues at play when it comes to the rise in road deaths such as speeding and phone use. "It also comes down to more enforcement," he added.
Rural transport needed
Troy echoed the remarks made by the minister's colleagues during a recent Oireachtas Transport Committee.
The Fianna Fáil TD said new and innovative ideas are needed to support rural Ireland, and went so far as suggesting that those on social welfare should be allowed retain their payment if they provide local transport a couple of nights a week in their local town or village.
A person in receipt of social welfare might retain that payment if they provided a transport service for a certain number of nights during the week, if there was an incentive through the local enterprise office to help with public liability insurance. The minister is right to say that we need to take this issue seriously, but we also need to put in other supports.
While Ross acknowledges the new law, which he says is a priority for this government, has come up against a "certain degree of resistance", as far as he is concerned it is a line he is not willing to compromise on.
You don't compromise when people are dying, when people are being killed.
Breaking the law 
While Ross said he was "sympathetic" to those living in rural areas that will find it difficult to get to and from the pub, he said there is no excuse for drink-driving, no matter where you live.
If you are over the limit in Dublin, you're over the limit in other areas of the country.
Ross said he would be more inclined to suggest that those affected should initially take measures into their own hands – but said he was not totally against the State intervening.
I am not unsympathetic to it, but the State is certainly providing a lot of services at the moment which it is stretched on. Presumably, there are ways and means by which publicans could provide transport, including having one person driving who is not drinking.
Initially they should do it themselves, but if there is a crying need or an obvious gap which the State should fulfil I am not unsympathetic to that.
The importance of the pub 
Ross told TheJournal.ie that the government may look at making arrangements for publicans such as being supported with buses and other transport.
We'll look at any suggestions, but not if it is going to be very expensive. I think it is only reasonable to look at the importance of the pub, that it is not people going out to get drunk or anything but they are just going out to have one, two, three pints and I think they should be accommodated, but I think the first step should be that they think about doing it themselves.
One person can drive, and four people can drink, and publicans can make arrangements.
I know the importance in rural Ireland of the pub, the social drinking – but I think if we save one life, which it can, it is not too much to ask for people to make arrangements.
He said he had no patience for people who say they can drink five pints and drive home.
"They are being wildly irresponsible with other people's' lives, it is not just their own," said the minister.
He said that disqualifying drivers who were found to be drink driving was "proportionate" and would "ultimately save lives".