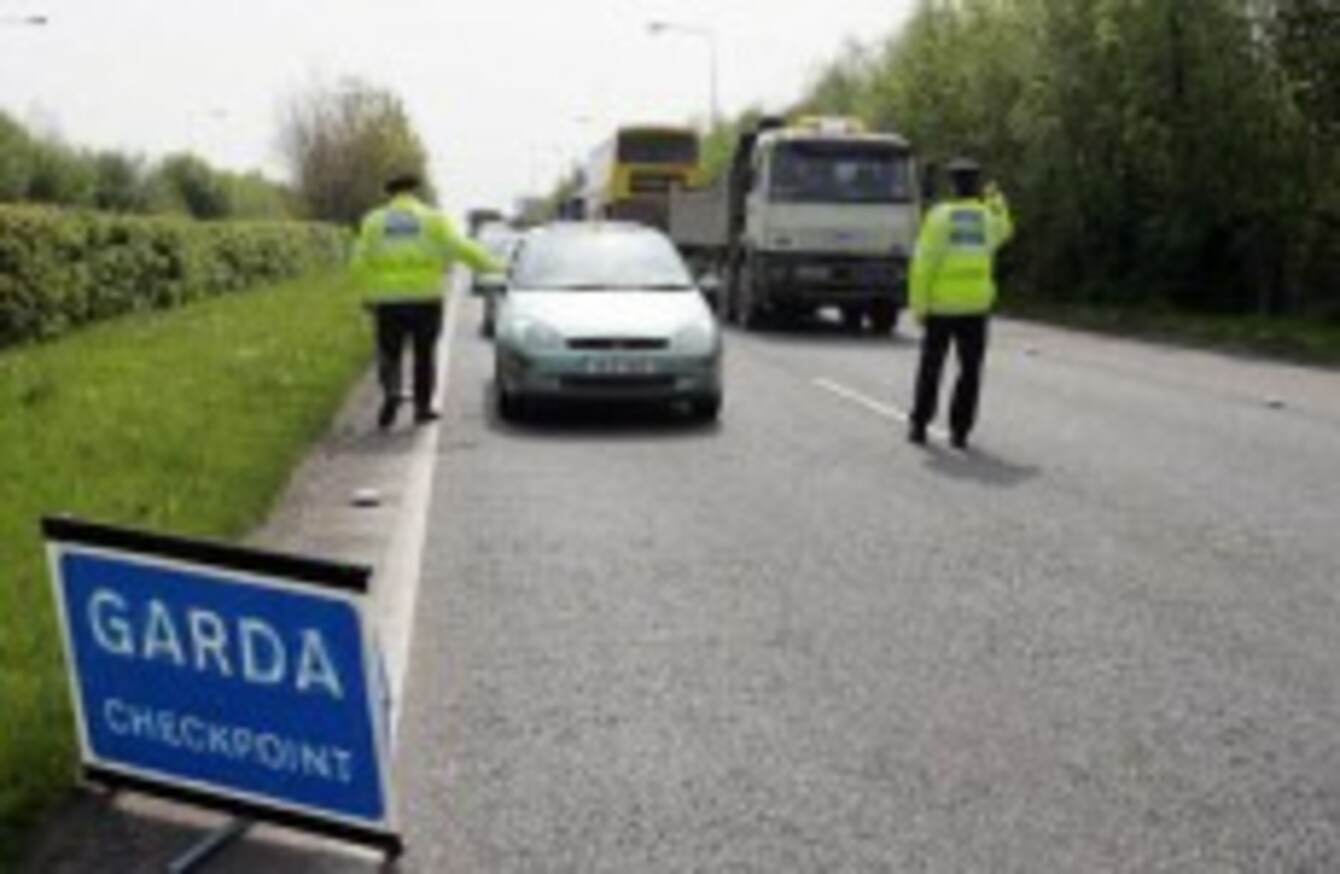 Image: Photocall Ireland!
Image: Photocall Ireland!
GARDAÍ HAVE URGED drivers to take extra care over the next three days as holidaymakers take to the roads.
This time last year, one person was killed and 12 people seriously injured in eight separate collisions on Irish roads. And so far this year, Gardaí say there is still a "considerable level" of non-compliance of traffic laws.
Issuing a warning, authorities have said that people need to be particularly conscious of drink-driving rules. In the first three months of this year, 3,266 people have been prosecuted for drink-driving offences. On the June Bank Holiday weekend alone last year, 198 drivers were found to be intoxicated while behind the wheel.
Gardaí said:
In particular, people need to be conscious of the new lower drink driving limits, especially those that are specified drivers, when they are at BBQs, festivals, sporting events and concerts. Euro 2012 will also be starting very soon and there will be many people watching the coverage in various locations around the country. We appeal to all motorists to make the right choice. If you intend to drink alcohol, leave your vehicle at home. Remember this also the following morning, and ensure you are alcohol free to drive.
So far this year, 69 fatalities have occurred as a result of road accidents. Although this figure is fewer than last year's historic low, assistant commissioner John O'Mahoney warned that no one should ever be complacent about road safety.
High risk behaviour, such as speeding, not wearing seatbelts and dangerous driving, results in fatal and serious collisions, he said. Preliminary investigations show that nine people who have been killed this year were not wearing a seatbelt and 40 died in a single-car collision, often late at night and with inappropriate speed as a contributing factor.
The appeal also mentioned pedestrians, who have been asked to remain visible at all time and be careful when out socialising, and motorcyclists who have been urged to wear a full set of high-quality protection equipment. In the first five months of 2012, 11 pedestrians, six motorcyclists and two pillion passengers have been killed on the roads. Five cyclists have also died as a result of collisions.
Chief executive of the Road Safety Authority Noel Brett added, "Bank holiday weekends are high risk periods on our roads. With good weather forecast for the weekend large numbers are expected to take to the roads. Do not become complacent – remember that summer is the most dangerous time on the road. Share the road responsibility and arrive alive."
Over the past five years, 29 people have bee killed and 63 seriously injured over the June Bank Holiday period. This year, drivers have been asked to allow for plenty of travel time, use appropriate speed for conditions and traffic volumes and take regular breaks, as well as ensure everyone in the car is wearing a seat belt and never drink and drive.
There are a large number of events taking place across the country this weekend, so all travellers have been asked to plan their route and check for diversions.