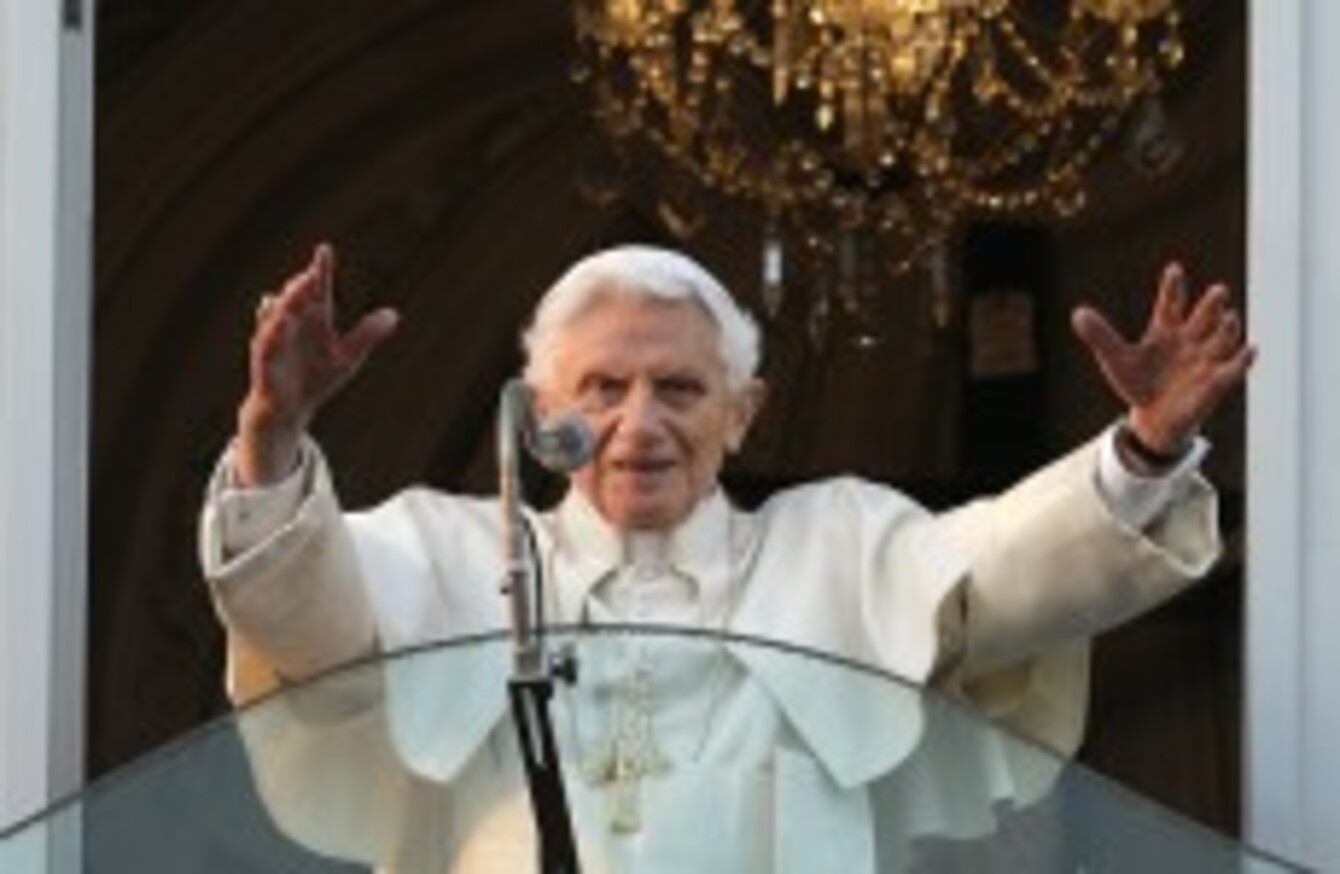 Pope Benedict
Image: Andrew Medichini/AP/Press Association Images
Pope Benedict
Image: Andrew Medichini/AP/Press Association Images
A MAN COMPLAINED that he had to hear a "rant of hate" related to Pope Benedict on RTÉ's Drivetime in February.
The Broadcasting Commission of Ireland resolved the complaint at the executive complaints forum. The complaint came from a Joseph Bridges, who stated he heard a "rant of hate" from radio columnist Paddy Duffy about the Pope on the show.
He maintained there were inaccuracies in the item, such as the suggestion that the Pope said the issue of women priests was "the real grave crime we should be worrying about". Bridges said that such a word as "crime" was obviously never used by the Pope.
He also queried the appropriateness of the column being broadcast on the week that the Pope had announced his resignation on health grounds, and stated that the 'humour' within the piece was sarcastic and disrespectful.
Reply
RTÉ stated in reply that they were sorry Bridges did not like the column from Duffy. They also did not agree with the description of the piece as a "rant of hate". They said that "knowing Mr Duffy, they might describe it as a passionate piece from a disillusioned believer".
RTÉ also said that Duffy was offering an impression of the former Pope's activities "as a way of conveying his opinion, not stating a matter of fact".
Regarding the use of the word 'crime', they said that Duffy never ascribed the word 'crime' to the Pope, but used it to offer an interpretation of the Pope's view on women priests.
The broadcaster also said that there was no personal attack on the former Pope, and that the challenging of authority is "an appropriate element of an opinion piece such as the Drivetime Friday Column".
They also added that a warm tribute to Pope Benedict was given by Michael Kelly, editor of the Irish Catholic, in his Friday Column on 1 March 2013, balancing the position taken by Paddy Duffy.
Decision
The Executive Complaints Forum looked at both the complaint and response, and said that it noted the opinion piece is a regular Friday feature and signposted as such.
They also noted that the opinion piece did not represent the views of the broadcaster and that the style could have been considered by some listeners to be slightly sarcastic or by others to be humorous.
They also reviewed the broadcast by Michael Kelly, saying it provided an alternative viewpoint on the papacy of Pope Benedict.
The forum concluded:
Taking both broadcasts into consideration and the complaint material, the Forum was of the view that the complaint did not raise issues that required further consideration and, accordingly, the complaint was deemed resolved.