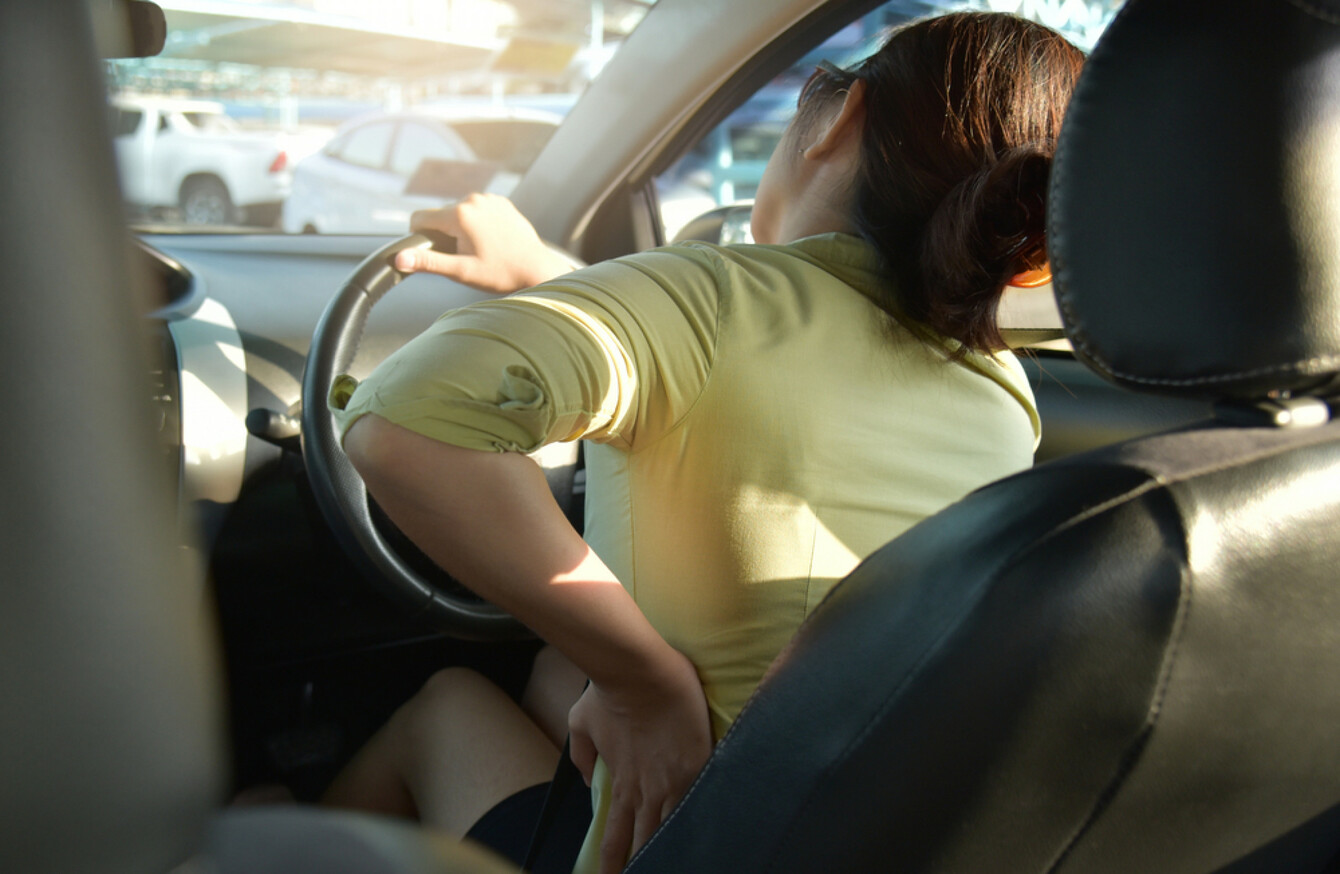 Image: Shutterstock/eggeegg
Image: Shutterstock/eggeegg
IF YOU SUFFER from back pain, long road trips can be dreadful. Driving can be a trigger for back pain, both upper and lower pain, and the longer you are sat at the wheel the worse the pain can get.
According to Alan Hedge, a professor of ergonomics: "Unlike regular sitting, while a vehicle is in motion the body is subject to different forces: to accelerations and decelerations, to lateral swaying from side to side, and to whole-body up and down vibrations."
This vibration of the spine pushes on the discs between your vertebrae and, combined with the car seat design, can cause back problems for some people and exasperate problems for those that already suffer with back pain.
But there are some things you can do to reduce the impact of driving on your spine and help relieve back pain when behind the wheel.
Remove everything from your pockets, especially anything in your back pocket as this can throw your spine out of alignment.
Remove your coat as bulky items will restrict your mobility.
Make sure your steering wheel is within easy reach. You do not want to be stretching forwards as this will strain your back. Your wrists should be able to rest comfortably on the top of the steering wheel whilst your shoulders are pressed back into your seat.
With your shoulders pressed against the seat this will help you sit up straight and you should adjust your seat so that your knees are slightly higher than your hips.
If you suffer with sciatic or lower back pain, put some sort of lumbar support behind your back. You can use a cushion or scarf or a specialist support, whatever works for your type of pain.
If your car has cruise control, use it and place both feet flat on the floor when you can. If your car has a foot rest, use it and try to place your foot flat on it.
Plan rest stops and try to get out of the car at least every 30 minutes to stretch and move the muscles.
If heat or cold helps alleviate your pain keep heat packs or cold packs in your car and use them when you can. I use a hot water bottle on my lower back when undertaking long journeys.
If you have heated seats, turn them on as the heat can help relax muscles and relieve pain.
If you have chronic back pain and you are thinking about getting a new car, consider a saloon or hatchback and not an SUV or other high-riding vehicle. Cars usually ride smoother and do a better job of isolating lumps and bumps which can jar your spine.
Also, if you have low profile tyres, consider getting tyres with thicker sidewalls as these will help absorb lumps and bumps better, again, protecting your spine.
Lastly, another thing you can do is get your shock absorbers checked out and make sure they aren't worn and don't need replacing.