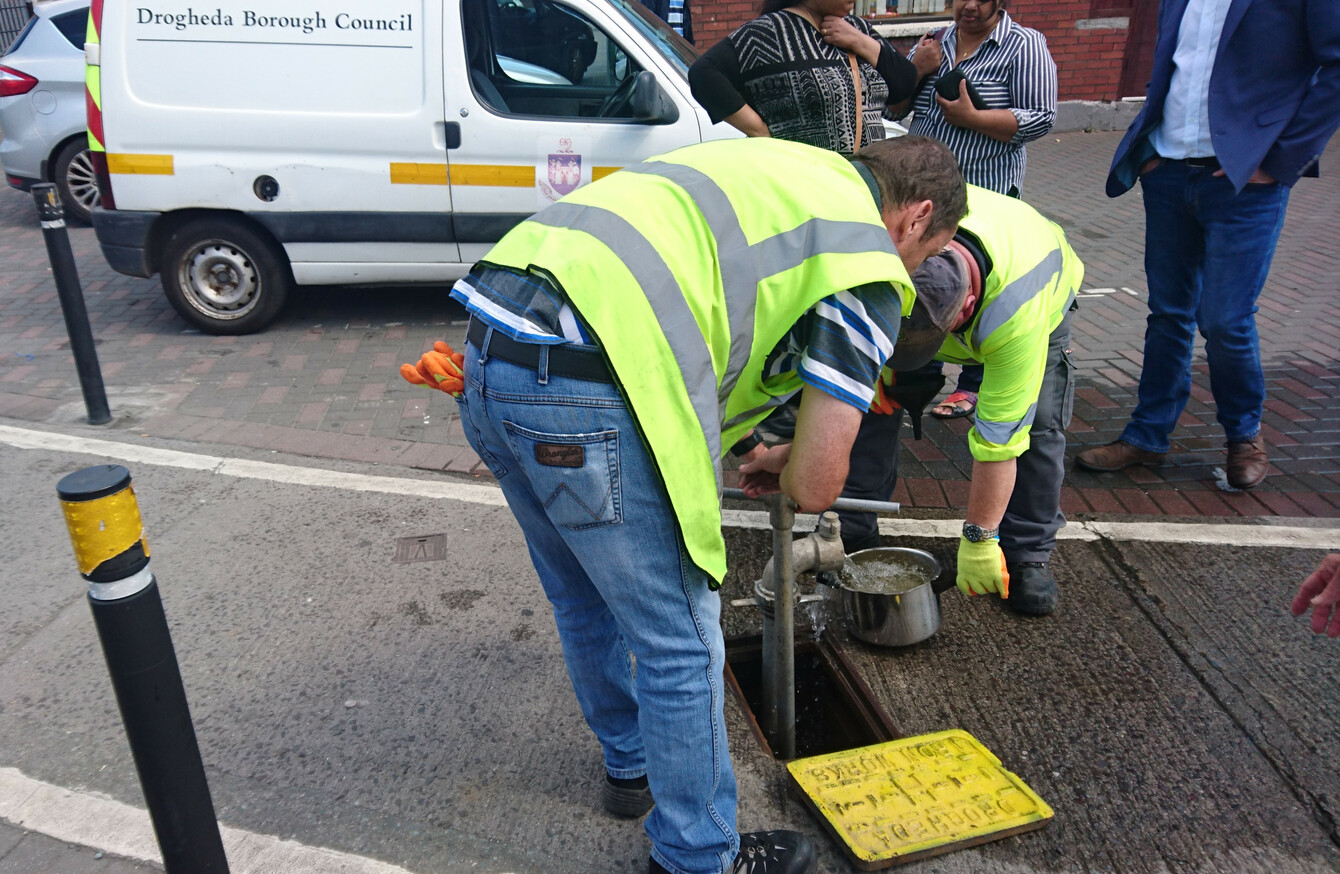 Two council workers fill a woman's saucepan at the waterpoint at Hardmans Gardens, near Bóthar Brugha.
Image: TheJournal.ie
Two council workers fill a woman's saucepan at the waterpoint at Hardmans Gardens, near Bóthar Brugha.
Image: TheJournal.ie
ON MONDAY, IN 20-degree heat, water was hard to come by in Drogheda.
A 50-year-old, major pipe burst last week, meaning between 40,000 and 75,000 people are left with little or no access to running water in the Louth/east Meath area.
Yesterday afternoon, Drogheda's crowded main street created the impression that everything was normal – tourists walked through the town's narrow stone walkways; parents entertained their school-free kids; and teenagers sat on the steps of St Peter's Church enjoying the sun.
But a few streets up from that, it's a different story. A water point has been opened at the end of the residential street, Bóthar Brugha, after another one close by was depleted over the weekend due to demand.
"It's crazy. My partner has a daughter with seven children as young as five years of age," one woman says. "You can't wash all of them in a dish of water."
Two council workers man the water point to dispense water to residents; they fill canisters from children, parents and the elderly, and field questions from passers-by.
In the space of 15 minutes, they're asked, "When will the water be back?" "What caused this?" "How long will you be here until?" and "Is the whole country affected?"
The first question hits on one of the issues that bothers locals the most: at first they were told it would be fixed Saturday, then Monday, and now they've been told that it's going to be Thursday at the earliest.
Cafés and restaurants in the south-east of the town have had to close because they didn't have enough water and didn't know when they would get it back again, causing great uncertainty for owners and employees.
Mayor of Drogheda and Labour councillor Pio Smith says that so far people have been fairly understanding. But their patience could wear thin, he says.
"There's a 50/50 chance that the fix will work [and the water will be back] by Thursday," he says, adding that making a 'bespoke' part, which is needed to fix the broken pipe, is a complicated process.
And if it isn't fixed by Thursday, that might be the final straw for locals. Last night at 6.30pm, Sinn Féin's Joanna Byrne organised a protest against what's been called a panicked response to the burst pipe, in an effort to spark more urgent action.
Source: TheJournal.ie/YouTube
What's the problem?
Fixing Drogheda's burst pipe has proven "more difficult than first anticipated", as Irish Water put it, due to an antiquated water system – meaning the pipes are so old they need replacing or they will buckle and break.
Smith says that a 2011 survey of the piping infrastructure showed that 75% of the area's pipes needed to be replaced.
The problem with repairing the broken 50-year-old pipe is that the pipe has changed shape over time – meaning the standardised replacement wouldn't fit. Efforts were made to make modifications to the standard parts, but they still wouldn't fit.
So now, a company in Northern Ireland is making a bespoke part, which will be fitted on Wednesday, hopefully returning the water supply to Drogheda and areas around it by Thursday.
In the meantime, water is being preserved solely for use at Our Lady of Lourdes Hospital Drogheda, and water points are being set up around the area for people to come and collect. In total, there are six refilling points manned by the council in Drogheda and 16 more in Co Meath, with water tankers arriving yesterday and travelling to different areas.
People are also reporting their water returning momentarily; Smith explains that water is being returned in rotation so that everyone has access to it for a short while.
"In my estate, we've had water for one hour since Friday," he says, but other areas might have had access more than once and for longer.
But Smith is critical of the response to what Irish Water is calling an 'emergency'.
"There's no plan B," he says, calling it a "typical planning fallacy" that there were no measures in place to deal with this issue when they knew the pipes were old.
This has left families, the elderly and the sick in a difficult position during a hot and humid week.
#Open journalism No news is bad news Support The Journal

Your contributions will help us continue to deliver the stories that are important to you

Support us now
Sparkling tea
One of the workers manning the pump at Bóthar Brugha says he's been there since 8am this morning and expects to finish by 5pm – although he's not quite sure if he will finish then because of the demand all day.
One person said that some council workers were due to go on holiday this week, but had to return to work to try and help fix the pipe and restore the water supply.
The council worker at the pump says that afterwards, he'll visit his 83-year-old father and pick up water for him – the elderly in particular are affected by the water shortage, as many don't have a car or the strength to carry canisters home.
One woman who lives across the street carries a big saucepan over for them to fill.
Smith says that in Termon Abbey, he met mothers who had just left the hospital and had access only to brown water to drink. Yesterday, it was difficult to buy bottled water in any of the main shopping stores, as one man explains:
There was nothing but sparkling water left in Lidl – that's no good for tea!
So is this an argument for water charges? New revenue that will speed up restorative works and help avoid leaving residents in the lurch?
At the Drogheda & District Support 4 Older People's crochet class, a group of talented women have been discussing the water shortage all day – and it's a mixed response to the controversial charges.
Some say they're shocked that the government are giving back people's already paid water charges when there are problems like this all over the country; others say that they've already paid water charges over the years and something should have been done about it before now.
One member says that if water charges were "a reasonable amount where everybody pays the right amount" towards maintaining the reservoirs, that would be acceptable.
"You're right," another agrees.
One woman says she has a lung problem and asthma, and doesn't have a car.
"This thing about carrying big bottles of water home… I wouldn't be able for that."