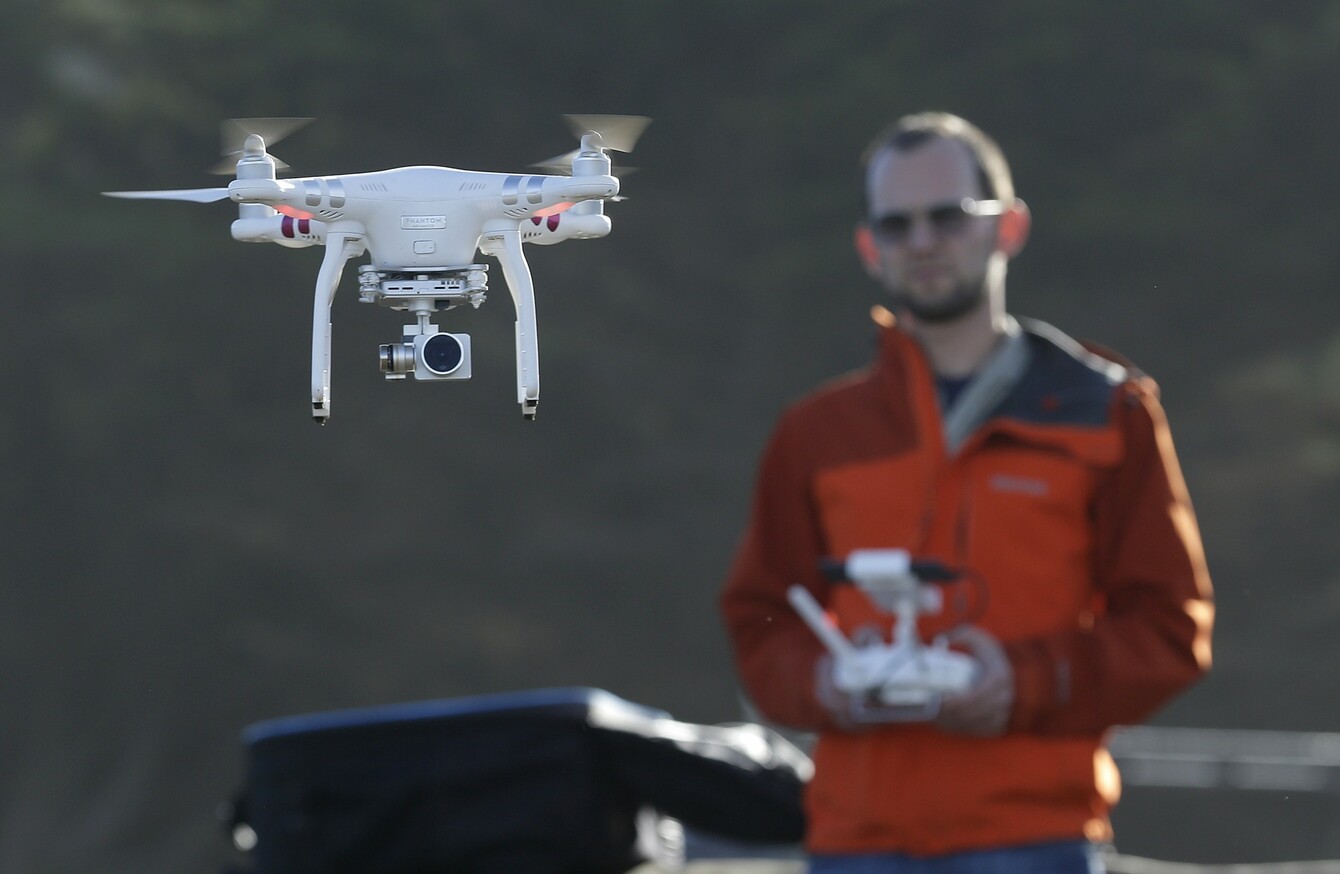 Image: Jeff Chiu/Press Association Images
Image: Jeff Chiu/Press Association Images
IF YOU WERE lucky enough to get a drone this Christmas, the temptation to start flying it immediately is pretty high.
If that's the case, you should resist the urge as there are a few things you should keep in mind first before you take to the skies.
With the most recent regulations coming into effect this time last year, it's essential to know what's allowed and what isn't before you take flight. Best of all, it will only take a few minutes to cover everything.
What are the basics?
If you own a drone and it weighs over 1kg (including battery, camera and all other attached equipment), you must register it with the Irish Aviation Authority (IAA).
You can do this by visiting the IAA's website, which asks you to sign up to Asset, its online terrain mapping system, and register your drone and location details.
Any owners under the age of 16 need to be registered by a parent or legal guardian.
Registration will cost €5 and will cover users for up to two years. There is no limit to the number of drones you can register.
Some of the regulations may change next year when new EU legislation is passed. One of the proposed measures is to register any drone that weighs 250 grammes.
Source: Irish Aviation Authority/YouTube
When can I not fly my drone?
There are a number of situations where it's not allowed. They include:
Flying it in urban areas, civil or military controlled airspaces.
Flying it in restricted areas (prisons, military premises, etc.)
Further than 300m from the pilot.
Over 400ft (120m) above ground level.
Within 120m of any person, vehicle or structure not under the pilot's control.
Closer than 5km from an aerodrome.
Anywhere where it could be a hazard to another aircraft in flight.
If you want to fly your drone outside of those limits, you need to gain specific permission from the IAA.
If you're flying over private property, you must have permission from the landowner.
Do I need training to fly a drone?
You don't. It's expected that those flying the drone follow the rules, but the IAA recommends anyone who uses a drone to take a safety training course. It's also recommended that you have insurance for your drone in case something happens.
If a drone weighs 4kg or more, you will need training.
Anything else to keep in mind?
Drones are easier to fly than model aircrafts because of the number of safety features built-in. However, just because something is easier to use doesn't mean you don't need to practice. Resist the temptation to fly as far or as high as you can and instead become accustomed to the controls and handling.
If something does go wrong – and you should always keep that possibility in mind – you may be able to avoid crashing or causing damage if you're more experienced. Make sure you have a lot of space, and it isn't windy or stormy when you're starting out.