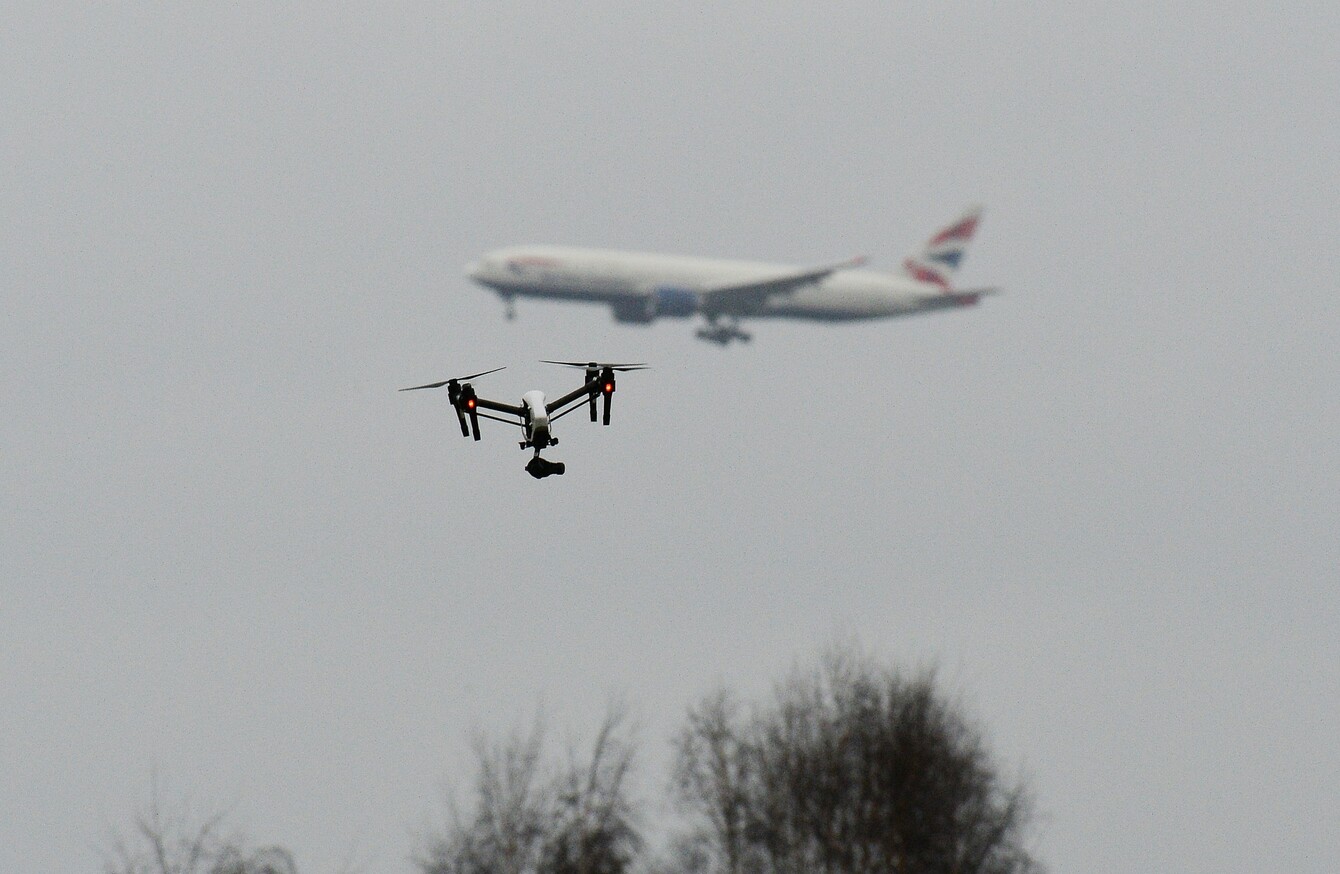 Image: John Stillwell PA Wire/PA Images
Image: John Stillwell PA Wire/PA Images
DUBLIN AIRPORT HAS launched an awareness campaign aimed at drone users, which urges them to stay safe and ensure they don't fly near the runway and in the skies surrounding the airport.
Signs have been mounted around the airport's perimeter to warn that Dublin Airport is a "no drone zone", and tell people that to use one in the vicinity is illegal.
The Irish Aviation Authority (IAA) said that there has been a number of incidents where people flying drones close to the airport "disrupted operations". The problem is not confined to Ireland, however.
The International Air Transport Association (IATA), which sets global standards for the aviation industry, counted 856 cases worldwide between January 2013 and August 2015 of a drone getting too close to a plane for comfort.
Speaking today, Dublin Airport's Chief Police Officer Pat Bracken said: "Safeguarding the airfield at Dublin Airport is a key priority for us. Drones are becoming an increasingly popular way to film the countryside, however, they can cause serious damage to an aircraft."
The IAA's director of safety regulation Ralph James said: "There have been a couple of incidents of people using drones close to Dublin Airport, which have disrupted operations and drone users need to be aware of the rules for the safe operation of drones."
The IAA offers a range of information on how to use drones safely but you also have to register your drones with them.
If you own a drone and it weighs over 1kg (including battery, camera and all other attached equipment), you must register it with the IAA.
You can do this by visiting the IAA's website, which asks you to sign up to Asset, its online terrain mapping system, and register your drone and location details.
Registration costs €5 and will cover users for up to two years. There is no limit to the number of drones you can register.
Some of the regulations may change next year when new EU legislation is passed. One of the proposed measures is to register any drone that weighs 250 grammes.