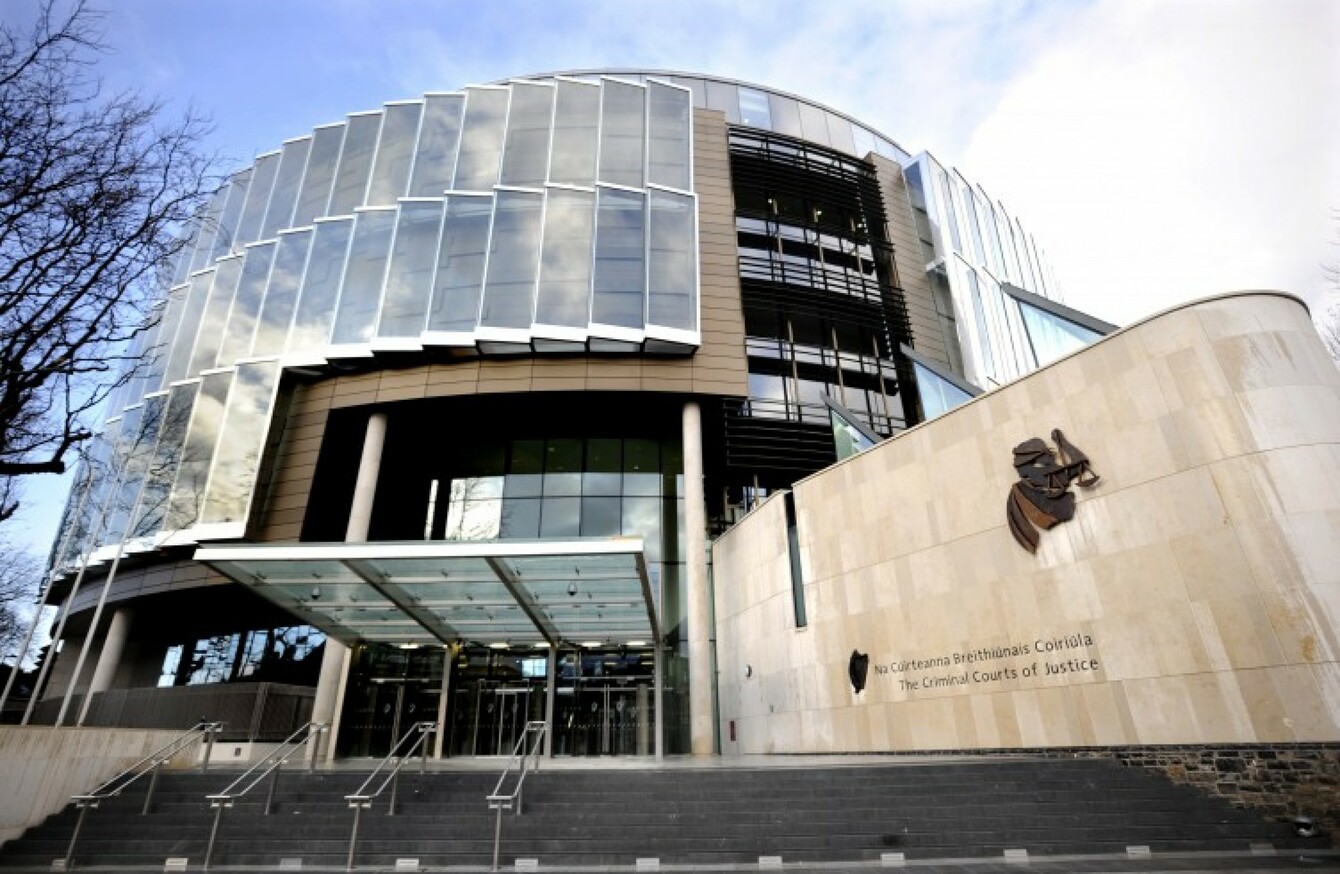 Central Criminal Court
Image: Sasko Lazarov/RollingNews.ie
Central Criminal Court
Image: Sasko Lazarov/RollingNews.ie
A WOMAN CHARGED with murdering her colleague by driving him into a harbour, where he drowned, told gardaí she couldn't take it anymore after he spent two years following her, texting her and telling her he loved her.
Marta Herda of Arklow, Co Wicklow is charged with the murder of 31-year-old Csaba Orsas on 26 March 2013.
The waitress's first garda statements were read to the Central Criminal Court yesterday, on the fifth day of the 29-year-old's trial.
The Polish woman has pleaded not guilty to murdering the Hungarian at South Quay, Arklow.
Garda Anthony Crehan testified that he travelled to the hospital where Herda had been taken after swimming to safety from her submerged car. He took a voluntary statement from her there and took another at Arklow garda station that afternoon.
She said she hadn't known the deceased until she began working at Brook Lodge Hotel two years earlier.
"I think he fell in love with me," she said. "I was never his girlfriend, but it was 24 hours a day. He came to my place, to my friends' places."
Herda said he also contacted her via text and Facebook. She later said that, although she knew him only through work, he had known her before that.
He told me he knew me from Brook Lodge restaurant when I went there for a meal with friends. He even remembered what clothes I was wearing.
She said that he used to talk about her to her colleagues, telling them they had sex – something she said was untrue.
'No longer funny'
Herda said he used to sit beside her at work and wanted to hold her hand.
"People think this [was] funny but not for me. The second year it [was] no longer funny."
She said that management was aware of the problem due to him leaving work to be with her.
"I once got angry with him but he liked me angry. He liked my eyes," she said.
Herda said a friend had spoken to the deceased man's brother in order to keep the deceased away from her, and that she hadn't answered his calls for the last three months.
"He also followed me in person the last two years," she said, explaining that she had lived alone for the first year and that she would frequently see his car there.
She said she would make taxi drivers drive right up to her home and that she would run inside. She said she would then hear Orsas banging the gate.
"I didn't want to stay there," she continued.
Herda said she moved in with two friends, even though one of them was her former partner, because it was safer.
She said she told Orsas to leave her alone, but he told her that he could see in her eyes that they would have children together.
GPS
"I think he has GPS on my car," she said, explaining that she would see him everywhere she went, whether it was Tesco or the airport.
Herda said she told her friends to contact the gardaí if she ever went missing for more than three days. She said Orsas also followed her friends and bought them gifts.
She said she was scared and depressed.
She stated that the day before the drowning he followed her to the playground, where she was minding her friend's children.
She said she went to a friend's house that night and had a couple of glasses of wine with him. That friend, Viktor Szentesi, had driven her home in her car before walking home.
"Csaba came to my car. He wanted to talk," she said, adding that he had wanted her to take them to the beach.
"He was screaming at me," she said. She said he started feeling her leg as she drove, adding: "I was afraid."
She said she remembered hitting the accelerator and driving into the water because she thought "I cannot take this anymore".
Underwater
Herda recalled being under the water, and said she screamed Orsas' name before seeing a ladder and climbing out.
She said the deceased had not hit her, but grabbed her very hard once and she pushed him.
"When I drove into the water, I wanted this all to stop," she said.
I didn't want to tell the guards. You must remember that in Poland people don't like police.
The trial also heard from the doctor and nurses who treated her in hospital that morning.
Dr Donal Bailey testified that he had asked her if she knew what would happen when the car entered the water.
"She nodded and became tearful," he said. "Her only answer to me was that she knew he couldn't swim."
Cross-examination 
Under cross-examination by the defence, he agreed that she had difficulty with her tenses in English. He thought that she was saying retrospectively that she knew what would happen, not that she knew beforehand.
He agreed that this didn't cause him to revise his conclusion that she had no homicidal intent.
Nurse Claire Best testified that she asked her if she had been hurt.
"She said she didn't give him a chance. That he didn't think she would do it and she knew he couldn't swim," Best said.
She confirmed under cross-examination that the words 'He didn't believe I'd do it' were not in the notes she made that morning.
Under re-examination by the prosecution, she said: "From the moment I went in to Marta, I felt that I would end up here today."
The trial continues before Justice Patrick McCarthy and a jury of eight men and four women.
Comments are closed as the case is before the courts.