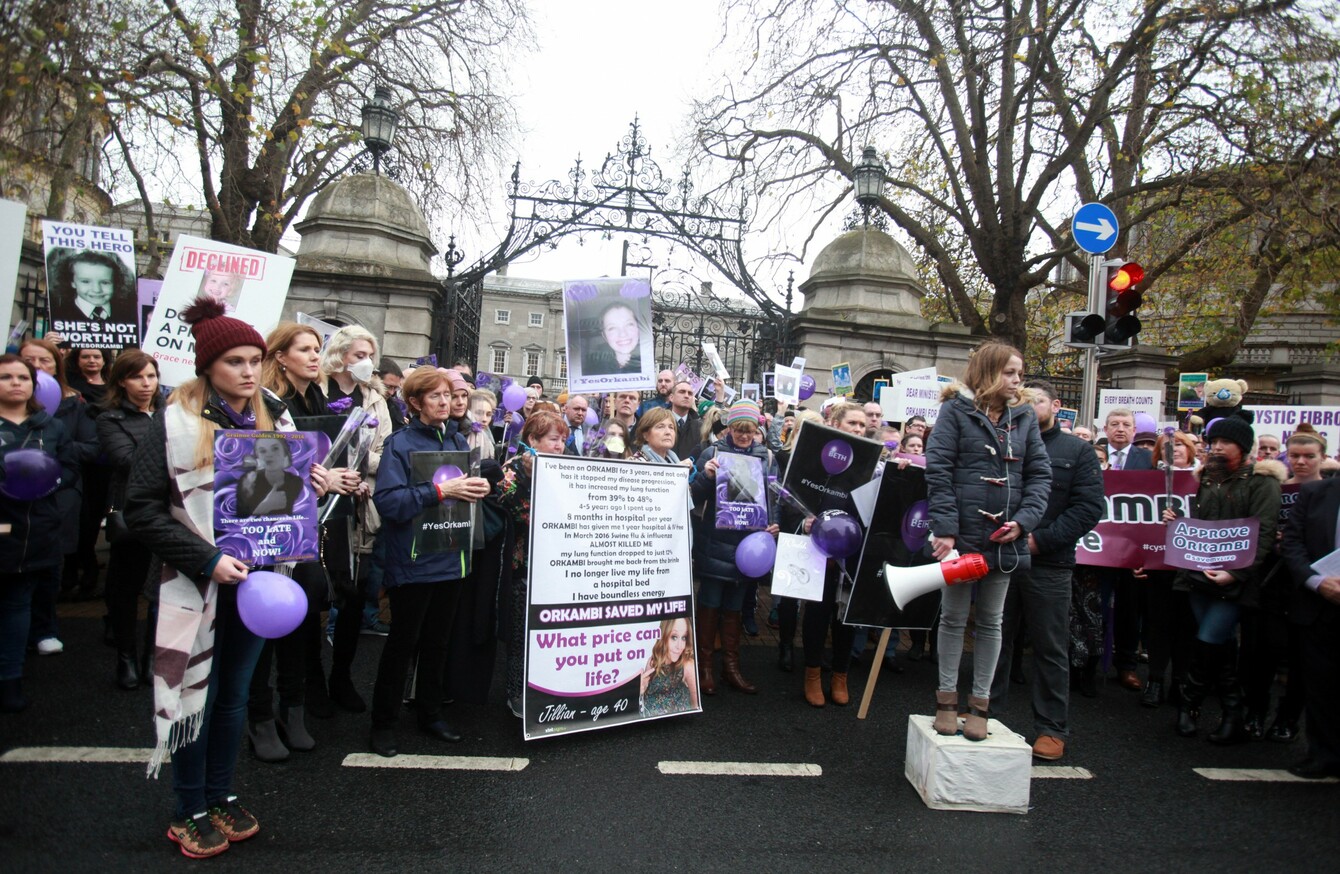 Image: Leah Farrell/Rollingnews.ie
Image: Leah Farrell/Rollingnews.ie
"IT WAS very upsetting. It's an emotional drug because of the hope that it has attached to it."
"Patients are being used as pawns in a process like this. [It's] very regrettable that so many of them and their families have been put through such a harrowing time."
"It has completely changed my life. I no longer live my life in a hospital."
This is what some patients and their families had to say about the recent dispute related to the potentially life-saving cystic fibrosis drug, Orkambi.
While no final decision has yet been made, cystic fibrosis sufferers fear that the drug will not be made available through the HSE.
The National Centre for Pharmacoeconomics (NCPE) has said the drug, at a price of €160,000 per year is not "cost effective".
The emotional issue has engaged government, the pharmaceutical industry and the general public.
While patient advocacy groups say that that the system for judging medicines is "antiquated" and in dire need of change, the body in charge of approving drugs say that they must work within the limited funding they have.
They add that "if we spend money on one area, it may not be available to spend in another area."
But what exactly constitutes cost-effectiveness? How are new medicines judged in Ireland and what is the criteria that is used to decide whether or not someone can access a potentially life-changing drug?
Quality of life
The main criteria used by the NCPE on a new drug is the concept of a quality-adjusted life year (QALY).
As part of the required "Health Technology Assessment" for each new medicine, it is designed to provide an effective guide for health authorities with limited resources on whether or not to fund a drug.
The definition from the Health Information and Quality Authority (HIQA) of a QALY is: "A measure of an individual's length of life that has been adjusted for the health-related quality of life".
Essentially, a QALY equates to one year in good health.
As a general rule, the HSE funds drugs of between €20,000 and €45,000 per QALY.
For example, a cancer drug which costs €70,000 but gives the patient an extra two years of quality life would be likely fit within this criteria to be recommended by the NCPE and funded by the HSE.
In terms of conditions that are not life-threatening but still quite serious, such as diabetes, this gets more problematic when there are already existing treatments that offer benefits and a potentially-better, newer drug can cost a lot more.
In the case of Orkambi, despite saying that the drug would cost €160,000 per patient per year in real terms, the NCPE determined paying for the drug would constitute €649,624 per QALY.
According to HIQA's economic guidelines for evaluating medicines, using this method to judge how effective a drug is is of vital importance.
One of the implications of making comparisons regarding the cost-effectiveness of different [medicines], is that a threshold ratio exists above which a [drug] is not considered to be cost-effective.
HIQA does, however, note that the QALY system for determining cost-effectiveness is "not the sole basis for decision making". In certain cases, a pricier drug can still be approved, they've said.
QALYs are intended to be applicable to all patients suffering from all diseases. So for one drug that treats patients with cancer, one that treats epilepsy, and one that treats diabetes, they are all appraised under similar QALY principles.
Writing in the University of Oxford journal QJM, researchers have highlighted that the "arbitrary" nature of judging what constitutes "good quality of life" is a problematic aspect of judging medicines in that way.
Referencing the similar system used in the UK, they said: "We have finite resources and there is infinite need, but we would strongly argue that there are problems that arise from the use of the QALY in assessing the value of a treatment.
Quality of life means different things to different people, depending on their life experiences and personal circumstances, and varying with their point in their lives.
"Furthermore, the effects of a patient's health on the quality of life of others, such as carers or family, do not figure into these calculations but can have wide ranging economic consequences on the state."
For its part, the Irish Pharmaceutical Healthcare Association says: "The QALY threshold is set at €45,000 in the Framework Supply Agreement negotiated between IPHA and the State this year.
It is a fair threshold in accessing the value for money of innovative medicines brought forward by IPHA companies.
Spiralling costs
The problem here is that, for many of the newer medicines being developed in multiple research areas, the pharmaceutical industry charges quite a lot for them.
It is this high cost that means that the NCPE is rejecting many new drugs.
Orkambi has certainly made the headlines but a cancer drug which also garnered attention after showing great promise in clinical trials is Opdivo, or nivolumab.
Opdivo has shrank tumours in multiple different cancer types but, to date, it has not been recommended for use by the HSE for any tumour types.
Submissions were made for Opdivo to treat certain forms of lung cancer, kidney cancer and melanoma. In each case, the NCPE judged that, at €45,000 per QALY, the drug would not be an efficient use of resources.
In contrast, the UK body in charge of approving medicines has already approved Opdivo for advanced forms of melanoma.
Similarly, the NCPE did not back a drug called Otzela for certain arthritis patients, while its UK counterparts have just agreed to provide it after securing a price reduction with the manufacturer.
The situation where a drug must be turned down due to cost is one that Dr Michael Barry, the head of the NCPE, has spoken of many times.
When another costly drug for cystic fibrosis patients, Kalydeco, was up for debate in 2013, Barry told RTÉ's Morning Ireland: "That's a really difficult one. We want patients with CF [...] to have access to this drug. There is absolutely no question about that.
Where we're coming from is we have to think of all patient groups, and if we spend money on one area, it may not be available to spend in another area.
"And so, for example, if we're faced with a challenge of new exciting cancer drugs which are expensive towards the end of the year, will we be able to afford them?"
Rare diseases
Another potential issue with this system for assessing drugs is those that treat rare diseases.
For the pharmaceutical companies that do research treatments for rare diseases, the high cost of developing these medicines means that the cost to patients and healthcare systems is high.
In the case of cystic fibrosis, this balance between treating patients and funding treatments has been most clearly seen in the recent Orkambi debate.
Philip Watt, CEO of Cystic Fibrosis Ireland, told TheJournal.ie that, while the NCPE has "a very difficult job" and work tremendously hard, they were working with an antiquated system.
He advocates a "bespoke" system that would judge such drugs on a case-by-case basis.
He said: "It is clear that the QALY system in Ireland is not fit for purpose when it comes to new drugs for rare diseases. Under the present system of health technology assessments, no drug will be recommended due to cost.
The system can be a bit utilitarian in that way. From that point of view, it's better to give two million people an aspirin, than it is to give 20 people a very expensive drug.
"I think that's the default mindset, and that's why groups such as ourselves have always had to fight."
Watt added that decisions made on these drugs often don't take into account the actual real savings made by ensuring patients don't need to return to hospital as often or require more costly treatment further down the line.
In the National Rare Disease Plan for Ireland 2014-2018, compiled by the Department of Health.
One of its recommendations was to "bring forward appropriate decision criteria for the reimbursement of orphan (rare) medicines and technologies".
To date, decisions on drugs such as Orkambi remain within the remit of the NCPE and their QALY appraisals.
With the uncertainty around these drugs persisting, both the NCPE and advocacy groups agree that government should proactively negotiate with pharmaceutical companies to try and keep the price down.
In many of their submissions available on site, the NCPE said they don't recommend that particular medicine at its "current price" meaning that the onus is on the HSE and government, as well as the manufacturer, to agree a price that better suits everyone.
As Simon Harris sits down to work with other countries to bring Orkambi to Irish patients, the way the current system works means that, for CF patients and their families, these negotiations take centre stage.
The most difficult choice
Even in slightly better economic circumstances, funding pressures on the health service will always be present.
With a limited budget always going to be reality, can a life be quantified in these terms, especially in these situations?
Facing a near impossible job, some people are tasked with making the difficult decisions that will ultimately affect whether or not someone can access potentially-life saving medication.
If funding one drug may directly affect whether or not another can be, it is no wonder that every decision made is scrutinised.
With each decision, someone may get another chance. With each decision, someone else may be denied one.