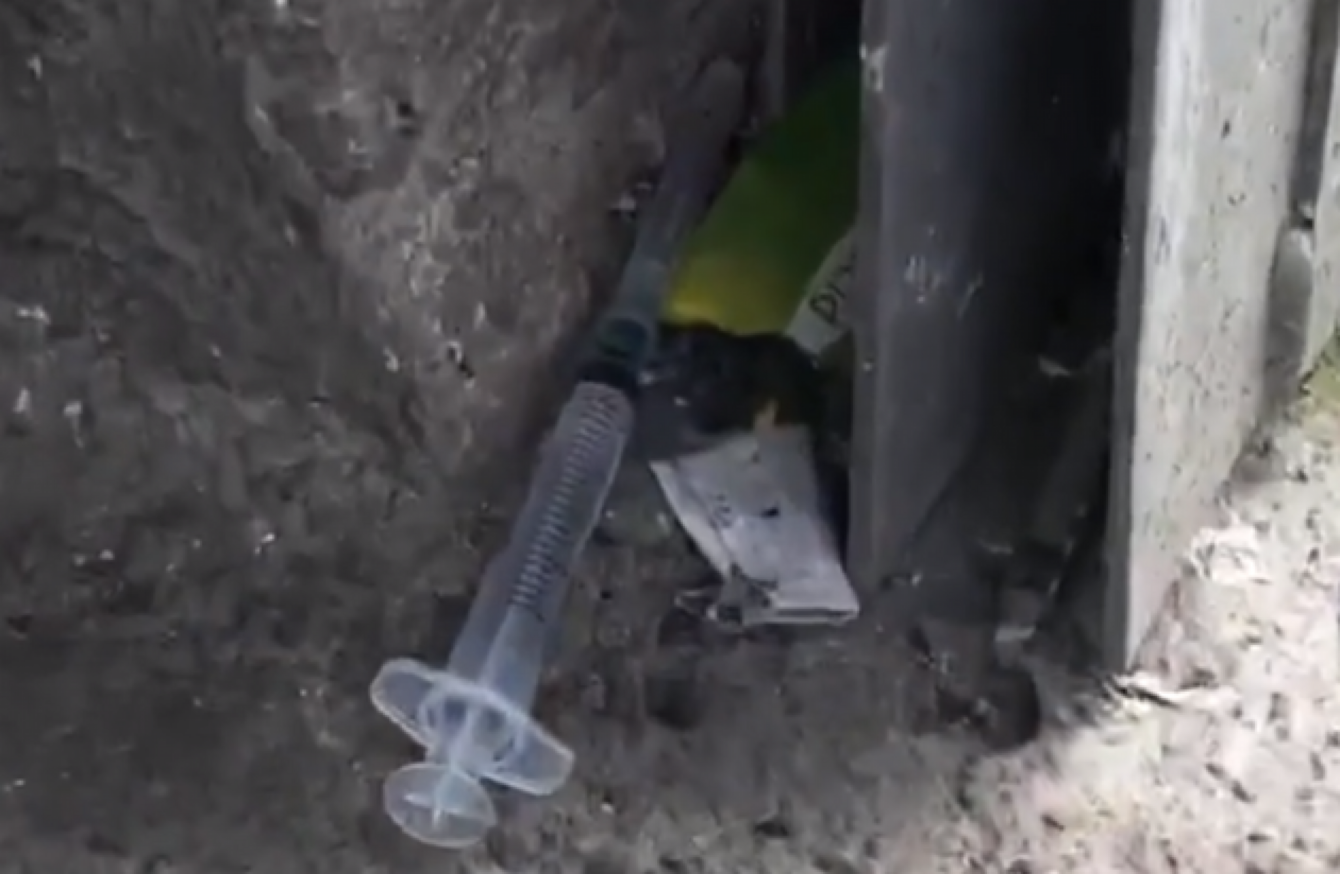 A discarded needle in Dublin city centre.
Image: TheJournal.ie
A discarded needle in Dublin city centre.
Image: TheJournal.ie
THE LATEST FIGURES on drug-related deaths, released today, show that almost two people die each day as a result of poisoning, trauma or medical causes linked to drug use.
The latest figures from the Health Research Board (HRB) cover 2014.
A total of 697 people died that year, compared to 431 in 2004 – representing an increase of 62%.
According to the HRB:
Prescription drugs were implicated in 259, or three in every four, poisonings during 2014.
235 people died in 2014 because they took a mixture of drugs, with an average of four drugs involved. Benzodiazepines were the most common drug group involved in polydrug deaths.
Alcohol is still implicated in one in three deaths and remains the single most common drug implicated in deaths between 2004 and 2014.
Hanging was the main cause of non-poisoning deaths. There was a 21% increase in deaths due to hanging between 2013 and 2014.
The Health Research Board reports on poisoning deaths (also known as overdoses) which are due to the toxic effect of a drug, or combination of drugs, and on non-poisonings which are deaths among people who use drugs as a result of trauma, such as hanging, or medical reasons, such as cardiac events.
Many of the deaths recorded in 2014 were premature – half of all deaths covered in the report were of people aged 39 years or younger. Three in four of the deaths were male.
"It is not just illicit drugs that are resulting in death," Dr Graham Love, Chief Executive of the HRB said.
"Over time we are seeing a rise in the number of deaths involving prescription drugs and cocktails of different drugs. Alcohol is also implicated in one in three deaths. Mixing drugs increases the risk of death, which is clearly reflected in these figures."
Polydrug use
44% or 118 deaths of the deaths covered in the HRB report covering 2004 were due to a cocktail of drugs – with an average of two drugs taken.
In 2014, this had risen to 66% or 235 deaths – with an average of four different drugs taken.
59% of deaths where alcohol was implicated involved other drugs, mainly opiates. Almost all deaths (98%) where cocaine was implicated involved other drugs.
Merchants Quay Ireland, which works with drug users and people who are homeless, said the figures were not a surprise – as Ireland has consistently experienced five to six hundred drug deaths each year recently.
"All around the country, there are families wrought with anxiety not knowing whether their loved ones who have developed serious drug problems will live to see another day.
Since 2004, the HRB have recorded 6,697 drug related deaths – behind each of these tragic deaths there are partners, friends & mothers left to mourn their loved ones, this grief leaves a lifelong emotional scar on families and communities in towns and villages all around Ireland.
Ena Lynn, lead-researcher from the Health Research Board, said:
"We should not lose sight of the fact that each of these statistics is a life cut short, and that family members are deeply affected. These statistics give us some insight into the impact that drug use has on people and society."