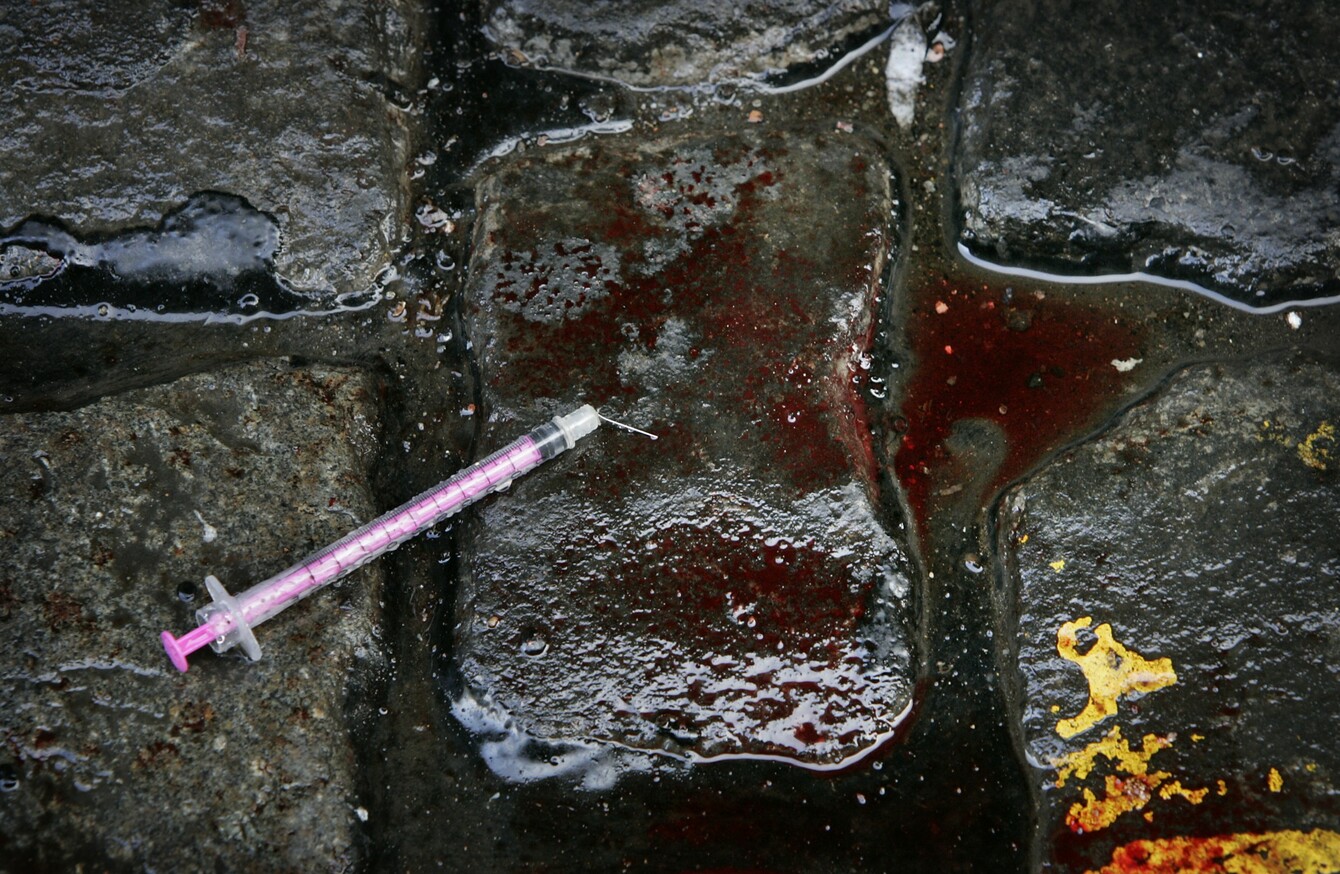 A discarded needle on the streets of Dublin.
Image: Mark Stedman/RollingNews.ie
A discarded needle on the streets of Dublin.
Image: Mark Stedman/RollingNews.ie
MOVES TO OPEN a supervised injection centre in Dublin and decriminalise the possession of small quantities of drugs like cannabis could be reversed, the outgoing Drugs Minister has warned.
Late last year, Aodhán Ó Ríordáin announced plans to introduce medically supervised injection centres in Dublin where drug users could go to inject themselves. He predicted the first could be opened within a year.
The former Labour TD also gave a groundbreaking speech in London in which he backed decriminalising the possession of small amounts of drugs such as cannabis.
However Ó Ríordáin lost his Dáil seat last month and will no longer hold responsibility for drugs strategy once a new government is formed.
He's admitted in an interview with TheJournal.ie that he has "no idea" what happens to the plans he had set in train, but said he is "convinced that decriminalisation is the only way to go in terms of drugs reform and drugs policy".
"I tried to push the agenda as much as I possibly could, tried to push the envelope out and say: 'Look, this is something that is happening internationally,'" he said.
This is my view of how we should approach this area, it just makes logical sense to me that we don't criminalise those in addiction.
Last year, the cabinet approved amendments to the Misuse of Drugs Bill which allow for the establishment of supervised injection centres, but the legislation has not yet been introduced in the Dáil or Seanad.
Ó Ríordáin warned that any new health minister could take this provision out of the bill if there is "political pressure".
A new minister for health could just take it out if they wanted because the political pressure from within the system to maintain it may be too thorny, people mightn't want to go with it.
Fine Gael, which is likely to be part of the next government, said nothing in its manifesto on the issue of decriminalisation and the party did not respond to a request for comment on the issue during the campaign.
At a previous party Ard Fheis, Fine Gael members voted down a motion to legalise the use, sale and production of cannabis.
Ó Ríordáin said he believes the current Health Minister Leo Varadkar is committed to the injection centre idea and "has an interest" in decriminalisation.
He said: "I would hope that in whatever formation of government comes out that there will be a dedicated minister for drugs, and if that person is appointed then I think that person should take on that campaign [to decriminalise]. I think it can be won."
The former Labour TD said he favours the oft-cited Portuguese model.
While it is still an offence in Portugal to possess illegal drugs, it is now treated as a civil or administrative matter in cases where a person is found with a quantity of up to 10 days' supply for personal use.
Drug overdose deaths in Portugal are the second-lowest in the European Union. Among Portuguese adults, there are three drug overdose deaths for every one million citizens. The EU average is 17.3 per million.
Ó Ríordáin said: "Look at the 20,000 people who suffer from heroin abuse in Ireland and the fact that in Portugal they've cut the number of people dying from heroin overdoses in half over 15 years.
We can actually save thousands of lives by this initiative over the course of whatever number of years.
The former Dublin Bay North deputy said there is still "an awful lot of convincing" to be done, pointing to the confusion in the debates around decriminalisation that he has taken part in.
"I was on Prime Time on RTÉ and I was asked about about this idea of legalising drugs. I said that's actually not my position, my position is decriminalisation, it's very very different," he said. 
"So I think the language and the terminology is still out there to be won, before we might actually introduce it, but the stats and the research backs it up. It's not about decriminalisation of drugs it's about decriminalisation of the individual."