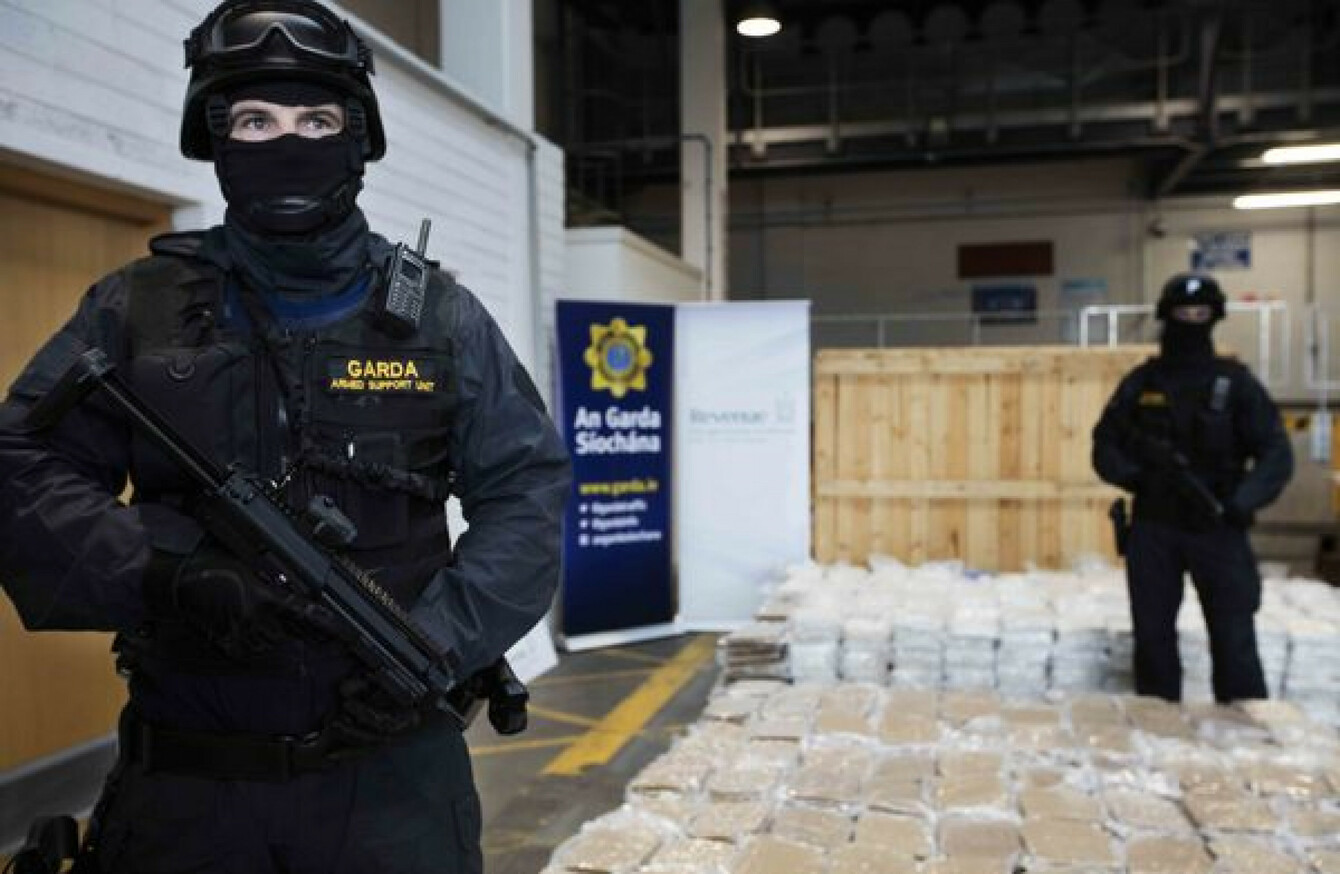 A haul of €40 million worth of herbal cannabis seized in Dublin Port last year.
Image: Eamonn Farrell
A haul of €40 million worth of herbal cannabis seized in Dublin Port last year.
Image: Eamonn Farrell
A FORMER ASSISTANT Garda Commissioner has called for the decriminalisation of people caught with small amounts of illicit drugs.
The current approach to drug policy in Ireland is criminalising young people and minimising their life chances, Jack Nolan, who retired from the force last year, told a town hall-style meeting on the issue last night.
The meeting, at the Wood Quay venue in Dublin city centre, was organised by the Ana Liffey Drug Project to coincide with the start of a public consultation on whether our current laws need to change.
Nolan, who at the time of his retirement was heading up policing in the Dublin Metropolitan Region and who now sits on Ana Liffey's board, said the area of drug decriminalisation was a complex one and that there were no "silver bullet" solutions.
It was now 41 years since the introduction of the Misuse of Drugs Act, he said, observing that he had served in the gardaí for 40 of those years "and I don't think there was any meeting or any planning session I went to where drugs or drug use or the sale or supply of drugs was not mentioned".
"I have been involved in operations, directed operations, managed operations – and I suppose at the end of that 41 years it's hard to say there are less drugs available in this country."
"That is something that we must consider very, very closely – why are drugs so easily available?"
Drugs, he said, were widely available at our schools, at music festivals and at pubs all over the country – adding that the global drug trade was worth around €500 billion a year.
"That is a frightening phenomenon," Nolan said.
"So the world's response has always been law enforcement and then secondary has been the rehabilitation, the treatment and the welfare model."
Said Nolan:
"Our young people are criminalised. Our young people are deprived of life chances. 360 odd die of overdoses - that's more than three times the number of people who die on the roads.
"And yet we're here in a small town hall meeting discussing this issue. This is a bigger issue for Irish society than possibly is commonly perceived.
"But the size of the issue should not be underestimated. Because once the debate starts on decriminalising drugs the debate will start on 'soft on drugs, soft on crime' and then watch what happens in the wider political and social space."
The former garda, who spoke toward the end of the meeting, told the crowd:
Decriminalising drugs is a major challenge. I am more interested in decriminalising the person caught with small amounts of drugs or using drugs because if we decriminalise that person we don't minimise their life chances and we give them opportunities that today are not as readily available.
Open to change 
Other speakers at the meeting spoke of the need for people who had been hit with criminal penalties for lower-scale drug offences to tell their stories as part of the campaign to change the legal approach.
Dublin GAA star Philly McMahon, who has made a series of media appearances over recent years supporting the decriminalisation of drugs for personal use, spoke about his brother John who died from a drug overdose in London in 2012.
"Everything I do around drug addiction is in his name and for his legacy. I try to keep his name alive and certainly help others that maybe don't have the supports that he could have done with when he was alive."
McMahon told the meeting:
I don't think as Irish people we can use the excuse any more that we're afraid of change. We've seen in the last two referendums that we are open to change.
Contributors from the audience also made comparisons with the successful Yes campaigns in the marriage equality and abortion referendums – and highlighted the need for people affected by the issue to tell their stories.
Marcus Keane, head of policy with Ana Liffey, agreed it was "really important to hear the damage that criminalisation has on people on a day to day basis – that it is a real impact, it's not some intangible thing that happens to other people".
Said Keane:
"I think there was 16,000 incidences of possession recorded last year – more than one every hour. Every single one of those is a potential criminalisation situation and for every single one of those people who are criminalised it does have real and lasting sequela in their lives: they cannot go to the States, they might have difficulty travelling, they might have difficulty getting jobs.
It's a real barrier – so those stories are really important.
#Open journalism No news is bad news Support The Journal

Your contributions will help us continue to deliver the stories that are important to you

Support us now
'Politicians can surprise you'
Aodhán Ó Ríordáin, the Labour senator and former drugs minister, said campaigners would have to make a particular effort to explain what decriminalisation means – as many voters assume it essentially amounts to legalisation.
Referencing the momentum that built up behind the campaign to remove the Eighth Amendment, he said in response to points made by other speakers that "the political system, when they're asked to genuinely address an issue, they can actually surprise you".
It is currently a criminal offence for anyone to possess illegal drugs in Ireland. Anyone found to be in possession of prohibited narcotics can be prosecuted before the courts and potentially receive a criminal conviction.
The government last year launched its National Drugs Strategy, titled Reducing Harm, Supporting Recovery. The strategy explicitly supports moving towards a "health-led response to drug and alcohol use in Ireland".
In November of last year, junior minister with responsibility for the strategy Catherine Byrne set up a working group to consider alternative approaches to the possession of drugs for personal use.
The consultation asking for the public's views on the matter has now been launched in the form of an online questionnaire.
Decriminalisation 
Decriminalisation is defined by the European Monitoring Centre for Drugs and Drug Addiction (EMCDDA) as when the status of a criminal offence is reclassified as non-criminal. Although possession of illegal drugs would remain prohibited and be addressed by police, it would not be treated as a criminal offence.
The approach has already been adopted by other countries. Portugal decriminalised the use of illegal drugs in 2001, a move which experts have said has led to a "spectacular" reduction in the number of infections among intravenous users and a significant drop in drug-related crimes.
A law that became active in 2001 did not legalise drug use, but forced users caught with banned substances to appear in front of special addiction panels rather than in a criminal court.
A report published by the Oireachtas Justice Committee outlined that, while it might be suggested that such programmes could add to the cost of healthcare, the experience in Portugal has "actually resulted in a reduction in costs to the State".
That cross-party panel also recommended in 2015 that the possession of small amounts of illegal drugs be decriminalised.