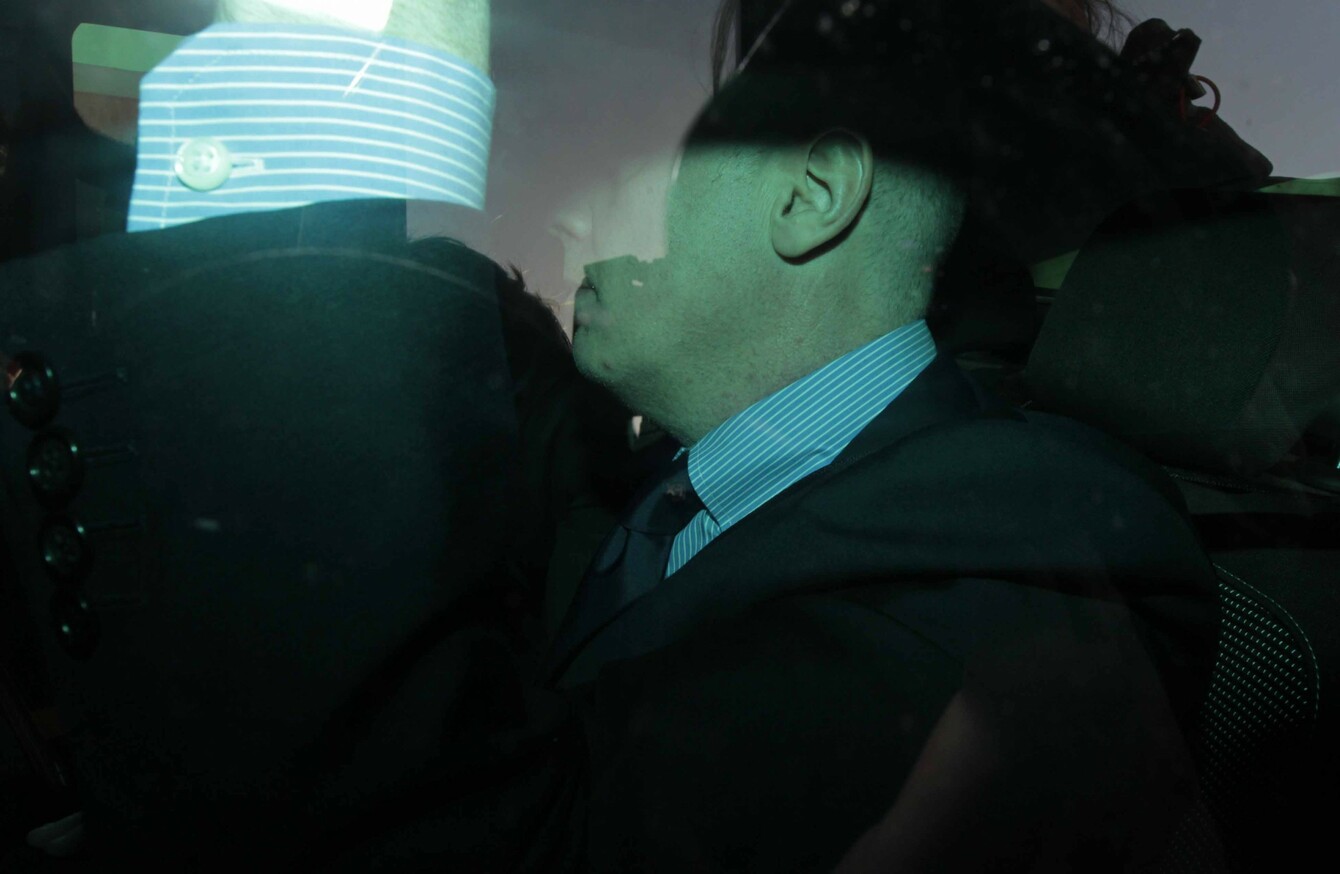 David Drumm arriving at Dublin District Court this morning
Image: RollingNews.ie
David Drumm arriving at Dublin District Court this morning
Image: RollingNews.ie
First publised at 2.55pm
DAVID DRUMM HAS been granted bail on strict conditions at Dublin's District Court today.
The former Anglo Irish Bank CEO will have to surrender his passport, lodge a cash bond of €50,000 and provide an independent surety of €100,000. €50,000 will be submitted to the court and the other half will be frozen in the person's bank account.
The court was told there was not enough time to produce evidence of the money in the bank account this afternoon.
The court has been adjourned until tomorrow morning, where evidence of the sum of €50,000 in a bank account can be presented to the court.
Drumm will be remanded in custody overnight, with consent to bail.
Sworn evidence by Drumm 
Judge Michael Walsh asked Drumm to give evidence under oath that he did not own a US passport and would not seek to get one as part of his bail conditions.
Dressed in a navy suit, dark blue tie and light blue shirt, Drumm told the court: "I do not have a US passport." He told the court the gardaí had his Irish passport.
Drumm is also not allowed to leave Ireland. The DPP asked the judge to put further restrictions on the businessman, including one that he could not leave the county of Dublin.
This request was refused. The judge said he had taken Drumm's clean record into account, as well as the fact that he had not broken bail conditions in other jurisdictions previously.
He also pointed out that there was no possibility of a speedy trial due to other trials relating to Anglo Irish Bank. Anything before 2017 would be optimistic, he said.
Drumm told the court he intends to live in Skerries, County Dublin.
Flight risk
Earlier, the court had been told that Drumm is a serious flight risk and should not be granted bail.
However, his lawyers argued that Drumm is willing to sign on twice daily at a garda station, hand over his passport and put up cash bail. They also told the court that Drumm has said he is willing to be tagged.
The court also heard that seven people have put their houses on the line for bail.
The state objected to his bail application following his return to Ireland from Boston this morning.
Drumm faces 33 charges relating to transactions while he was chief of the now-defunct Anglo Irish Bank. If convicted, he could face between five and 10 years in prison.
One of the arresting officers, Sergeant Michael McKenna told the court there was a large group of witnesses in the case, between 110 and 120. The book of evidence included a large volume of emails, audio recordings, bank books and minutes of company meetings, and other correspondence.
Addressing the issue of tagging, Sergeant McKenna said there is no provision for tagging and the section of the law relating to extending tagging to non-prisoners has not been enacted yet.
Michael Staines, acting for Drumm, was at pains to reiterate that his client had offered to be tagged, but that due to the fact the government had not yet enacted the legislation – which is a number of years old – this is the only reason for it not being available to his client.
Accepts the charges are serious
Staines told the court that his client accepts that the charges against him are serious.
Going through the gardaí's reasons for objecting to bail, Staines said that other people on similar charges (he said he did not want to name names) were granted bail with strong bail conditions imposed.
He questioned Garda McKenna's statement that Drumm did not have tenuous ties to Ireland.
"How many relatives should one have to have ties to a jurisdiction?" he asked. He said they had 47 relatives listed and said that several, who were present at the back of today's courtroom, were willing to put up their homes for Drumm.
Staines told the court that months after Anglo Irish Bank was searched, gardaí had not sought to speak with Drumm.
McKenna stated:
This was a very protracted and difficult investigation. It was not possible to talk to persons of interest until 2010.
He said no suspect was sought until then.
Staines asked McKenna if he was aware that as a member of the garda fraud squad a person has no obligation to partake or cooperate with their investigation. McKenna said he was aware of that.
He asked why no one thought to telephone the accused to state that there was a move to bring charges against him.
Staines asked McKenna if anyone from the DPP or gardai had attempted to contact Drumm's lawyers in the states, adding that in 2013, the investigation was at an advanced stage. McKenna said they were informed that the team previously acting on behalf of Drumm were no longer doing so.
Staines said Drumm was living in plain view in Boston, and that anyone reading the Irish Times knew where his lawyers could be found.
Warrant for arrest 
Staines said no attempt was made to contact him until July 2013 when a warrant was issued for his arrest.
"Did anyone say, 'we are about to have you charged, would you not come back?… no one thought to contacting him by phone and say 'look David – do you want to come back?'"
McKenna said it would have been a "futile exercise" based on his previous evidence that he would not return to the jurisdiction.
Staines said Drumm learned about the charges against him in the Irish media.
He said his client was not a flight risk, stating that at this point, Drumm was just two hours away from Canada, and could have fled there. He told the court it would have been very difficult for extradition proceedings to brought if that were the case.
"He could have fled, but he didn't," he said. McKenna said he disagreed.
Staines said if his client was remanded in custody, that due to the large volumes of documents in the case, he would require a lot resources, such as computer access and recording devices, in order to prepare his case. McKenna said what provisions he would be entitled to would be a matter for the Irish Prison Service.
'Strong bail package'
Staines said his client was offering a "strong bail package". He added that his client also informed him that it is the intention of his wife to sell their house in Boston, and for her to return back to Ireland in June, after their daughter has completed the school year.
Dean Kelly BL for the Office of the DPP asked Garda Detective McKenna if it would be common practice for the person who was about to be charged to be "tipped off" that they were coming for them. McKenna replied that it was not, for the obvious reason that the suspect facing the charges would attempt to flee.
Staines said it would be usual for an investigating garda to call a solicitor to inform them their client was to be charged. McKenna replied: "In cases where the client has cooperated with an investigation."
Correspondence 
The court was told about correspondence between solicitors acting for Drumm and the authorities. Gardaí were seeking to interview Drumm. On a number of occasions it was suggested that Drumm would have the option of returning to Ireland, for members of the gardaí to travel to the US to interview Drumm or for another location suitable for all parties to be used.
One correspondence dated 15 September 2010 from Drumm's solicitors sought for clarification that their client would not be arrested if he was to return to Ireland.
The letter of reply from Garda Detective Featherstone stated that it would be "inappropriate" for the authorities to get into negotiations and requested a clear indication as to what the client's intentions were.
On 2 November, a letter from Drumm's lawyers stated that he had filed for bankruptcy in the US and would be unable to return to Ireland to attend an interview. Another letter, dated 20 January 2011 from the gardaí asked if he would be able to meet for an interview, as quotes from him were published in a newspaper.
Six months of correspondence between the Financial Fraud Enforcement Office and Drumm's solicitors was also discussed in court. As a result of this contact, a meeting was eventually arranged between the two parties and a date was set for 15 November 2010.
However, following Drumm filing for bankruptcy in the US, correspondence received dated 2 November 2010 stated that Drumm would not be in a position to return.
Media frenzy
Drumm dropped his legal challenge against his extradition from the US last month.
He was filmed arriving on a plane from Boston early this morning. He was immediately taken into custody at Dublin Airport, and driven to Ballymun garda station. He made no reply upon being presented with arrest warrants at 5.30am.
The state objected to Drumm's bail application for a 'number of reasons', Judge Walsh heard this morning.
Sergeant Michael McKenna told the court that these included the serious nature of the charges, the likely sentence of over five years on a guilty plea and the conduct of the accused between 2009 and 2016.
He also said his tied to this jurisdiction were now "tenuous" and that he had capacity to leave despite debts of €8.5 million.
During his evidence, Dean Kelly BL for the Office of the DPP interjected to explain his ties to the US further. He said that Mr Drumm has made his home in the US and his family still reside there.
He noted that the accused has previously said he would 'fight tooth and claw' from appearing on trial in Ireland. He only changed his mind in relation to the extradition charges when he was refused bail," Kelly added. This 'paints Drumm in a different position' to his claim he returned 'voluntarily', the state claims.
"I am saying very firmly that he is a flight risk," Kelly continued. He said that Drumm had been "steadfast in not putting a toe" in the Republic of Ireland.
He said Drumm knew that in February 2009 there was a serious investigation into Anglo Irish Bank. He was not the tea boy, he said, he was the chief executive.
"He set out for six years to avoid this day by moving his life beyond the reach of the gardai." Kelly added the court has serious doubt that Drumm can be trusted to return for trial.
The DPP said correspondence in the book of evidence that they are asking the judge to consider giving 'insights into his attitude to this trial'. The office told the court that it would question whether Drumm could be relied upon to turn up to court for his trial.
McKenna also told the court that there was a suggestion that the timing of the extradition was politically motivated in light of the recent general election. He said this was not the case as the extradition order was submitted in November 2014 and signed by US State Department last Thursday.
Granted bail
In making his decision this afternoon, Judge Michael Walsh said Drumm came before the court as an innocent man with a presumption of innocence.
Justice Kelly said he had listened very carefully all parties and had also read carefully the correspondence between Drumm and the Irish authorities.
While he said he must listen and take into consideration the objections of the DPP, it should not be the only factor when considering a bail application.
After reading the evidence, the judge said it was clear David Drumm had refused to return to this jurisdiction for questioning by the authorities. However, he said when a decision was made to bring criminal proceedings against him, no correspondence was sent to him or his US lawyers.
He said whole issue of being a flight risk and having no ties to Ireland "simply doesn't hold up".
The judge said Drumm was an Irish citizen, with strong ties Ireland, with his siblings and his elderly mother residing here.
For these reasons he said it was his decision to grant Drumm bail in the interests of justice. Judge Walsh said the bail issue could be "tidied up" tomorrow.
Comments are closed as legal proceedings are under way.