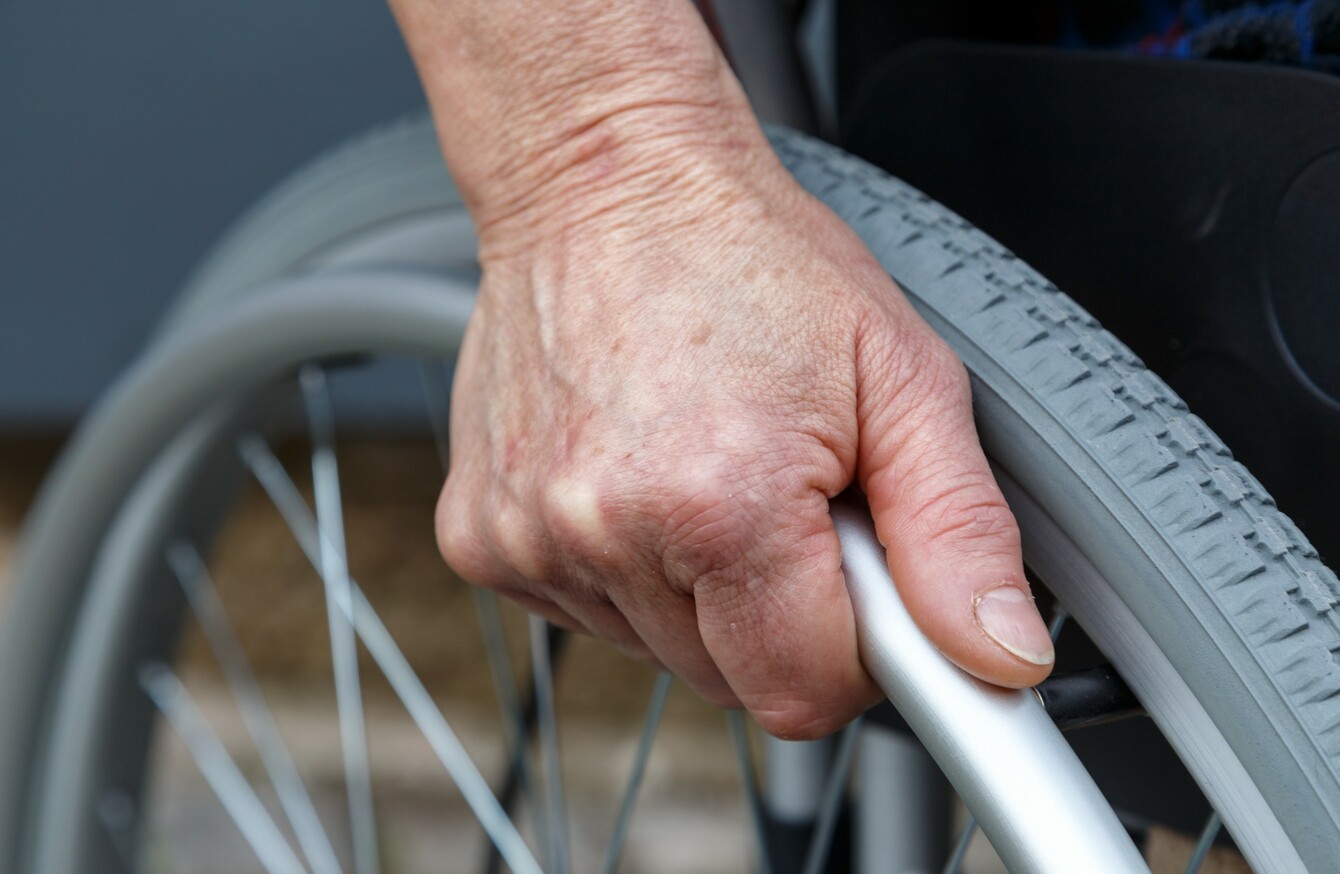 The woman had been in a wheelchair since coming out of hospital.
Image: Shutterstock/juefraphoto
The woman had been in a wheelchair since coming out of hospital.
Image: Shutterstock/juefraphoto
AN UNINSURED, DISQUALIFIED driver, who was three times over the legal limit when he caused serious injury to a pedestrian grandmother, has lost an appeal against the severity of his seven year sentence.
Maurice Power (33), of Kilmoyler, Cahir, Co Tipperary, had pleaded guilty to dangerous driving causing serious bodily harm to Fiona O'Connell on the Fethard Road, Co Tipperary on 12 November, 2012.
Power was sentenced at Clonmel Circuit Criminal Court to seven years imprisonment with the final 12 months suspended by Judge Thomas Teehan on 31 July, 2013. He was also disqualified from driving for 25 years.
Dismissing Power's appeal against sentence yesterday, Justice Garrett Sheehan said the incident occurred about 5am on the date in question.
Justice Sheehan said Power had lost control of the vehicle he was driving which drove through the boundary wall of an institution. The injured party, who happened to be walking home at the time, was carried into the grounds of the institution by the vehicle.
She could remember saying 'please don't leave me here to die', the court heard.
Power remained at the scene and endeavoured to give assistance before he was arrested by gardaí, the judge said.
He was three times over the legal limit, was driving while disqualified and without insurance, Justice Sheehan said.
The injured party described having to have her leg amputated despite 14 operations in an attempt to save it. She had spent four months in hospital.
Severe injuries
She had been in a wheelchair since coming out of hospital, was attending the National Rehabilitation Centre and was being fitted for a prosthetic leg at the time of sentencing.
She also had a fractured nose, cracked ribs, black eyes and was bruised all over.
Power was a labourer who was in a relationship and was the father of two young children. He had 51 previous convictions mainly for road traffic matters but which included convictions for assault, possession of drugs and possession of a firearm and ammunition, Justice Sheehan said.
Power's lawyers appealed his sentence on grounds that the sentencing judge placed the offences too high on the scale and gave insufficient weight to the mitigating factors.
Justice Sheehan said that in a number of other cases where death and serious injury had resulted from dangerous driving, the appellant had no previous convictions or relatively minor ones.
In this case, Power was not only disqualified at the time of driving but had significant previous convictions such as a recorded conviction for drink driving and having been previously disqualified more than once.
There had been a progressive increase in sentences imposed in dangerous driving causing death cases over the past 15 years or so, Justice Sheehan said, and this remark was applicable to cases involving serious injury also.
The judge said the sentence imposed on Power was significant but the Court of Appeal was bound to allow a margin of appreciation to a sentencing judge.
Mr Justice Sheehan, who sat with Justice George Birmingham and Justice Alan Mahon, said the Circuit Court judge was entitled to identify seven years as the appropriate starting point having regard to the horrific injuries as well as the aggravating factors in this case.
He said the sentencing judge saw fit to mark the mitigating circumstances by suspending the final 12 months. In the Court of Appeal's view, there was no error in principle and accordingly the appeal was dismissed.