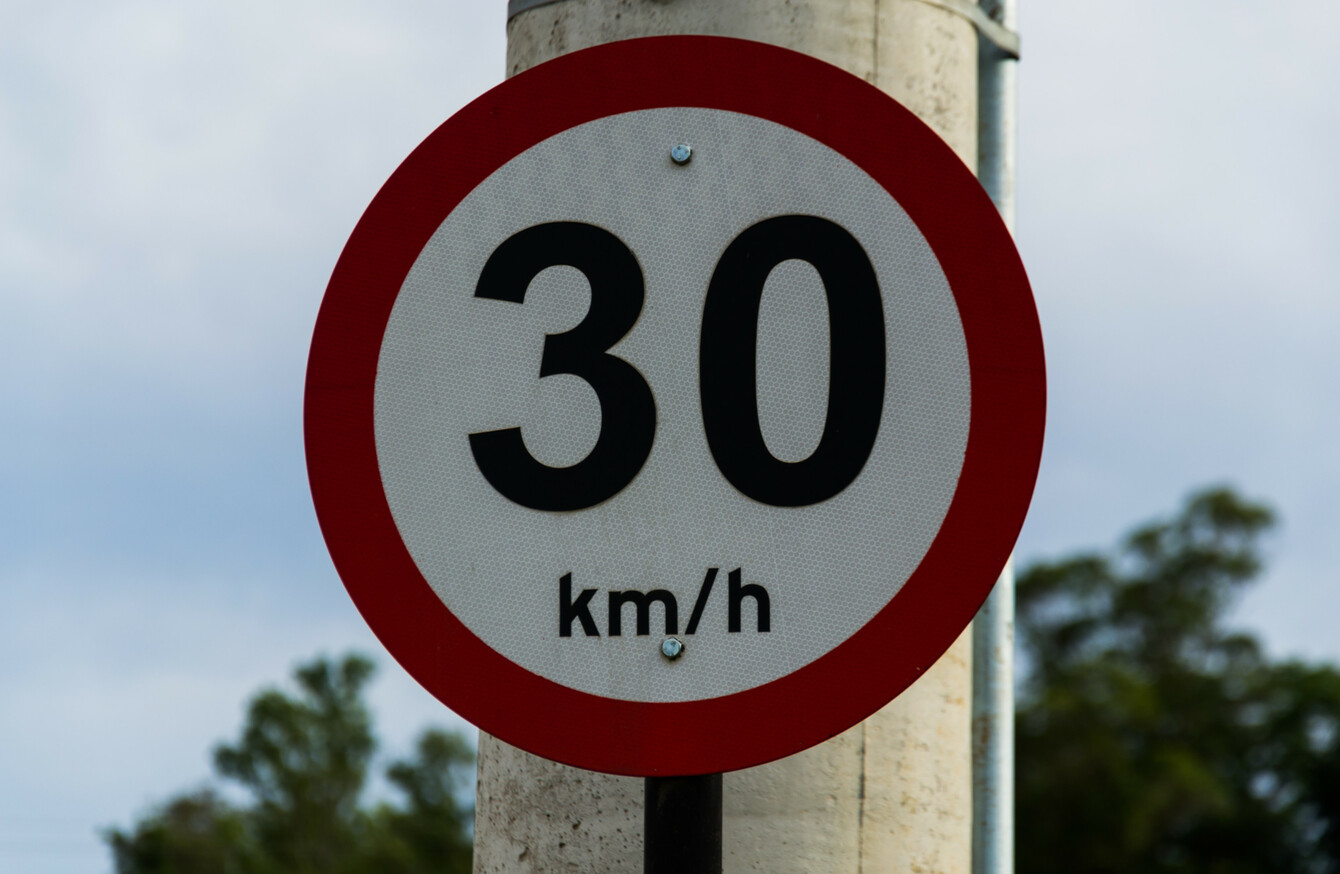 Image: Shutterstock
Image: Shutterstock
DUBLIN COULD SOON see the introduction of more 30km/h zones following the publication of a new report that has strongly recommended extending the speed limit.
City councillors look set to vote on expanding 30km/h zones to 31 more areas across the city, after the public overwhelmingly backed the move during a consultation process.
The expansion would see new limited speed zones in  Coolock, Artane, Killester, Clontarf, Cabra, North Wall, and parts of Glasnevin, Finglas and Drumcondra on the northside.
Meanwhile, an area between Inchicore and Kilmainham, part of Donnybrook, and areas along the Grand Canal including Harold's Cross, Rathmines, Portobello, Ranelagh and Ballsbridge would be affected on the southside.
The draft plans, released earlier this year, also proposed the introduction of temporary 30km/h zones outside the front of seven schools.
These would include St Brigid's in Killester, St Vincent's in Marino, St Canice's Girls School in Finglas, St Patrick's in Chapelizod, Drimnagh Castle, St Joseph's in Terenure and Harold's Cross National School.
The estimated cost of introducing the limits would be €235,000, with €160,000 earmarked for the introduction of the phase and €75,000 earmarked for the pilot period.
According to the author of the report on the public consultation, Dermot Stevenson, the public expressed "strong" support for the proposed expansion of the 30km/h limit.
In his conclusion, he said: "From our examination of international experiences and from an assessment of the existing 30 km/h speed limit areas in Dublin City, all have recorded only positive outcomes in terms of this road safety objective."
Stevenson's report noted environmental impacts, including positive feedback from residents already living within designated 30 km/h areas.
He added that there was also strong demand from residents in other areas not included in this phase to have their area included in future phases.
The council opened its public consultation from 11 June to 24 July, during which 63 people submitted replies.
The majority of respondents agreed that they adhered to speed limits, that they would stick to speed limits if they were expanded, that 30km/h residential limits were positive for local communities, and that most people on the road drove too quickly.
However, they also agreed that people would ignore the 30km/h limits if they didn't see themselves getting caught by gardaí.
The recommendations will be heard at a meeting of Dublin City Council's transport committee on Wednesday, after which they will be voted on at a full monthly meeting of Dublin City Council.