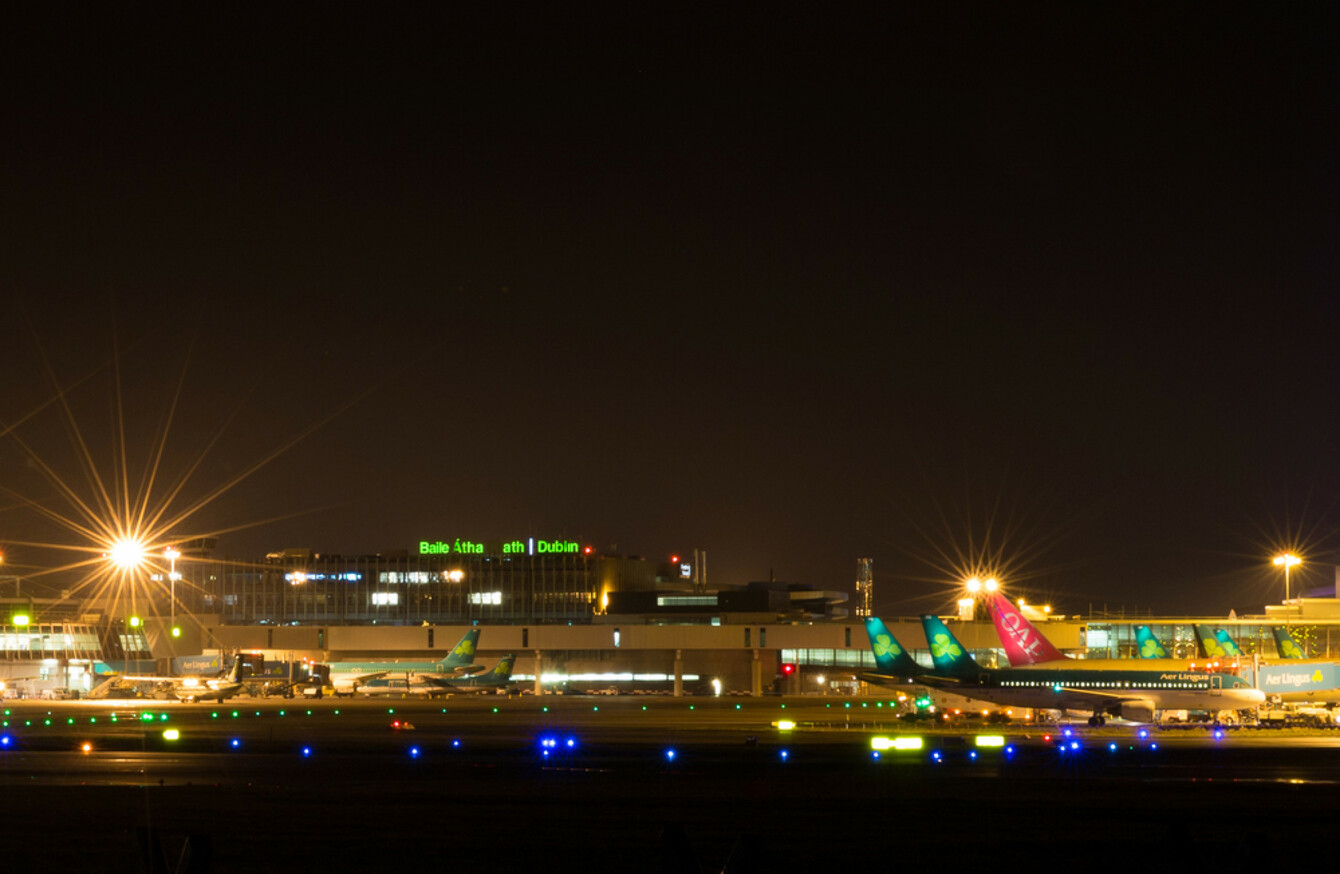 Dublin Airport by night.
Dublin Airport by night.
DUBLIN AIRPORT'S NEW planned north runway will be finished and operating by the end of 2021 but the DAA has warned that noise restrictions that could be imposed could cost thousands of jobs.
Speaking at the launch of DAA's annual results today, chief executive Dalton Philips described the new runway as "the most important thing that Ireland will build in a generation".
This is because it will be "vital to Ireland's economic well-being for decades to come", he said.
The main headlines from the company's results include total passenger numbers at Dublin and Cork airports increasing 6% to 31.9 million people last year.
Dublin accounted for the vast majority of this, with 29.6 million passengers, and the airport as a whole has increased traffic by 55% over the past five years.
This is set to increase again with the arrival of the new runway, which Dalton said would help "position the country to compete globally in a post-Brexit environment".
A main contractor will be appointed for the north runway project by autumn, with works set to begin on it in the fourth quarter of this year.
Construction will be completed by early 2021, with a nine-month commissioning phase before the runway opens.
Alongside this work, Dalton said DAA would work to overturn restrictions on noise that had been placed up on the new runway.
Because of restrictions already put in place on the runway plans by Fingal County Council and An Bord Pleanála, this would present limitations to the airport's operation during the night and first thing in the morning.
Dalton said that if these restrictions remained in place when the runway is opened, then this could have a huge effect on jobs through the loss of footfall through the airport.
"The impact of the restrictions would cost 14,700 jobs within 20 years of the new runway opening," he claimed.
The government recently announced that Fingal County Council will be responsible for the noise regulation of Dublin Airport in the future, and Dalton said the DAA would work with the council on the issue.
He added: "We will engage fully with the new noise regime to make a very strong case for the existing restrictions to be amended and to ensure clarity for airlines, passengers and other stakeholders."
Separately today, the Shannon Group's role as a major driver of economic growth in Ireland was highlighted in a new report that shows it supports 46,000 jobs, generates an economic impact of €3.6 billion per year and contributes €1.1 billion in Exchequer returns.
The semi-state company, which was formed in 2014, comprises Shannon Airport; Shannon Commercial Properties, a commercial property owners/developers group and Shannon Heritage, which operates tourist attractions.
The W2 Consulting report, based on 2016 data, found the airport contributes €318 million annually in tax revenue to the Exchequer.
- With reporting from Daragh Brophy