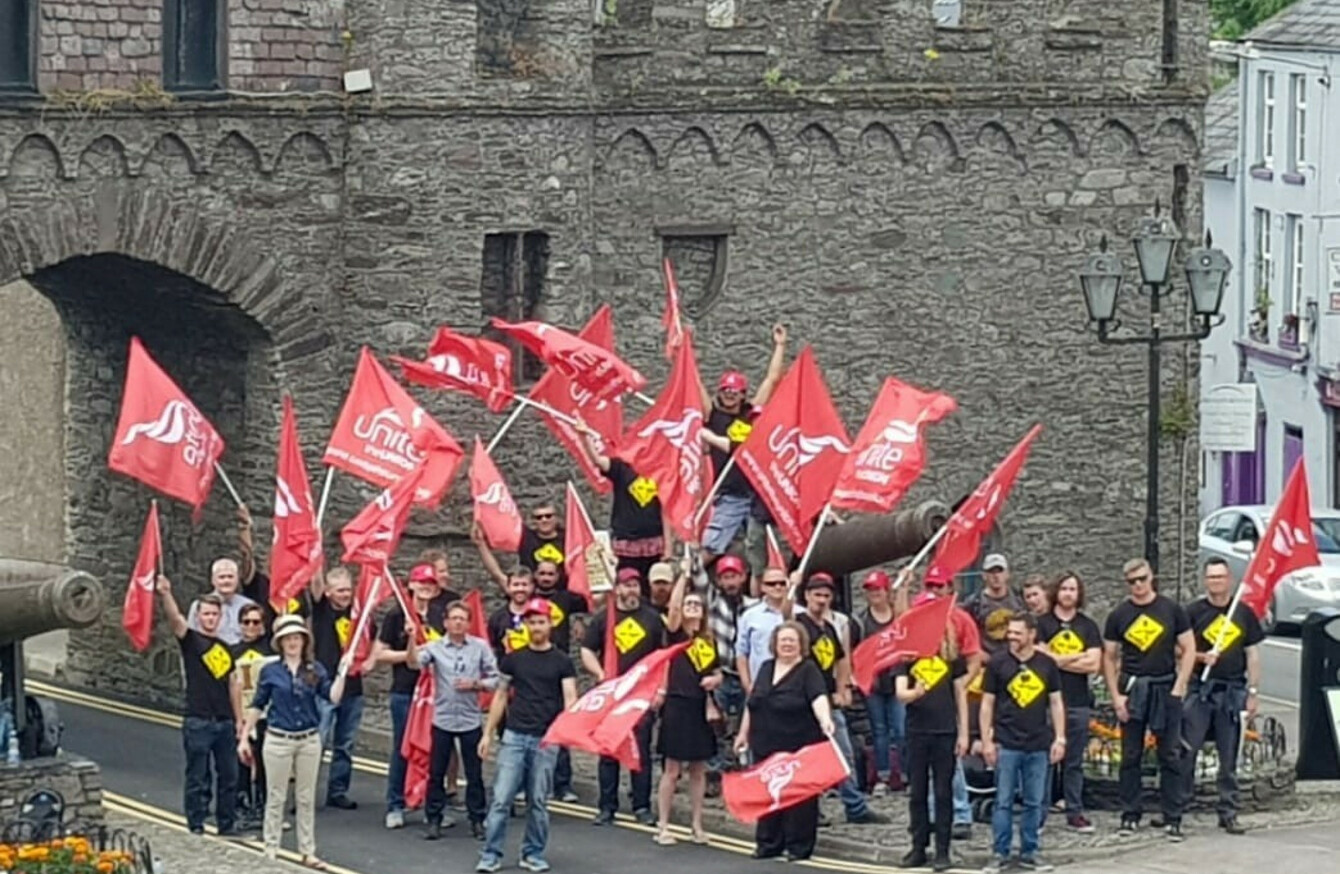 Archaelogists on strike earlier this month in Macroom
Image: James Kyle
Archaelogists on strike earlier this month in Macroom
Image: James Kyle
Updated 12.30pm
ARCHAEOLOGISTS INVESTIGATING MEDIEVAL remains on a dig in Dublin city centre are going on a day-long strike today, over pay claims.
The Unite union is following on previous strike action, having staged a one-day stoppage in Macroom in Cork earlier this month.
Last month, members working for Irish Archaeological Consultancy (IAC) voted for strike action after what the union described as a refusal from the company to engage over pay claims, either directly or through the Workplace Relations Commission.
The workers today will down their tools on Dublin's Aungier Street, where works are currently focused on the remains of a medieval church, a 12th-century town ditch, and three houses in the "Dutch Billy" style dating back to the 17th and 18th centuries.
The site, bounded by Stephen Street Upper and Great Longford Street, has been earmarked for development into student housing.
The IAC employs a number of core staff archaeologists, as well as a number of field archaeologists who work on specific projects.
Secretary of the archaeological branch of Unite, James Kyle, told TheJournal.ie that the archaeology profession had taken a major hit – alongside the building trade – during the recession.
He said: "We went from having 800 in 2008 to around 80 people in a short space of time… We're now back up to around 200 archaeologists.
It's unfortunate. At a time when archaeology is getting so much coverage in the media – such as the recent

Newgrange find

– members are seeking even a decent standard of pay.
Kyle said that there'd been a race to the bottom in terms of pay in recent years in the sector and, while a number of firms had offered better pay, the IAC had refused to engage with unions or staff to this point.
"We don't want to strike," he added. "We get paid very little as it is. We don't understand why they won't sit down and talk to us."
Union regional coordinating officer Richie Browne said that Unite archaeologists work on a number of IAC projects, and that their industrial action would continue until the company begins to effectively engage with them.
"Qualified archaeologists working for the company can expect to earn as little as €12.50 – only slightly above the new Living Wage rate of €11.90 per hour," he said.
Workers placed pickets at the entrances of the site at Aungier Street, Stephen Street Upper and Great Longford Street from 6am today.
Browne added a warning to the IAC that it faces further industrial action if it does not engage collectively with workers.
In a statement to TheJournal.ie, a spokesperson for IAC said: "IAC deals directly with staff on contractual matters."
The spokesperson added that it has been offering staff wages equal to or above what Unite have been requesting.
They added:
Earlier this spring, the trade union Unite circulated a letter throughout the commercial archaeology sector, seeking additional increases in pay/rates. IAC have been offering salary packages on projects, including our site at Aungier Street, at, or up to 4% above those rates. IAC communicated this position to the WRC on the 11 May this year.