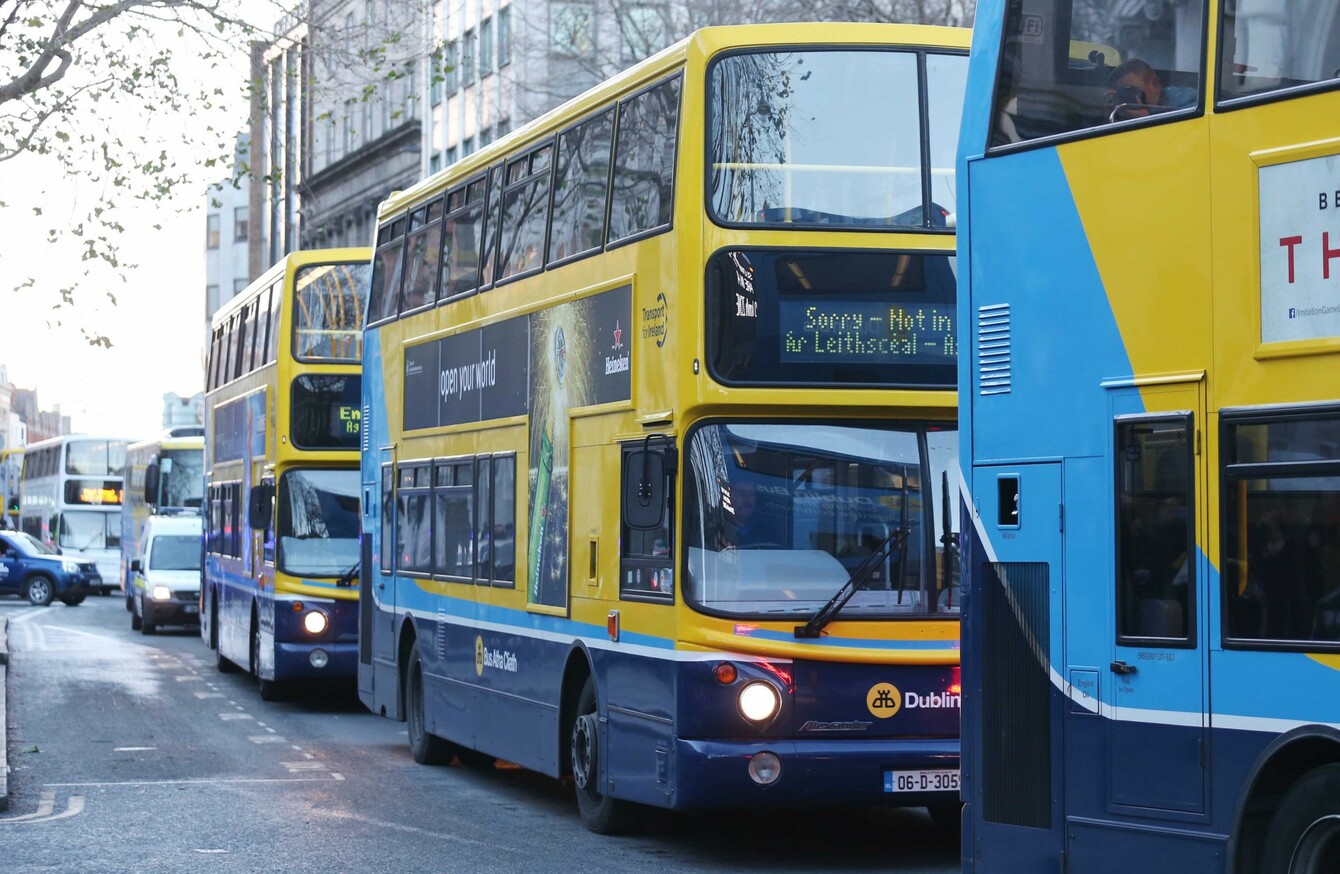 Image: RollingNews.ie
Image: RollingNews.ie
Updated 8.23pm
A UNION REPRESENTING Dublin Bus drivers has said it will ballot members for industrial action if Dublin Bus brings disciplinary action against bus drivers who defy a ban on listening to the radio.
Earlier today, it said it will stop using the Port Tunnel if the transport company refuses to roll back on the ban.
Last week Dublin Bus announced "zero tolerance" measures which will see drivers disciplined for using electronic devices, including FM radios, while driving. These measures kicked in yesterday.
This evening, General Secretary of the National Bus and Rail Union (NBRU) Dermot O'Leary said that a number of its members have already been notified that they have been recorded as being entered into the disciplinary process as a result of their actions.
He said the NBRU members and their representatives "will not be cooperating on these disciplinary cases", and "any mandated industrial action would kick in if Dublin Bus were to decide to apply sanctions on our members".
O'Leary added:
Whilst it will be for the Dublin Bus branch of our union to ultimately decide on the type of industrial action which they would undertake should Dublin Bus up the ante, our members are determined that they will not be forced to stop buses and discommode a supportive travelling public as a result of this ludicrous ban on transistor radios.
The National Bus and Rail Union (NBRU) spoke out against the measures last week, saying it refused to accept transistor radios being included on a banned list.
Now the union has given notice that drivers will be advised not to use the Port Tunnel from next week for health and safety reasons, unless the company allows them to use their radios.
In a letter to Dublin Bus' human resources manager, branch secretary Brian Young said the radio ban "means that in an emergency situation our members would be unable to 'tune into FM radio stations to hear safety instructions, in case of incident' as per the safety and user guide for Dublin's Port Tunnel".
We cannot expose the travelling public and our members to this level of risk and we must adopt the utmost caution when it comes to the safety and welfare of bus drivers and customers alike.
As a consequence, he said routes, including the 747, 41x, 33x and 142 may have to divert from using the Port Tunnel from Tuesday, 8 March, while "this ridiculous and illogical ban on the use of radios" remains in place.
Last week Dublin Bus said it has had a longstanding policy prohibiting the use of mobile phones and electronic devices while driving. It said the zero-tolerance policy was designed to "reinforce this message to employees".
Additional reporting Aoife Barry