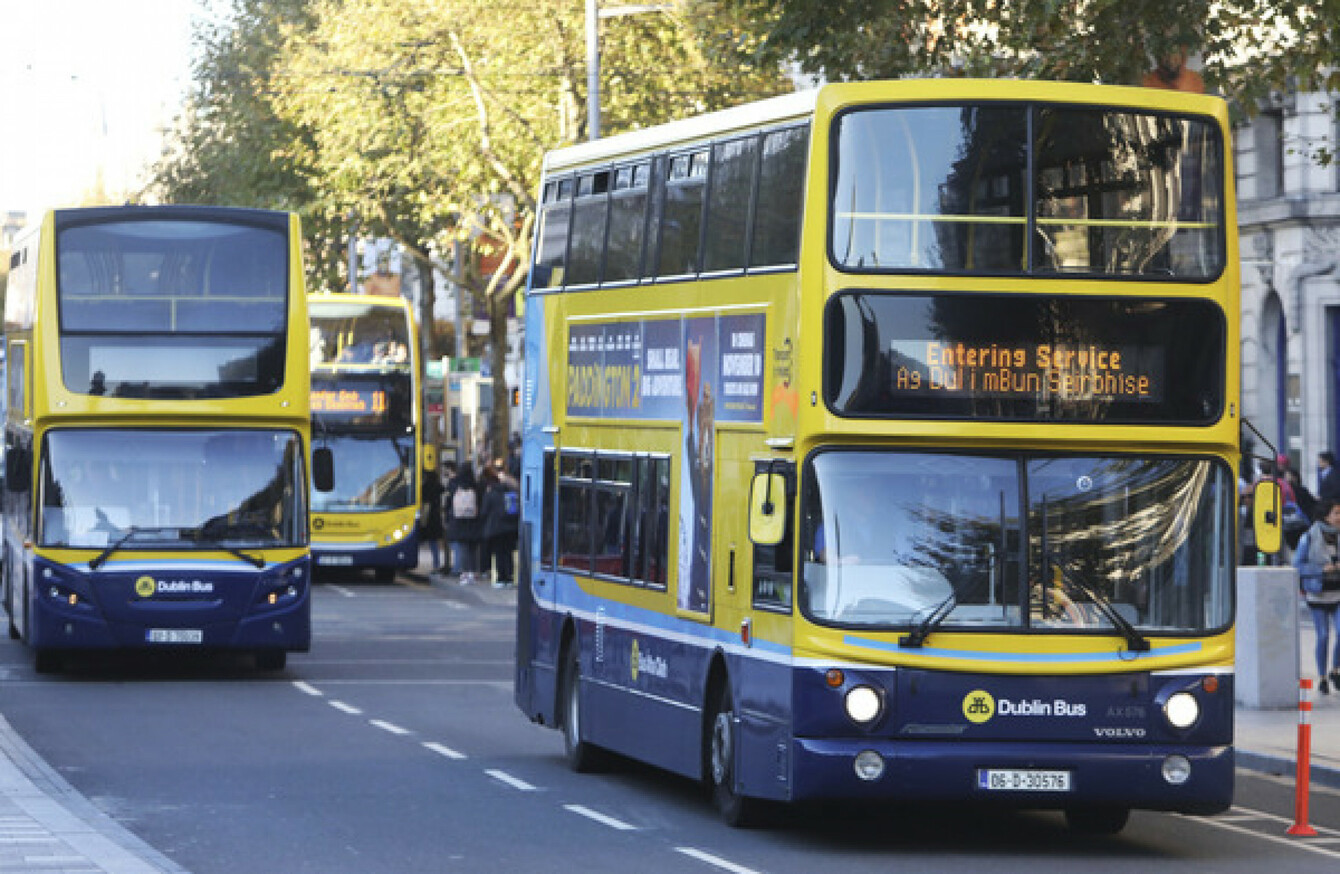 Image: Leah Farrell via RollingNews.ie
Image: Leah Farrell via RollingNews.ie
BUS PRICES ON three million journeys in Irish cities will drop next year, but some Dublin Bus prices will go up.
In the determination for 2018 fares, the National Transport Authority has decided that the capital's cash fares will climb for short, medium and Xpresso journeys.
The NTA is keen to stress that any cash price raises can be offset if commuters use the Leap card.
They have also added a year to the age that children can travel for free – it will go from four to five.
Dublin Bus has seen what the NTA calls "modest increases" for the third year in a row and the withdrawal of the city centre fare.
That means for cash fares:
The €2 fare will become €2.10
The €2.70 will become €2.85
The Xpresso €3.60 will become €3.65
For Dublin Bus Leap Card fares:
The €2.05 fare will become €2.15
The Xpresso €2.85 fare will become €2.90
There is no change to the cap on Leap Card spending on the bus of €7 a day and €10 across operators.
The price of a Nitelink will go up from €6.50 in cash to €6.60 and €5.20 on Leap cards to €5.29.
Luas
On the Luas, a new €1 off-peak Leap card fare will apply for 2018 for any city centre journeys.
Off-peak Leap journeys will all become more expensive:
The €1.39 fare will become €1.44
€1.70 will become €177
€2.13 will become €2.20
€2.35 will become €2.45
For peak services on Leap cards:
€1.85 will become €1.94
€2.24 will become €2.27
If you're paying for your ticket by cash, you will pay 10 cent more for 1-4 zone journeys and the top €3.30 fare will remain unchanged.
Iarnród Eireann
The biggest winners from the fare determination will be longer commuters in Ireland's other cities.
In Cork, users of the Leap card on the Cork-Cobh-Midleton route will see a 5% drop in their fare, from €4.74 to €4.50. Cash users will drop from €6.15 to €5.90.
However, users of Dublin's rail network will see raises across the board on Leap and cash fares. Notably, single cash fares will climb from €3.95 to €4.10.
Leap fares will rise by between 1.3% and 4.6%.
On intercity routes, there will be 5.1% cuts to single fares from zones D onwards.
Bus Eireann
Bus services in regional cities will see small fare cuts for many Leap users, with cash fares climbing.
The NTA says:
"Take for example a passenger travelling in from Carrigaline into Cork city. Currently the fare for an adult passenger taking this trip is €3.52 leap or €4.40 cash. With the changes to the city fare zone from 1 December 2017 this passenger will pay €1.89 leap or €2.70 cash, which represents a saving of 46%."
The NTA says that these cuts, coupled with adjustments to fare zones will save money on around three million journeys in 2018.
On staged Bus Éireann services, every Leap card band will see cuts, with the highest priced ticket dropping from €18.80 to €14.70.
The NTA said:
It is the view of the NTA that current areas served by regional city fares were not accommodating all areas where regular city type commuting was taking place.
"Following an analysis of the hinterland of each of the current red zones in the regional cities of Cork, Limerick, Galway based on the population density and job density, an extended city fare zone will be in place from December 2017 onwards.
As a result, significant savings will be made by the commuters travelling from one of the new areas which are now included in the city fare zone.
"Currently about 20 million passengers each year use city services in Cork (12.7 million) Galway (4.3 million) and Limerick (3 million) each year.
"When the city fare zone is expanded to satellite towns around these cities an extra 3 million passenger journeys each year will be able to avail of the lower city fares with most of these additional passengers within the Cork city area."