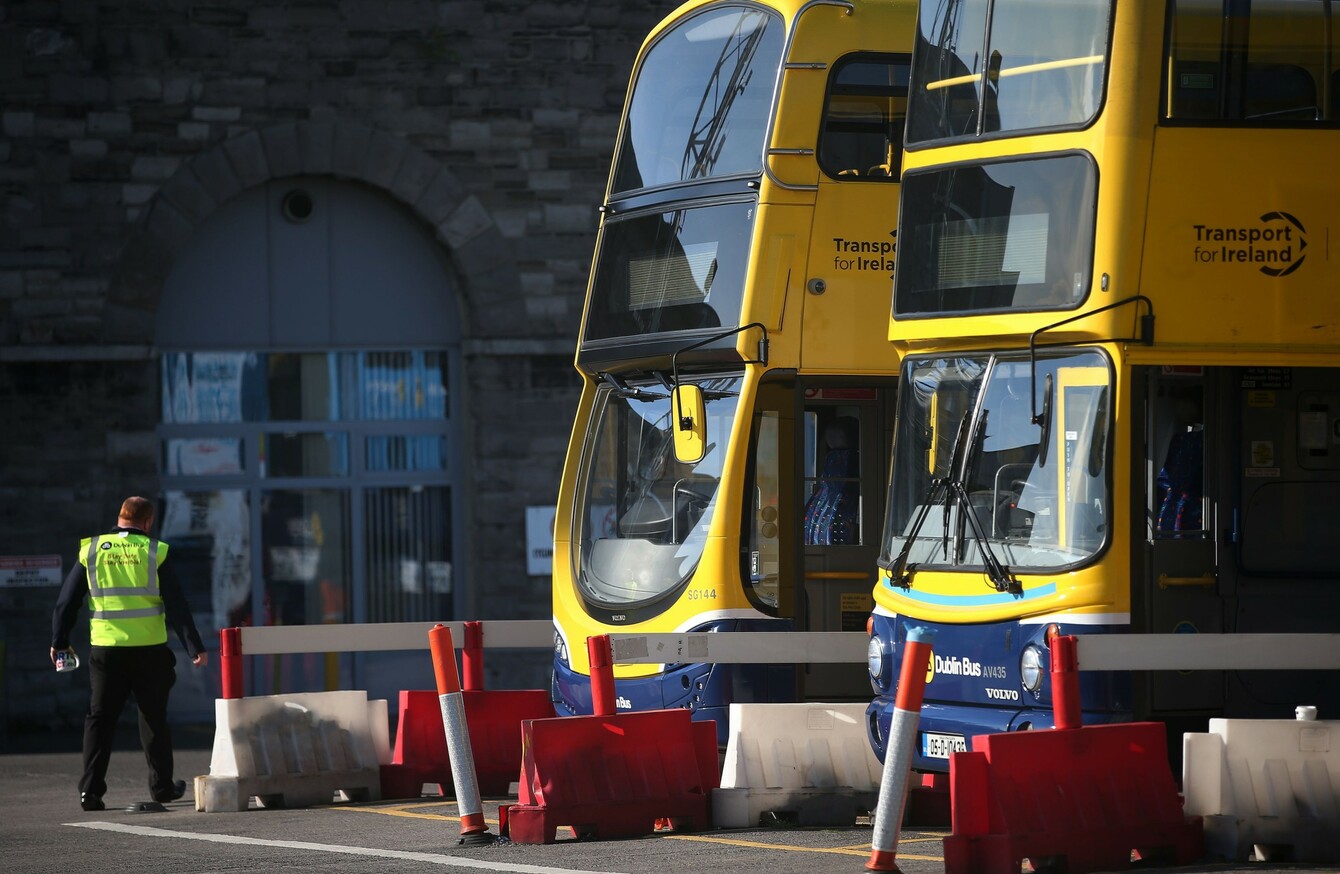 Buses sit idle at the Broadstone Bus depot in Dublin earlier this month.
Image: PA Wire/Press Association Images
Buses sit idle at the Broadstone Bus depot in Dublin earlier this month.
Image: PA Wire/Press Association Images
Updated at 7.40pm
ALL REMAINING SCHEDULED strike days at Dublin Bus have been called off provisionally, after marathon talks between unions and management.
Members of SIPTU and the National Bus and Rail Union will now be balloted on the proposed new pay deal, which amounts to a significant improvement on the previous offer.
11 days of strike action had been scheduled for later this month. The talks at the Workplace Relations Commission began yesterday morning and continued through the night.
A SIPTU spokesperson confirmed that the strikes had been suspended ahead of a ballot.
Meanwhile, in a statement, head of the NBRU Dermot O'Leary said:
We are prepared, along with trade union colleagues, to believe that the proposals brokered by the WRC after over thirty hours of negotiations are at the optimum that can be achieved at this time, having gone through eight years without a pay rise, two cost cutting plans, inclusive of pay cuts, we remain of the belief that our members are deserving of a significant pay award.
O'Leary added:
We will now move to immediately consult with our members in order to explain the construct of the proposal which has emanated from these comprehensive set of negotiations, it should be understood and appreciated that our members would expect that the WRC proposals will, in the first instance be disseminated directly to them through their respective trade unions in advance of any detailed press briefings.
Improvement
Unions have been seeking pay increases of 15%. They were previously offered 8.25% over the next three years, a deal which their members rejected.
Speaking on RTÉ's Drivetime this evening, O'Leary indicated that a significant improvement on that deal had been offered, totalling around 11.25% over three years:
"There's speculation about the quantum of the pay rise. What's being reported is around 3.75% per year and I'm not going to disagree with that assessment of what the quantum is.
"It's a good day in terms of our members and they will decide whether the pay on offer and other proposals will pass muster with them.
But in the short term the commuters can console themselves that the industrial action envisaged over the next 10 to 11 days has been suspended.
In recent days, enough progress was made to defer the planned 48 hour stoppage that was due to commence earlier this week.
However, another 11 days of strikes had been planned for October, including this Saturday, when Dublin face Mayo in the All-Ireland final replay.
A series of 48-hour strikes took place throughout September.
- With reporting by Daragh Peter Murphy