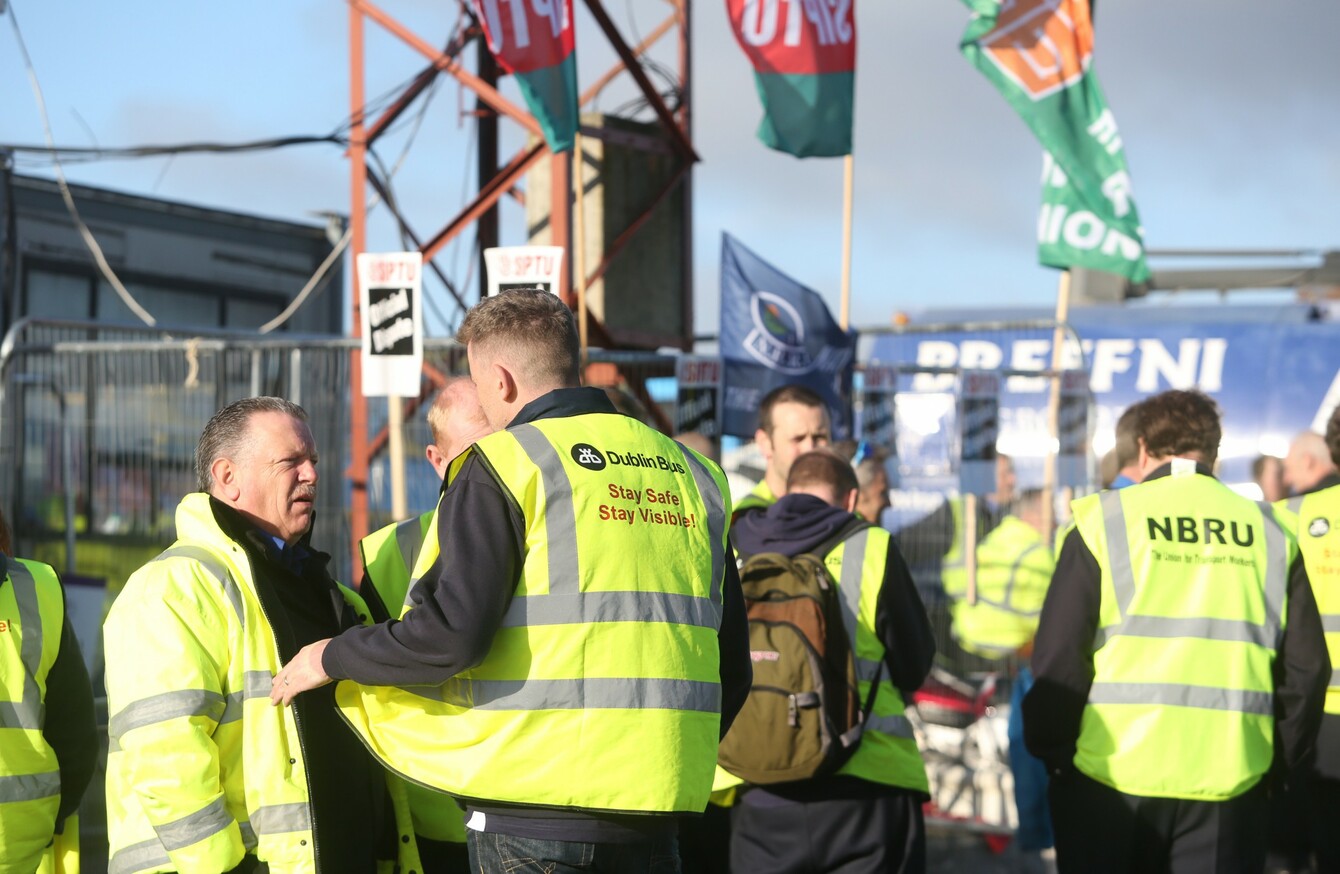 Image: Sam Boal/RollingNews.ie
Image: Sam Boal/RollingNews.ie
THE PLANNED DUBLIN Bus strike on 1 October, the date of the All-Ireland final replay, is set to go ahead.
Some 13 further strike days are planned for this month and next.
Speaking to TheJournal.ie this morning, National Bus and Rail Union (NBRU) general secretary Dermot O'Leary said he understands why the focus is now on that particular day, but there are wider issues to consider.
O'Leary noted work stoppages are planned on two other days before 1 October (Tuesday and Wednesday, 27 and 28 September) and said the resolve of workers "will have hardened" if negotiations haven't taken place by then.
Some 400,000 people use Dublin Bus every weekday and large numbers would be expected to use the service on Saturday week, when Dublin and Mayo meet in the replay.
O'Leary said he and other trade union colleagues "want to find a resolution of this dispute for the benefit of commuters and the staff at Dublin Bus".
He said asking drivers "in the absence of a resolution" to consider a suspension of their 24-hour work stoppage on 1 October "just to facilitate a one-off occasion is frankly insulting to both staff and their regular commuters".
Those who are calling for this suspension would be far better served if they were to focus their energies on getting this dispute resolved for the benefit of all those who use Dublin Bus services.
Unions are seeking a 15% pay increase over the next three years for drivers and a 6% rise they say they were due to get under an agreement in 2009, but which was deferred.
The industrial action comes about after unions rejected a Labour Court-recommended 8.25% increase over the next three years.
Letter to Ross
The NBRU wrote a letter to Transport Minister Shane Ross yesterday, again asking him to intervene.
Junior minister Finian McGrath has spoken out in favour of Dublin Bus workers.
O'Leary said he appreciated McGrath being "the first Government minister to put his head above the parapet and call for talks to take place without preconditions".
"He is also on record as saying that his fellow Independent Alliance minister Shane Ross supports such a move.
It is now time for all involved in this dispute to put their differences to one side and work towards a resolution.
In the letter sent to Ross, which has been seen by TheJournal.ie, O'Leary says the NBRU does not want more "stock" answers from him or other ministers.
He notes that "neither I nor my members recall asking you to open the state chequebook"- as Ross was quoted as saying – to resolve the dispute.
When announcing the additional 13 days of strike action last week, Siptu's Owen Reidy said drivers' claims are "not been taken seriously" by management or the government.
In a statement, he said: "Our members are disappointed that the only response so far from the CEO of Dublin Bus to this dispute has been to call for talks at the Workplace Relations Commission to discuss a Labour Court recommendation that has already been rejected by over 90% of our members. It is not a genuine attempt to find an agreed resolution to this dispute."