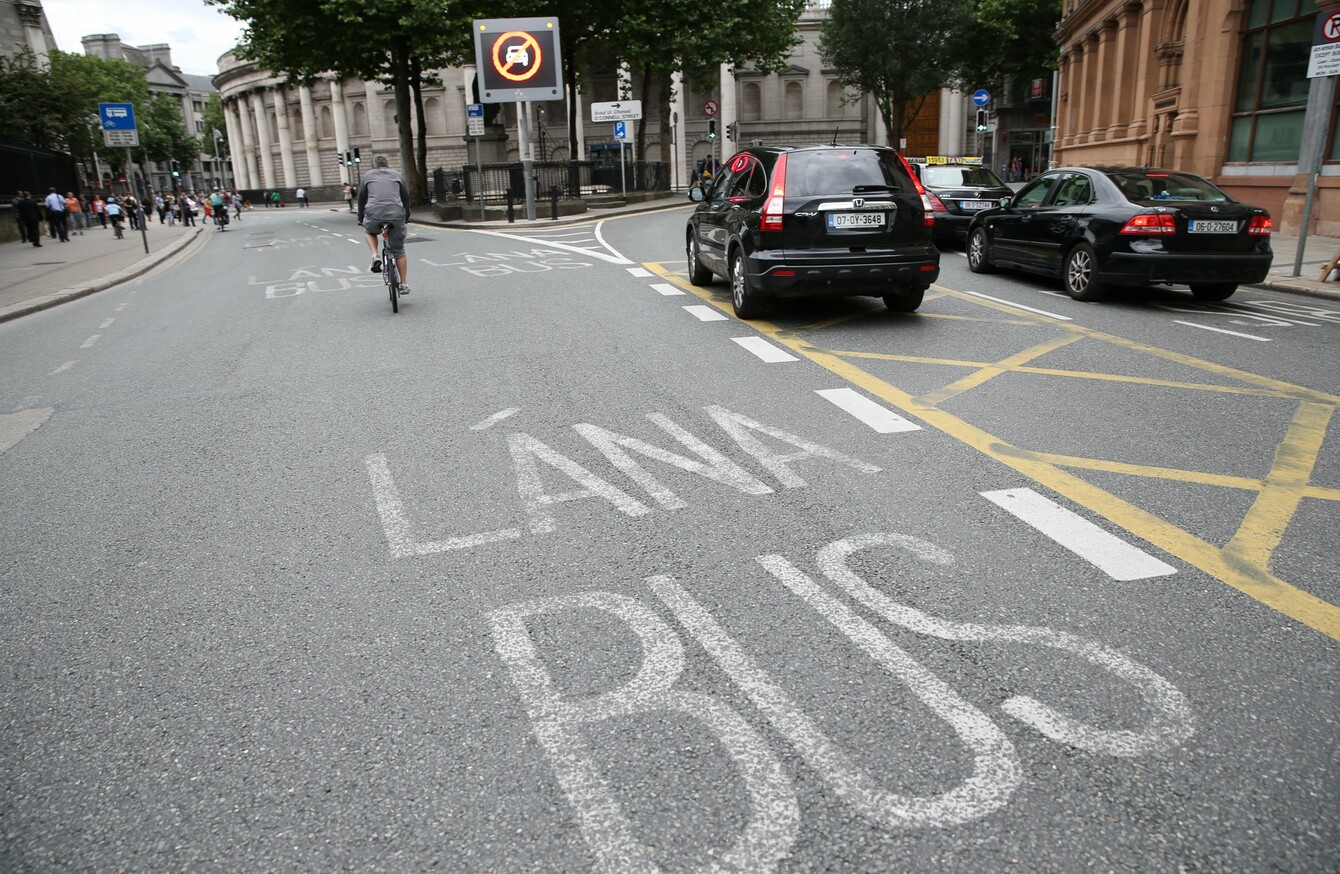 An empty bus lane on College Green during the August 2013 Dublin Bus strike
Image: Sasko Lazarov/Rollingnews.ie
An empty bus lane on College Green during the August 2013 Dublin Bus strike
Image: Sasko Lazarov/Rollingnews.ie
Updated 5.23pm
DUBLIN BUS HAS said all services will end at 9pm tomorrow night ahead of this week's planned 48 hour strike. It had been anticipated the strike would begin on Thursday morning.
The company said the decision follows confirmation from the trade unions involved that they intend to begin their industrial action at midnight tomorrow.
It was announced last week that members of the National Bus and Rail Union (NBRU) and Siptu intend to stage three 48 hour stoppages over the course of this month – with the first scheduled actions to take place this Thursday and Friday.
According to this afternoon's statement from Dublin Bus the services are being terminated early tomorrow night "to ensure the safe and secure return of buses to each depot prior to the commencement of industrial action".
Reacting to the news, National Bus and Rail Union (NBRU) general secretary Dermot O'Leary said it seemed Dublin Bus was "determined to unnecessarily ratchet up the pressure on its own customers to make alternative arrangements at short notice".
O'Leary accused the company of doing this to paint its own staff in a bad light.
It is nothing short of incredible that the company and its paymasters would resort to such chicanery, they would be far better served if they saw fit to come back to the table and engage with staff in order to prevent this dispute.
Siptu Organiser Owen Reidy said drivers had committed to completing their shifts, even if it meant returning buses to their garages after the official strike start of 12.01am on Thursday.
"This is an unnecessary move which will just further inconvenience the travelling public."
Here are the main points of the Dublin Bus statement:
The final departures for buses will be up to and including 9pm
This includes Airlink services
The Ghostbus Tour is cancelled
Airlink services won't run on Thursday or Friday either
There'll be no Nitelink services on Friday night/Saturday morning
The customer service phone line will be closed on Thursday and Friday
Updates will be issued throughout the strike on the Dublin Bus website, and via Twitter and Facebook
"Dublin Bus has urged Trade Unions not to engage in this industrial action which will cause unnecessary inconvenience to customers," today's statement said.
We will continue to make every endeavour to avoid any disruption to services and find a resolution to the matter.
Unions are seeking a 15% pay increase over the next three years and a 6% rise they say they were due to get under an agreement in 2009, but which was deferred.
Additional strikes are due to take place on 15 and 16, and on 23 and 24 September. Talks aimed at resolving the dispute ended on Friday without resolution.
Bus lanes 
The AA earlier called for the Department of Transport to make Dublin's bus lanes available to motorists affected by the forthcoming strikes – but the idea has since been shot down by Dublin City Council and a government minister.
The association said that such a move would help to alleviate the "inconvenience" that will be caused to motorists during the strike.
"It is unfortunate for it to come to this and we hope the strike will not happen," said the AA's director of consumer affairs Conor Faughnan.
If it does go ahead then the only sensible thing to do is to allow all traffic to use the empty lanes. That is a call that Minister Shane Ross should make.
It is not ideal ofcourse but this strike is going to inconvenience hundreds of thousands of people. We should be making pragmatic decisions to lessen the effect.
A similar call for bus lanes to be opened was made during a 2013 bus strike. It was refused by then-Minister for Transport Leo Varadkar.
A Dublin City Council spokesman told TheJournal.ie that the capital's bus lanes "will remain in operation as more services than Dublin Bus use them" for the duration of the strike. The services in question include Bus Éireann, Aircoach, private operators, and taxis.
Meanwhile, speaking at an event in Dublin this morning, Minister Varadkar (now in charge of the Department of Social Protection) added:
"It is a matter for the Minister of Transport to decide what contingency plan should be in place in the event of a strike.
"I had bus strikes when I was transport minister – both Bus Éireann and Dublin Bus – and we actually decided not to open the bus lanes at the time, largely because taxis use them, other bus companies who aren't threatening to go on strike use them as well.
In addition to that a lot of bus lanes can't be opened to cars because they aren't fully continuous, they stop and start, whereas bus drivers are trained to deal with that.
With reporting by Daragh Brophy, Christina Finn and Michelle Hennessy.