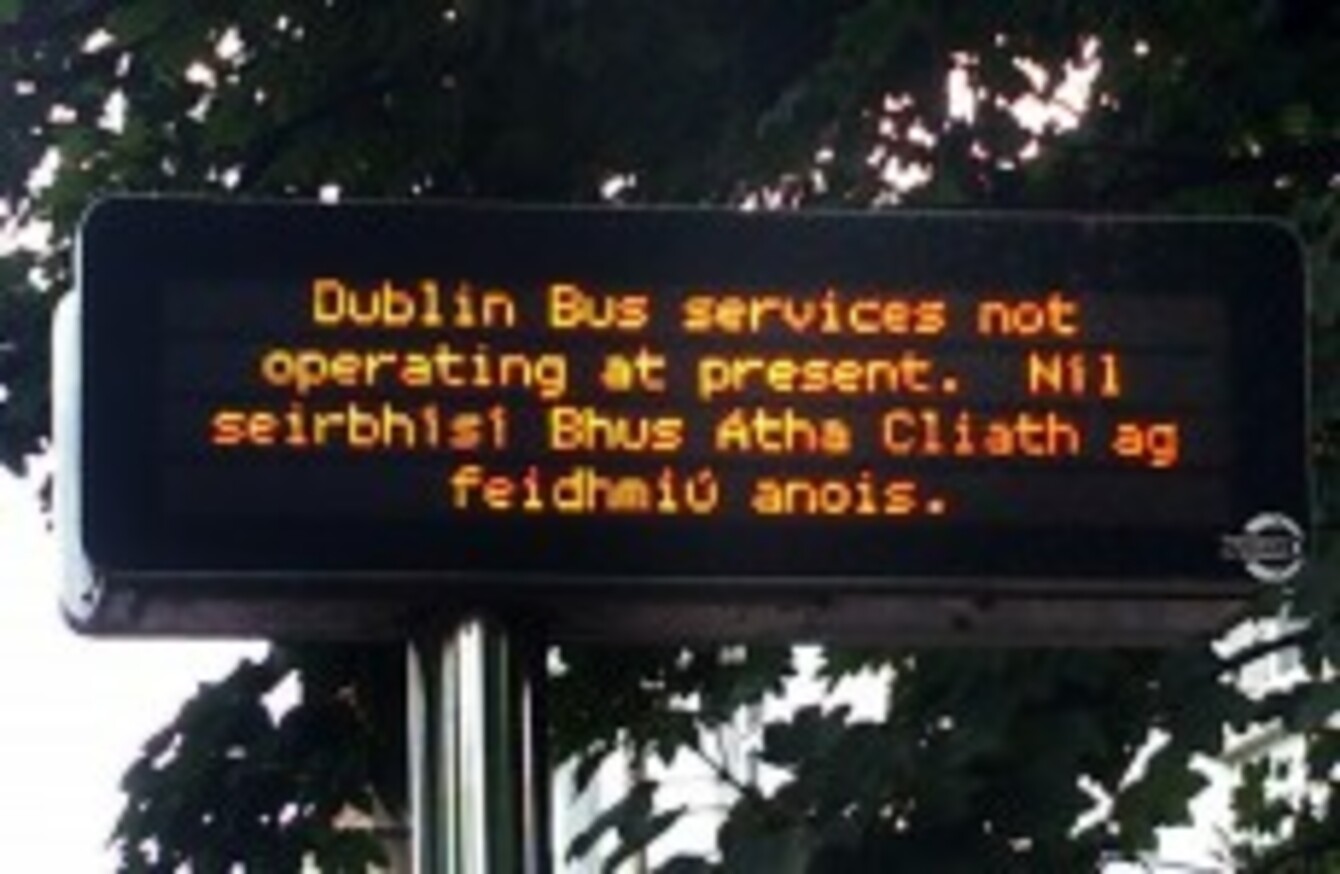 Image: Photocall Ireland
Image: Photocall Ireland
MORE TRAVEL DISRUPTION is expected today as the all-out strike at Dublin Bus enters its second day. Tens of thousands of would-be passengers were inconvenienced yesterday in the city and surrounding counties as the action began.
SIPTU and NBRU workers officially began their action at 12am yesterday, meaning there were no Nitelink services. GAA supporters in the city for the All Ireland SFC Quarter Finals and music fans returning from the Oxegen festival were amongst those affected by the cessation of services.
Pickets were placed at Dublin Bus depots, and increased passenger numbers were reported across Luas and Irish Rail networks.
The dispute centres on planned cost-reduction measures being carried out by the semi-state company, which is seeking nearly €12 million in savings in the next year – of which €7.7 million will come directly from payroll.
Workers are being asked to accept reductions in rest day and overtime pay following recommendations from the Labour Court but members of the National Bus and Rail Union (NBRU) and SIPTU have rejected the proposals.
Members of SIPTU and the NBRU picket Ringsend garage yesterday (Photocall Ireland)
Speaking yesterday, Transport Minister Leo Varadkar called for both sides to work together to end the impasse, but said he had no intention of involving himself in the "nitty gritty" of negotiations.
He called the strike "counterproductive" and said it would only serve to make the financial situation at the company worse.
Transport sector organiser with SIPTU Willie Noone said the union was calling on management to amend a number of the Labour Court recommendations, and that workers were being asked to "buy into the unknown" under the current plans.
Noone said the arrangements being imposed on staff were unclear on issues like how much money workers in various categories would actually lose or how often they would be asked to work on extra days.
Dublin Bus has told prospective customers to keep up to date via the company's Twitter account – however, there wasn't much information to convey yesterday, with communications staff left with no option but to repeatedly confirm that services weren't running and that bus tickets would not be accepted by rail services.