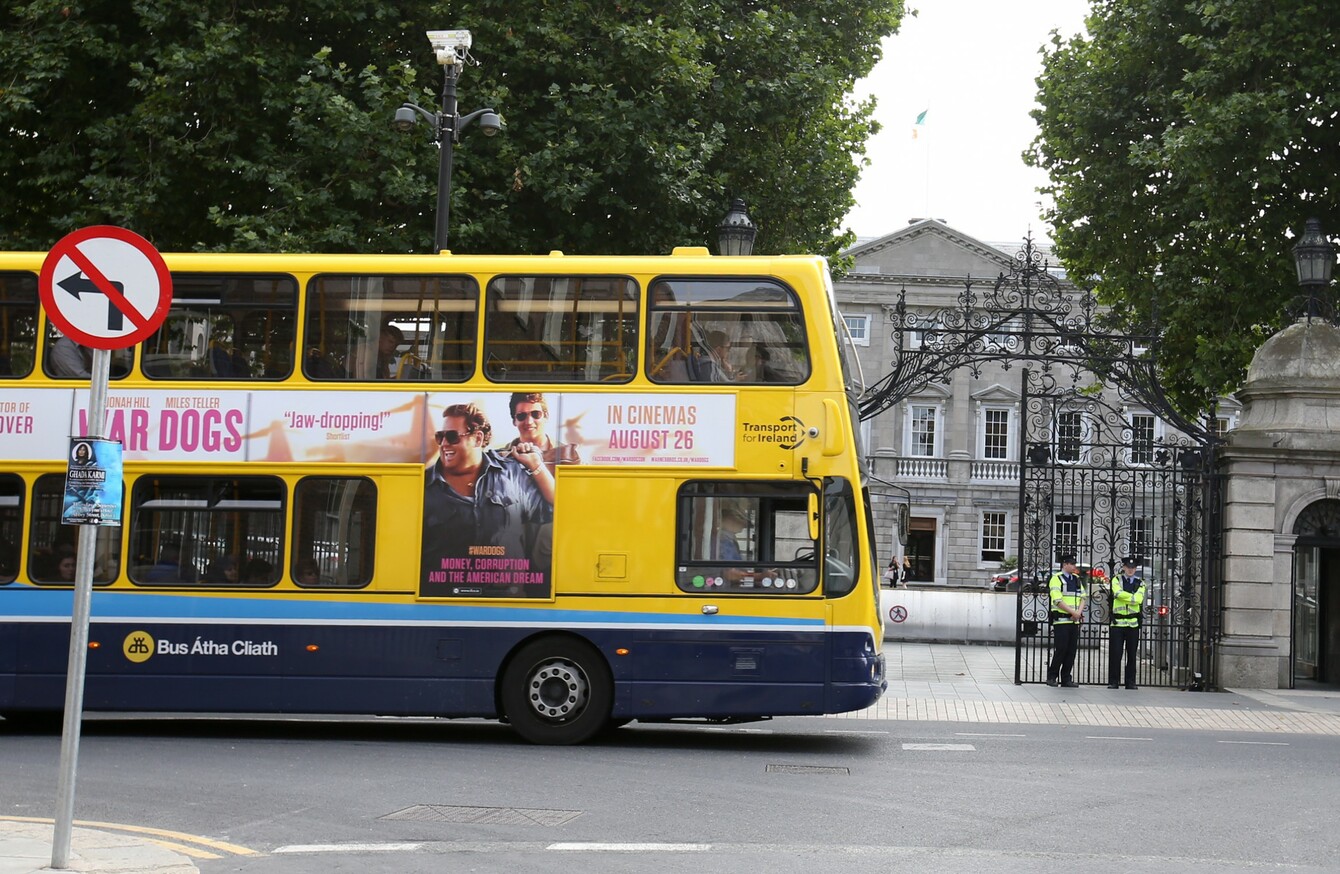 Image: Sam Boal
Image: Sam Boal
Update 4.02pm
THE SECOND 48-HOUR Dublin Bus strike in the current dispute starts tomorrow morning – with the last services set to depart at 9pm tonight.
The same arrangements as last week apply, essentially: Dublin Bus management says the early finish tonight is necessary "to ensure the safe and secure return of buses to each depot prior to the commencement of industrial action by all employees at midnight".
It has apologised to customers for the disruption to services this week. In a statement, it has also urged employees and trade unions not to engage in the strike action.
The National Bus and Rail Union last week accused the company of "chicanery" over the move to cancel all routes after 9pm. Meanwhile, Siptu said that drivers had committed to completing their shifts, even if it meant returning buses to their garages after the official strike start at 12.01am on Thursday morning.
The main points you need to know:
No Dublin Bus routes, sightseeing tours or Airlink services will operate tomorrow or on Friday
Nitelink services WILL NOT operate on Friday night or Saturday morning 
Nitelink services WILL operate on Saturday night/Sunday morning 
You can find a full list of tonight's last departure times for each route here 
Unions are seeking a 15% pay increase over the next three years and a 6% rise they say they were due to get under an agreement in 2009, but which was deferred.
An additional 48 hour strike is due to take place next Friday and Saturday 23 and 24 September. Talks aimed at resolving the dispute broke down at the start of the month without resolution.
In a statement yesterday, Siptu said there was anger and frustration amongst members at the silence of Dublin Bus management and the Department of Transport regarding the row.
The NBRU said it had had no contact with Transport Minister Shane Ross's office, the Department or management and accused 'Official Ireland' of "playing footloose and fancy free with a vital public service".
Speaking earlier this week Taoiseach Enda Kenny said the Government wouldn't be writing a cheque to solve the ongoing industrial dispute, saying that Ross was "keeping a close eye on it".
Dublin Bus said the 15% pay increase "would seriously undermine our financial stability and is not sustainable".
A statement added:
We remain willing and open to engage with the trade unions and urge them to return to talks as provided for in the Labour Court recommendation, so that we can work together to move forward and find a resolution to the current dispute.
Opposition politicians have also lined up to criticise Ross with Senator Lynn Boylan likening him to a 'deer in the headlights', claiming he has failed to bring management to the negotiating table.
"As a proud daughter of a former Dublin Bus driver, I know that the workers do not want to be striking. They want to get on with their work. But the workers have justifiable claims and it is their right to take such actions to defend their livelihoods. I have no doubt that the fair-minded people of Dublin will understand the workers' position," she added.
"Minister Ross cannot continue to shrug his shoulders and act as though this is not his problem. Whatever he says, the buck stops with him.
"He needs to get up off the mat and deal with this situation in an effective manner. He must now focus his energies on resolving the dispute in a way that addresses the claims of the workers and ends the disruption for commuters in our capital city."