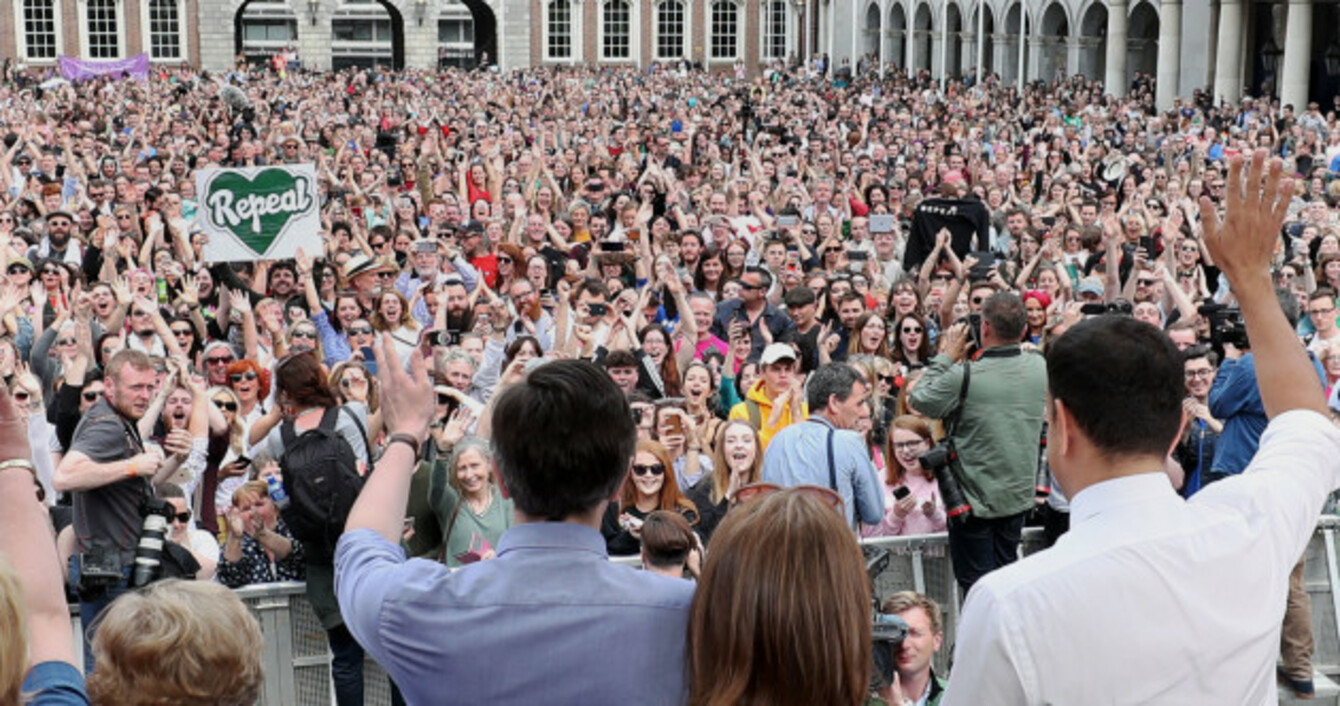 Simon Harris and Leo Varadkar on stage at Dublin Castle yesterday.
Image: Niall Carson
Simon Harris and Leo Varadkar on stage at Dublin Castle yesterday.
Image: Niall Carson
SINGING, DANCING, TEARS and 'I fancy Simon' posters.
Those were just some of the things that filled the courtyard of Dublin Castle yesterday.
From early morning, the sun was out and campaigners in 'Repeal' jumpers began to gather in the space that held the monumentous marriage equality crowds in 2015.
There was talk that there would be a much more muted, sombre celebration at this referendum result. But how wrong people were.
With the exit polls on Friday night indicating a landslide Yes result, the spirits were high from early on. The tense scenes that people had predicted on count day were not going to materialise. Instead, there was emotion. And lots of it.
Voices 4 Repeal – a group of female singers – attracted huge crowds around them as they entertained the masses. International media reporters could hardly believe their eyes, while the tourists that had stumbled upon the scenes asked: 'What's going on? What are the celebrations for?'
"It's a big day for Irish women," one woman told a French tourist.
It certainly was. And why wouldn't it be? Mary Lou McDonald told this publication that people should have expected the big crowds and emotional scenes.
"It's been a long time coming. This is about women's right. We deserve to celebrate," she said. She looked relieved that it was all over, but also elated at the result as she stood in the final count room, waiting for the national returning officer to arrive.
There was no subdued atmosphere in Dublin Castle. At one point, it felt like the place was going to take off, such was the noise, the excitement and the sense that we were witnessing something life-changing for this country.
The excitement went up a notch when Health Minister Simon Harris arrived from the RDS. People descended on the Greystones TD like he was a rock star.
Ever since his RTE debate on Tuesday night, he stirred a nation (and many women, it would seem).
"Thank you so much," one woman said to him with tears in her eyes. Another one was breaking down in tears nearby. The young politician is still getting used to the gratitude. He politely thanked those that embraced him as he moved through the crowd, posing for countless selfies. People had caught sight of him at this stage, and the crowd started chanting "Simon, Simon, Simon."
Similarly, when Taoiseach Leo Varadkar arrived, the crowds went wild. It seems the scandals of Health's past and the days of the Strategic Communications Unit were forgotten, as the people shouted and reached out to touch the young leader.
"In fairness, they did very well," said one opposition TD, who'd rather not be named. They acknowledged that while this issue might not have always been one Fine Gael had championed, they acknowledged that both Harris and Varadkar had "done good".
As the Taoiseach, Harris and other government ministers made it to the stage, the crowd erupted. Someone held their dog, who was wrapped in a Repeal jumper, in the air while one woman waved an "I fancy Simon" sign high in the air (she later got to kiss Harris on the cheek).
Source: TheJournal.ie/YouTube
The politicians then made their way to the small room in Dublin Castle where the final ballots are revealed. How does it feel to hear thousands of people shout your name and being called a heart-throb?
Harris said it is "surreal" but predicted that in no time at all, he would fade back into the background.
With the map of Ireland and its constituencies slowly almost filled as the final results came in, the small room which fits about 200 people was filled with politicians from all parties: Labour, Fine Gael, Fianna Fáil, Greens, Social Democrats, Solidarity-PBP. Parties who were united under one cause: to repeal the Eighth Amendment.
As the result was read out, the crowd erupted in cheers. Varadkar, Harris and Minister Eoghan Murphy, standing side-by-side, hugged each other. Minister Regina Doherty, kitted out in her Together For Yes t-shirt looked emotional, as did Fine Gael TD Catherine Noone, who chaired the Oireachtas Committee on Eighth Amendment. Labour leader Brendan Howlin gave Doherty a hug, before announcing that he was off to get some grub. "I'm starving," he said.
The ministers were led out of the room, out the door and on to the stage before thousands of people who, for whatever reason, felt they needed to be there today.
To calls of his name, Harris was pushed to the front. Labour's Aodhan O'Riordan grabbed his hand, and united, they waved it in the air, as the crowd chanted "YES, YES, YES."
It was a yes. A resounding one at that. And things will never be the same for Mná na hEireann.