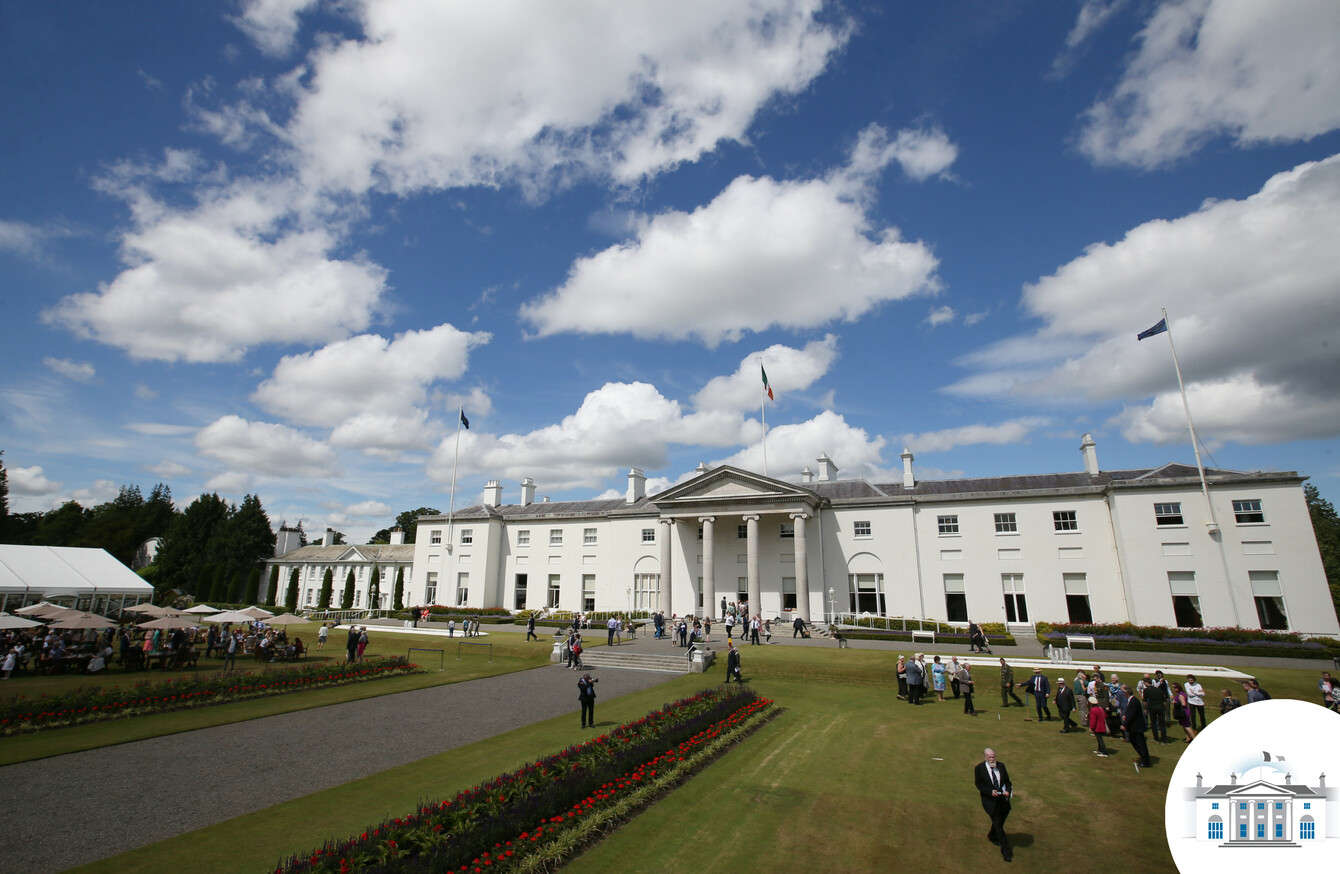 Aras an Uachtarain
Image: Sam Boal/Rollingnews
Aras an Uachtarain
Image: Sam Boal/Rollingnews
DUBLIN CITY COUNCIL has voted not to endorse a candidate for the 2018 presidential election, amid farcical scenes at City Hall this afternoon.
A special meeting of the council convened at 3pm, when councillors heard from Áras hopefuls looking to obtain a nomination to get on the ballot for the 26 October election .
They included Sarah-Louise Mulligan, Peter Casey, John Groarke, Gemma O'Doherty, Marie Goretti-Moylan and Norma Burke.
To get on the ballot paper, candidates need the backing of at least four councils or 20 members of the Oireachtas, and each local authority can only endorse one candidate.
All six candidates spoke for a number of minutes today, but none did enough to receive a nomination from Dublin City Council.
A satirical speech from Burke, a last-minute addition who suggested setting up hunting lodges in the Phoenix Park and burning dead people for fossil fuels, provoked a particularly strong reaction.
Independent councillor Mannix Flynn interrupted Burke to call the speech "an insult to the office of President", while Labour's Dermot Lacey said her address was "deeply offensive".
Following the six speeches, councillors were asked to vote on a motion brought by Fine Gael's Kieran Binchy not to endorse any candidate.
Undemocratic
However, the motion was delayed briefly after there was confusion about what councillors were voting on.
Dublin City Council's Senior Executive Deirdre Ní Raghallaigh was forced to clarify that a 'Yes' vote meant no candidate would be endorsed, while a 'No' vote meant nominations would proceed.
"Vote 'Yes' for not nominating, and 'No' to proceed to nominations," she said. "'Yes' means no." 
Councillors voted by 29 votes in favour of the motion, with 9 against and 2 abstentions, before Lord Mayor Nial Ring thanked the prospective candidates for attending the meeting.
Speaking afterwards, Binchy told TheJournal.ie that he brought the motion because he felt it was the council's responsibility to give the public a good choice on the ballot paper.
"Article 12 of the Irish Constitution provides that the President is the first citizen of the State," he said.
"That means we have a very important role to filter those who are worthy candidates, who can then be decided upon by the people of Ireland.
"People might say it's undemocratic, but that's our responsibility."
Meanwhile, Lacey hit out at candidates for wasting the time of councillors, particularly those who had to take time off from their full-time jobs to attend the meeting.
"It went from being funny to being offensive quite quickly," he told TheJournal.ie.
"Not one of them deserved to be on the ballot for my local residents' committee, let alone to run for the office of President."
As it stands, the election will be contested by Michael D Higgins, Joan Freeman, Gavin Duffy, and Sean Gallagher, while Sinn Féin is expected to announce a candidate in coming days.