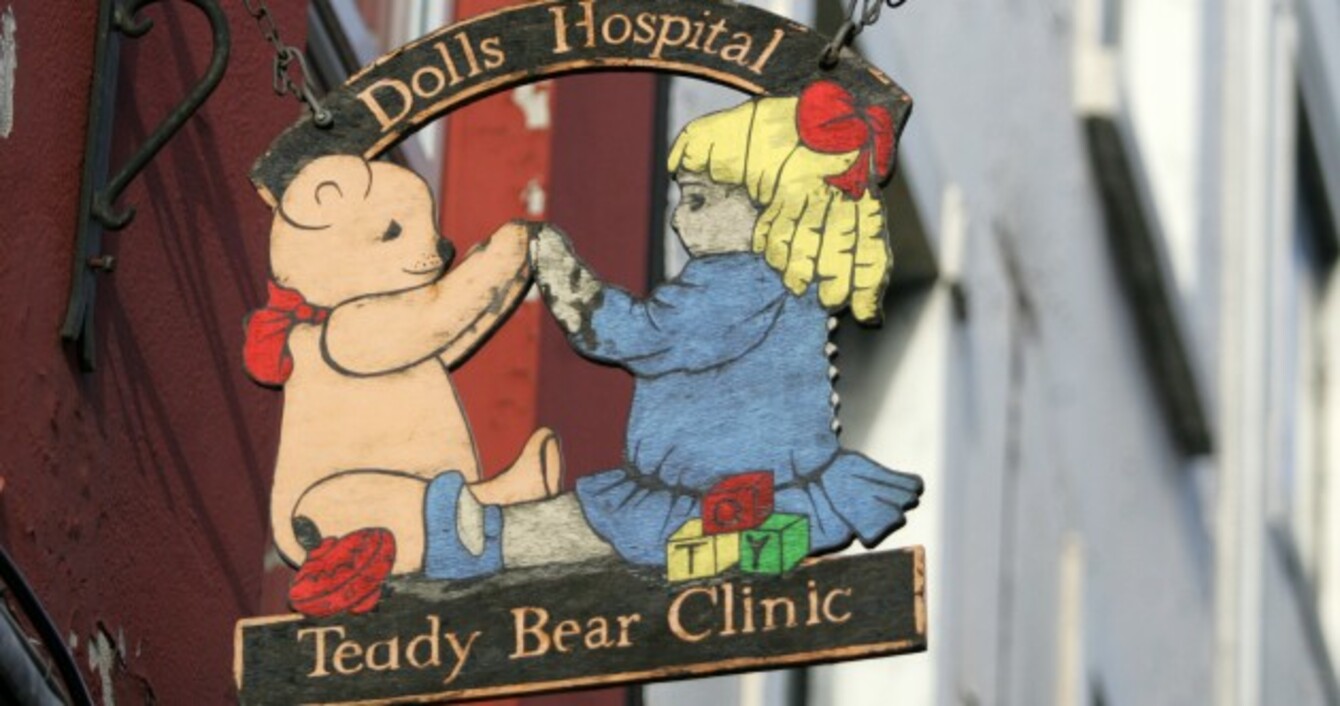 THE MUCH LOVED Doll and Teddy Bear Hospital is to close its doors today for the very last time.
Dubliners will remember the Doll's Hospital on Mary Street, which closed in 1977.
In 1984, husband and wife Melissa and Chris Nolan opened a new Doll and Teddy Bear Hospital on 62 South Great Georges Street.
Over three years ago, it moved to the top floor of the Powerscourt Centre on South William Street.
Speaking to TheJournal.ie, Melissa said it is with a "heavy heart and much sadness" that they have to close.
"We just haven't been getting the footfall here in the Powerscourt Centre," she explained, adding they hope to try to run the business online.
"Everybody who has come in or commented on Facebook are really upset that we're closing, which has resulted in this week being one of our busiest weeks."
She said they had received great messages of support from the public.
"There has been a huge outpouring of love for us in the past few weeks."
The Nolans have repaired hundreds of dolls and bears over the years.
Touching stories 
A set of twin dolls came to the hospital belonging to twin girls a number of years ago.
One girl had become ill with the measles and had drawn spots on her doll's face. Tragically the little girl died and the remaining little girl had a huge attachment to the doll.
The ink was at risk of damaging the doll, so the parents brought it in to the doll's hospital, where it was cleaned and repaired.
On another occasion, a teddy bear belonging to a sick girl was sent to the hospital from the Channel islands.
It was worse for wear, but the girl who was in hospital undergoing several operations loved it. The father told his daughter that while she was having treatment, her teddy was also getting medical help.
He flew to Dublin and within 24 hours was back to the Channel Islands with the restored teddy.
Another time a young woman came in with her beloved teddy, who had been damaged by her ex-boyfriend.
"In a fit of rage, he took a pair of scissors and cut up the teddy bear', known as Cheeky Bear. Luckily, the bear was able to be repaired.
#Open journalism No news is bad news Support The Journal

Your contributions will help us continue to deliver the stories that are important to you

Support us now
Patients on the mend 
Other recent patients include:
The work done by Melissa and Chris has not gone unnoticed by customers:
"I love what we do and our customers do too. I think Irish people like coming in with something that is very precious to them and talk about what exactly they would like done. It's a real shame to have to close the doors."
Melissa also owns one of the largest collection of Irish teddy bears in Ireland.
She was involved last year with a display at the Ark Children's Museum, in conjunction with the Royal Victoria and Albert Museum in London. She also has over 50 antique dolls.
"I would hate to see the collection be broken up. I think it would be a great attraction to have a teddy bear museum in Dublin, I love that idea. I would love someone to step in and say they could house the collection and look after it.

At the moment I will just be wrapping everything up and taking them home with me. If anybody would be interested, they should get in touch, I just want the collection to be appreciated by others."
The Doll and Teddy Bear Hospital closes today. You can follow their work on Facebook and on their website here.