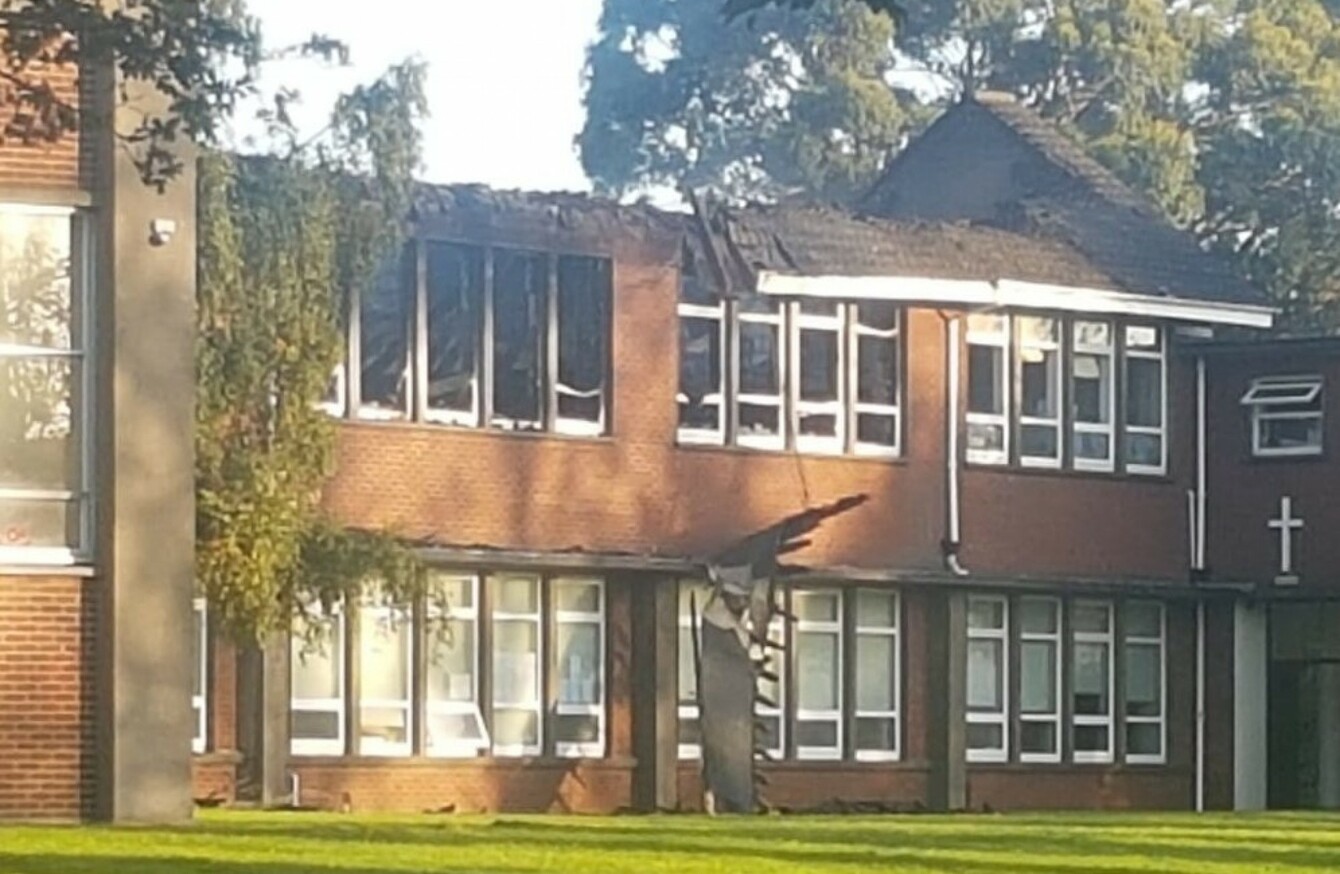 The fire at Scoil Chaitriona in Coolock.
Image: Dublin Fire Brigade
The fire at Scoil Chaitriona in Coolock.
Image: Dublin Fire Brigade
Updated Oct 16th 2019, 5:33 PM
THE GOVERNMENT HAS said "every resource and support available" will be offered to a primary school in north Dublin which has been damaged by a major fire. 
Dublin Fire Brigade was called to Scoil Chaitríona Cailíní, which is just off the Malahide Road in Coolock, just after 6am this morning. 
Minister for Education Joe McHugh, who visited the site earlier this morning, said that his department will be working with the school to see how and where pupils can be accommodated while the damage done to the building is repaired. 
A spokesperson for the Department of Education said that a senior official has been "appointed as a liaison to the principal and school management team". 
"An architect from the Department has also been sent to the school this morning as initial assessments are carried out," the spokesperson said.
The school's patron will be contacted by the department to see whether there are alternative accommodation options in nearby schools or the local area. 
"Discussions are also ongoing with other education providers locally and in other parts of Dublin as part of efforts to secure accommodation for the school. A number of options will be considered as the day goes on," the spokesperson said. 
It took six fire engines to contain the blaze, which caused significant damage to the senior school. A spokesperson for Dublin Fire Brigade told TheJournal.ie that specialist equipment was also used to tackle the fire. 
Around 200 pupils attend the senior school in Scoil Chaitríona Cailíní. 
Speaking on RTÉ Radio One's Today with Sean O'Rourke, firefighter John Robinson called the fire "pretty extensive". 
Robinson said firefighters had gotten it under control in around an hour and a half. 
Damage to the senior part of the school, he said, included "a little bit of smoke damage but predominantly water damage". 
There have been no reports of any injuries. One person was taken to hospital as a precaution as a result of smoke inhalation. 
Dublin Fire Brigade this morning advised local residents to remain indoors and to keep their windows closed. 
Fine Gael's Senator Catherine Noone also said that she hoped "their school will be ok for them to return to after the fire overnight and that there have been no serious injuries to locals & firefighters". 
The Coolock Residents Association has been offering tea and coffee to the local community and to anyone affected by the fire. 
With reporting by Hayley Halpin