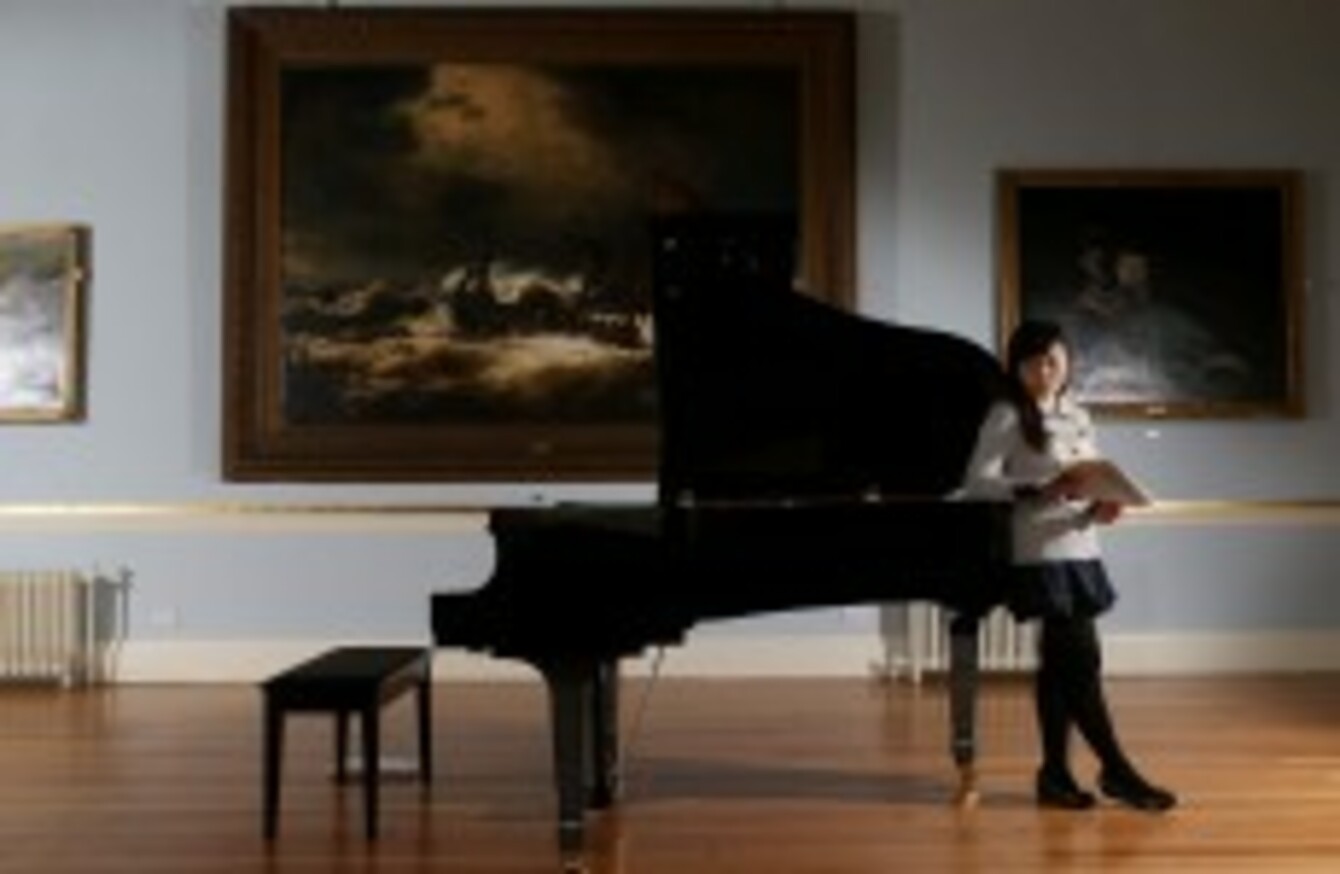 Wenting Shi from Shanghi, China
Image: Jason Clarke Photography
Wenting Shi from Shanghi, China
Image: Jason Clarke Photography
IRELAND IS STEEPED in music – but when you think of Irish music, your mind might go straight to the traditional forms.
But we actually have some extremely talented young classical musicians too.
In competition
The 10th Dublin International Piano Competition runs until 26 May, and will see 66 of the best young pianists from across the world playing at the RDS and National Concert Hall, building up from the first round (which took place on Friday) to the finals on 26 May.
The 66 include six Irish pianists – there are usually five, but the level of talent was so high that this year one extra was selected.
The finalists, known as 'The Foley Six', are also part of a mentorship and educational training programme in the lead up to the competition.
We spoke to two of the competitors from Ireland to find out what goes into preparing for a big event like this.
Jonathan Morris (22), is from Enniscorthy Co Wexford. He studied with Hugh Tinney at the RIAM, and is now studying with Ronan O'Hora at the Guildhall of Music and Drama in London.
"I started the piano around the age of 8 when my parents asked me to pick an instrument, and I thought piano seemed the most appealing at the time.
"I was taking private lessons with someone who knew Hugh Tinney in the academy, and they got me an audition in the Royal Academy of Music. I auditioned for them and then started studying for Hugh Tinney. I was with him for three years before I left to go to London. I'm just finishing my first year of a masters.
"Its an elusive career in some ways. I decided [to go for a career in performance] one time after doing a competition in Cork.
"I've gone to most of the past competitions of the DIPC so I've always admired the participants. It seemed like such an incredibly high standard. It's incredible amazing opportunity.
"It's pretty amazing seeing my name down in the programme.
"There are really great prizes for Irish musicians this year. The Brennan prize which is what everyone is after.
"I've been preparing it since I decided to enter, back in September of 2014. In September I was thinking what pieces I would be doing and in which order I would play them and different things like that. You get a certain amount of time for each round.
"[I practice] probably between three and four hours a day. That's on top of all my school commitments.
"In the preliminary Irish competition, I played a lot of the pieces I've been playing for the first round.
"I suppose from then on it was a bit of a juggling act to try and get all of my pieces up to a very high standard in the allocated amount of time.
"There are a lot of growing opportunities in Ireland for young classical musicians. There are more and more each year.
"It's things like the DIPC that will provide these opportunities for people like me.
"[How I prepare]: It's more like a headspace rather than doing the hard labour that goes into it beforehand. I'd be practicing the same amount, but it's a different type of practice. It's focused on listening and getting your head right.
"I don't have a routine. I suppose it's a mixture of trying to relax about the whole thing and trying to remember what's important.
"When you finish your MA you have to start thinking about practical ways of getting money.
"I'd love to play as regularly as possible. I'd love to be involved with different things, all involved in music. I had a trio during my undergrad, unfortunately we had to let that go… but I'd love to do something again like that. I'm also at the beginning of starting a business with colleague of mine in London. It's an arts-based business.
"So if I were able to do something along those line along with a good performance career and teaching, being being involved in music [that would be ideal].
Billy O'Brien (22) is from Waterford and in the fourth year of a BA Degree in Music Performance at the RIAM. He studies under Therese Fahy.
"I began playing trad fiddle when I was six. At secondary school in Waterford, I asked my music teacher would he teach me piano. After a year he told me I should audition for RIAM. Then I a won scholarship to the academy.  I used to come up every Saturday.
"In college I did music education. I decided that performance is what I wanted to do, so I switched course.
"When I went to the competition last time. I felt I was able to do it. When I saw people do it, [I thought] that's what I could do.
#Open journalism No news is bad news Support The Journal

Your contributions will help us continue to deliver the stories that are important to you

Support us now
"I think that what I like about performance is I feel I can express myself. I feel like that's what I'm good at.
"I wouldn't have been any way ready to play in it three years ago. I decided last summer I was going to go for it this time.
"It's a huge undertaking, the amount of repertoire. It's brilliant to get your standard to that level. It takes loads of practice.
"I just practiced really hard. I never really do less than four hours, and up to seven to eight hours.
"[I'm doing] quite a 20th century programme my first round. I like the music and I think it's a little bit different. It's not very standard.
"It was brilliant [to get selected]. It was great but also then – 'back to the practice room'.
"It's a huge privilege and a great opportunity for my piano playing. It's exciting.
"[With the mentorship] I've gone to two schools and played some of my programme for the pupils. It's a great opportunity for me to get my programme played and then for them to be exposed to it.
"Is it competitive? Very. It's the highest standard of that art and it's a fine art. I think it's necessary.
"I think people might have preconceptions [about classical piano playing]. I do think music is for everyone and any music is for everyone. I do think it is the responsibility of an education system to educate people in classical music.
"When I was in school I would have wished someone played for me and showed me what it meant to have a career as a classical musician.
"The other thing about classical music is it requires a big discipline. Especially in this day and age when everything is instant, it's an amazing lesson. I suppose people have preconceptions about it being elitist. I don't think that's the case. A lot of people who are in it aren't from elitist backgrounds.
"Just come along [to the competition]. It's very enjoyable – you probably would be blown away by the standard of piano playing."
The Dublin International Piano Competition is open to members of the public to attend. There are a number of sessions each day, and you can get a ticket to a session or for the full day. Tickets for the rounds are €7 per session or €18 per day, and it costs €20/€45 for tickets for the NCH finals.