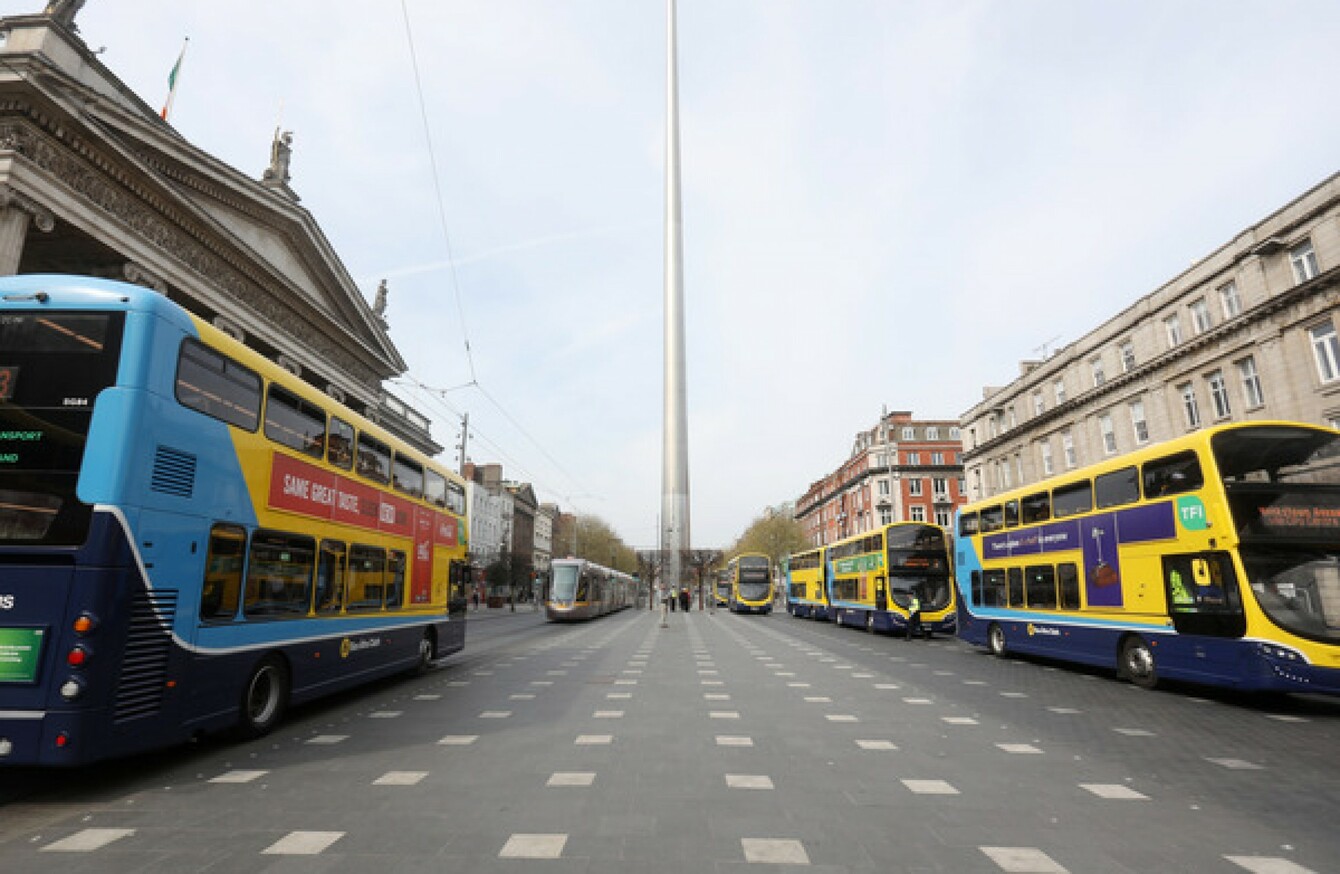 O'Connell Street in Dublin city.
O'Connell Street in Dublin city.
Updated Sep 30th 2020, 12:16 PM
ACTING CHIEF MEDICAL Officer Dr Ronan Glynn has said the National Public Health Emergency Team (NPHET) has not yet seen the improvement in Covid-19 cases for Dublin to move from Level 3 restrictions to Level 2.
Glynn said the harsher measures introduced in Dublin almost two weeks ago would only be seen to be having an affect this week.
When the government's roadmap for Living with Covid-19 was introduced earlier this month Dublin was placed on Level 3 and the rest of the country was placed on Level 2. 
Donegal has subsequently been moved to Level 3. 
The measures in Dublin were to last for three weeks until 9 October, with a decision on that timeline to be decided by government following advice from Nphet. 
Asked by Sinn Féin's David Cullinane TD at Covid-19 Oireachtas Committee whether Dubliners could expect to see this timeline kept, Glynn said there is no evidence yet to say that Dublin should leave Level 3.
"I fully appreciate the need for certainty. But what I would say is that the measures that were put in place last Friday week for Dublin, would only be beginning to take effect yesterday, today, tomorrow," Glynn said.
But we do need to see significant improvement over the coming days in Dublin and we've not seen it yet. 
Speaking in response to questions from Fine Gael's Jennifer Carroll MacNeill TD, Glynn said that if the three-week Dublin restrictions were up tomorrow he'd be recommending extending them. 
"Just anecdotally, look at the amount of traffic on the roads. And it's hard to believe that people have taken the message to heart, that they should not be going to work unless it's absolutely essential," he said.
Despite this, Glynn expressed optimism that the Covid-19 numbers in Dublin could be stabilising.  
"The optimist in me would say that Dublin appears to be stabilising. But that's an optimistic note and I do think we need to see what happens over the next three to four days in particular," he said.
It remains widely dispersed amongst a whole range of different settings, which, on the one hand, is, is good news that we're not having big clusters, on the other hand it makes it more difficult to control because there isn't one obvious target.
He later added that people in Dublin can make a difference. 
"A really positive story that keeps getting missed, I think, is, is what people in many counties have done in recent weeks to turn around a negative trajectory, look at Waterford, Tipperary, Limerick, Laois, Offaly, Kildare, it can be done, people know how to do," he said.
"I suppose the most optimistic, or the most positive point is people have done this before, they know what to do and I am absolutely sure that they'll do it again."
Looking forward
Cullinane said that people "want to know where they're going to be at" and described the moving levels as a "yo-yo approach".
"Is there any sense at this point in time from your perspective as to where Dublin might be next week, and what impact that might have on those businesses which are shut," he said.
I think that was part of the problem. Last time, if you can appreciate, within a couple of hours restaurants were closed. We're told they had to close. And, which caused a lot of shock, and it has to be said.
In response, Glynn said that any recommendation that Nphet were to give about Dublin today would be "premature" and could have "knock-on effects".
#Open journalism No news is bad news Support The Journal

Your contributions will help us continue to deliver the stories that are important to you

Support us now
"Nphet could sit today, and make a recommendation for Dublin, on Sunday week, but it would be a premature recommendation, it would likely be an inaccurate recommendation, and it could lead to very significant knock-on consequences in a week's time if we made the wrong recommendation," he said. 
Asked about the potential for a lag between Nphet delivering advice and businesses getting the required notice of a level change, Glynn said this was a "matter for government".
"There is a balance to be struck between the timing of the recommendation and the application of a decision by government. Really I think that is a matter for government in terms of the timing," he said.
"I would say that in relation to Dublin, Nphet was very clear about the urgency of the need to recommend and I understand, particularly in relation to the hospitality sector, the effects that has in terms of stock that's been ordered and not used etc so I am conscious of that."
Cork
Cork North-Central TD Mick Barry asked Glynn about "speculation that Cork may be moved from Level 2 to Level 3″ and about speculation that "perhaps at Cork county might stay on Level 2, and Cork city be moved to Level 3″.
Barry noted that this approach would represent a new approach and it hasn't been taken in other places. 
"I've seen speculation, the speculation has not come from Nphet in relation to a lower level approach, in terms of city, or a smaller level," Glynn said. 
Glynn noted that people don't necessarily interact with others in their village or area alone and "to a large extent they move about within their county on a very regular basis". 
"If it comes to Cork, or any other county, we will look at the specifics and see whether a more nuanced approach is appropriate. But to your point, the reason for the messaging around Cork was not to warn people that a move to Level 3 was imminent, it was to warn people to protect themselves and others, so that we could get the cases down so that a Level 3 would never be required," he said.