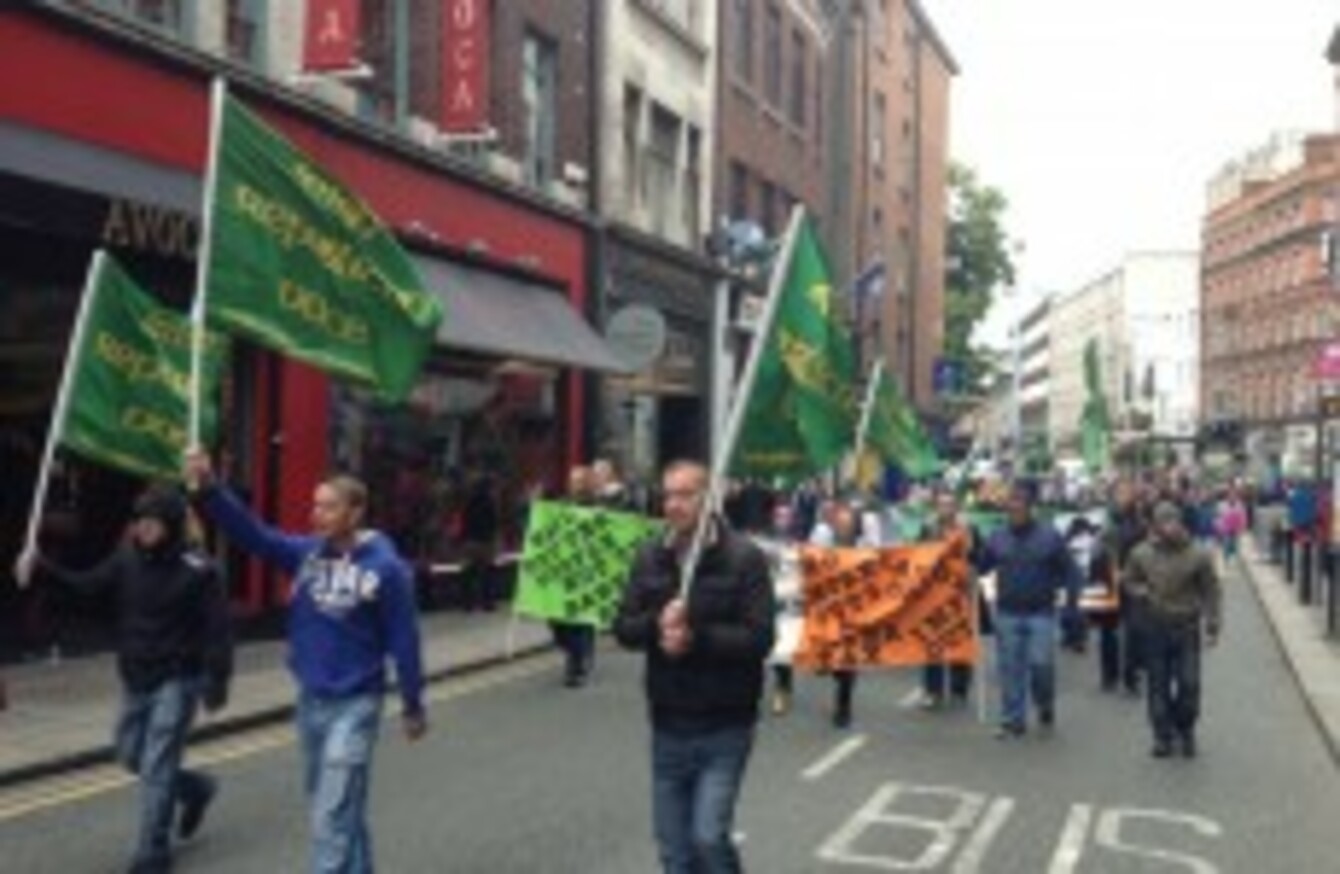 An impromptu march took place from Kildare street.
Image: Christina Finn/TheJournal.ie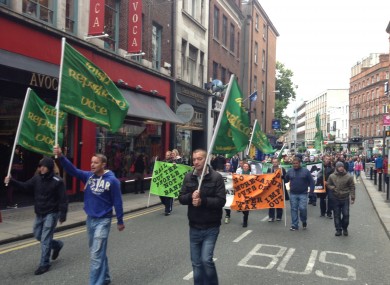 An impromptu march took place from Kildare street.
Image: Christina Finn/TheJournal.ie
Updated 11.20pm
PROTESTERS BEGAN GATHERING at Leinster House at 5am this morning for the Dáil Lockout protest. By around 11am there were approximately 150 people gathered outside, however after lunchtime numbers grew to around 400 people.
Members of the public gathered at the gates of Leinster House, while gardaí stood guard at the barricades.
Approximately 40-50 members of the gardaí were in and around the Kildare Street area, with a further six members of the mounted support unit also present.
The 'Lock the government out of the Dáil' protest was organised in response to people's disillusionment with the government and against austerity.
No to austerity
Speakers addressed the crowds with megaphones, telling people it was time to stand up and tell the government that the people could take no more austerity.
However, people began to get restless, with some people shouting: "They won't even know we are here unless we march."
At about 11am, a small crowd broke away from the protest and marched from Molesworth Street, down to Nassau Street and back up around the other side of the barricades at Kildare Street.
Two eyewitnesses claimed the gardaí created a human barrier to prevent people from moving any further up Kildare Street. The said that some jostling took place between the gardaí and some protesters and one man was sprayed with pepper spray.
Claims of pepper spray use
"It didn't just spray on him, some of it went on the crowd, including me and also a photographer, I think," said the eyewitness. To view footage of the incident, click here.
Despite these claims, gardaí at the scene told TheJournal.ie that they had not heard of the incident, but said that if pepper spray is used at a protest, a report would have to be logged. The Garda Press Office told TheJournal.ie that no formal report had been made about any such incident.
Laura Hutton of Photocall Ireland took this photograph on Kildare Street today:
At about 2pm, the crowd broke away again, for another 'mini-march' however, this time the crowd decided to head to the Central Bank. Protesters made their way on the public road, disrupting traffic on the way.
Protesters shouted: "Enda, Enda, Enda, out, out, out!" They also urged members of the public to join their march, with one protester shouting: "It's your country too." Gardaí followed the protesters as they walked.
Here is some footage of the march:
Back at Leinster House, Willie O'Dea was spotted by members of the crowd. People shouted: "Shame, shame, shame" at the Fianna Fáil TD.
#Open journalism No news is bad news Support The Journal

Your contributions will help us continue to deliver the stories that are important to you

Support us now
Kerry South TD jostled
Independent TD for Kerry South, Michael Healy-Rae then made an appearance and attempted to get into the crowd through theGarda barricade. It is unclear if he was doing so as he wanted to address the crowd or if he was merely trying to get through.
Members of public would not let him by and the TD was jostled while the gardaí tried to come to his assistance. He was then forced to retreat.
Here are some images from today's protest:
Protest

Protest

Protest

Protest

Protest

Protest

Protest

Protest

Protest

Protest

Dail protest. Gardai use pepper spray

Source: Laura Hutton
(Christina Finn/TheJournal.ie)
First published 6pm