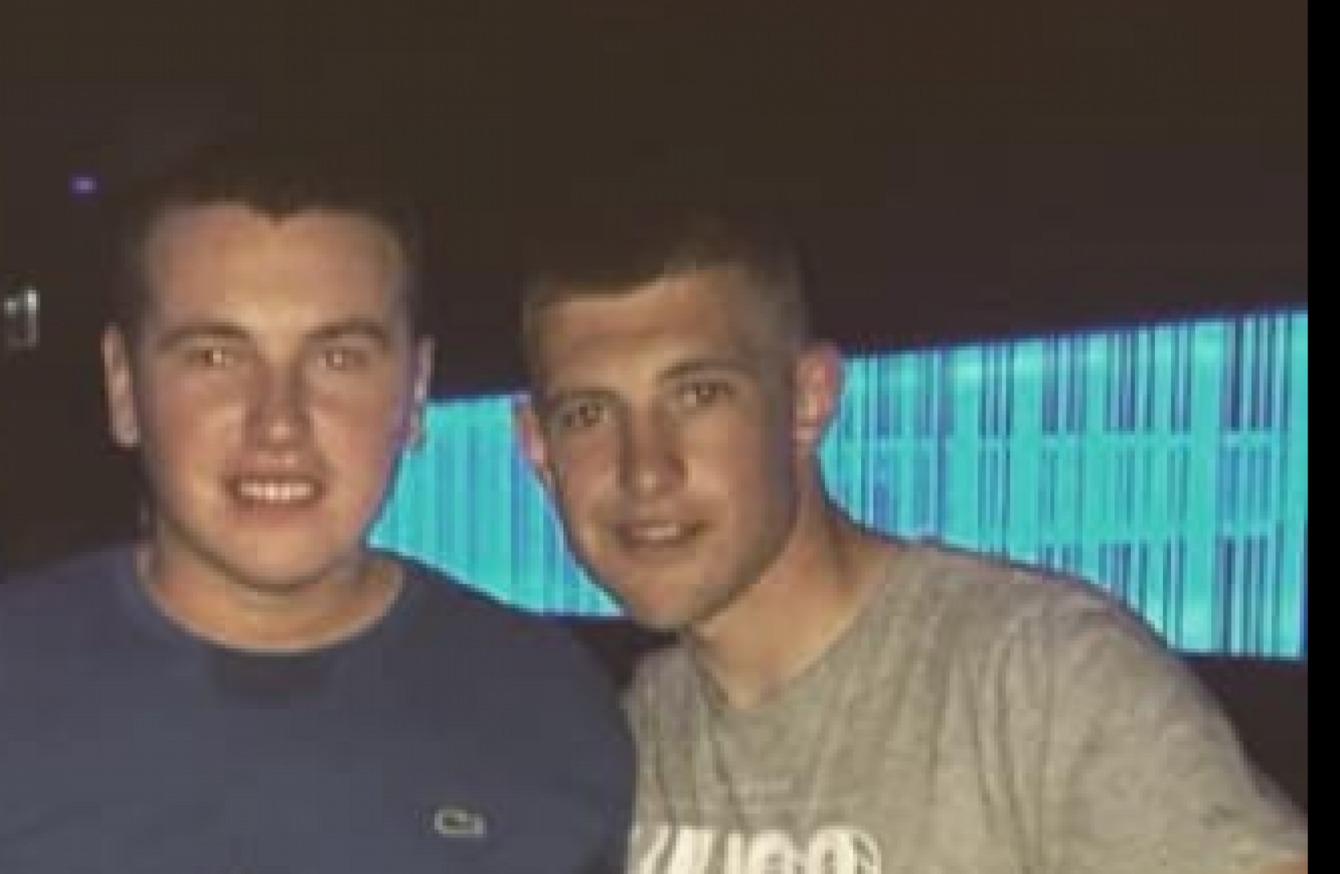 Seán Little (L) and Jordan Davis (R)
Image: Facebook
Seán Little (L) and Jordan Davis (R)
Image: Facebook
Updated May 23rd 2019, 12:16 PM
GARDAÍ INVESTIGATING THE shooting of two friends in north Dublin made a public appeal this morning for anyone with information to contact them.
Jordan Davis (22) was shot dead at around 4pm yesterday at a laneway adjacent to Our Lady Immaculate National School in Darndale.
Meanwhile, 22-year-old Sean Little was found dead beside a car that had been set alight at Rowans Little, Walshestown, Balbriggan on Tuesday night.
Gardaí are understood to be investigating whether the fatal shootings of the two men are linked and drugs related.
Speaking from Ballymun garda station this morning, Assistant Commissioner Pat Leahy said he was "pretty confident" in the direction of the investigation and said gardaí would treat any witnesses in a "very sensitive" manner.
He said a red mountain bike was seen in the area of the fatal Darndale shooting in the days and hours beforehand.
"We know that there are people in the community who know some information around that particular incident," he said.
"We know that the red mountain bike that was in the area in the days preceding the killing, and we also know that it was there in the hours preceding it.
"So there are people in the area that know something about this that have not yet come forward so we'd encourage them to come forward.
"We will be very sensitive in relation to any information that we receive," he added. 
He also said he was appealing for anyone who was in the Rowan's Little area of Balbriggan on Tuesday night, who had a dashcam to come forward.
Leahy said he was encouraging young people, and young men in particular, who are involved or considering getting involved in drug crime to stay away.
"We're seeing young men, and it's difficult to even term them young men at the age of 22, because they're really only after coming out of their teenage years and all of a sudden their lives are taken unceremoniously in the fashion that has been described.
"We're really appealing for the young people who are out there at the moment, not only in our city of Dublin but across the country, please do not get involved at any level with the drugs trade.
"Low level dealing is enough to have your life taken at a young age and we've seen it time and time again."
Tribute
Shortly before he was killed, Davis posted a tribute to his friend, Seán Little, who was found dead with gunshot wounds near the M1 motorway in Dublin the night before.
Sharing a picture of the pair, Davis wrote: "Rest in paradise, you were a gent."
On Tuesday night, emergency services were alerted to a car on fire at the Walshestown location at around 11.20pm and discovered a man with apparent gunshot wounds beside the car.
Minister for Justice Charlie Flanagan condemned the "violent loss of life", appealing to anyone who has information which could help garda enquiries to come forward as soon as possible.  
With reporting from Michelle Hennessy.