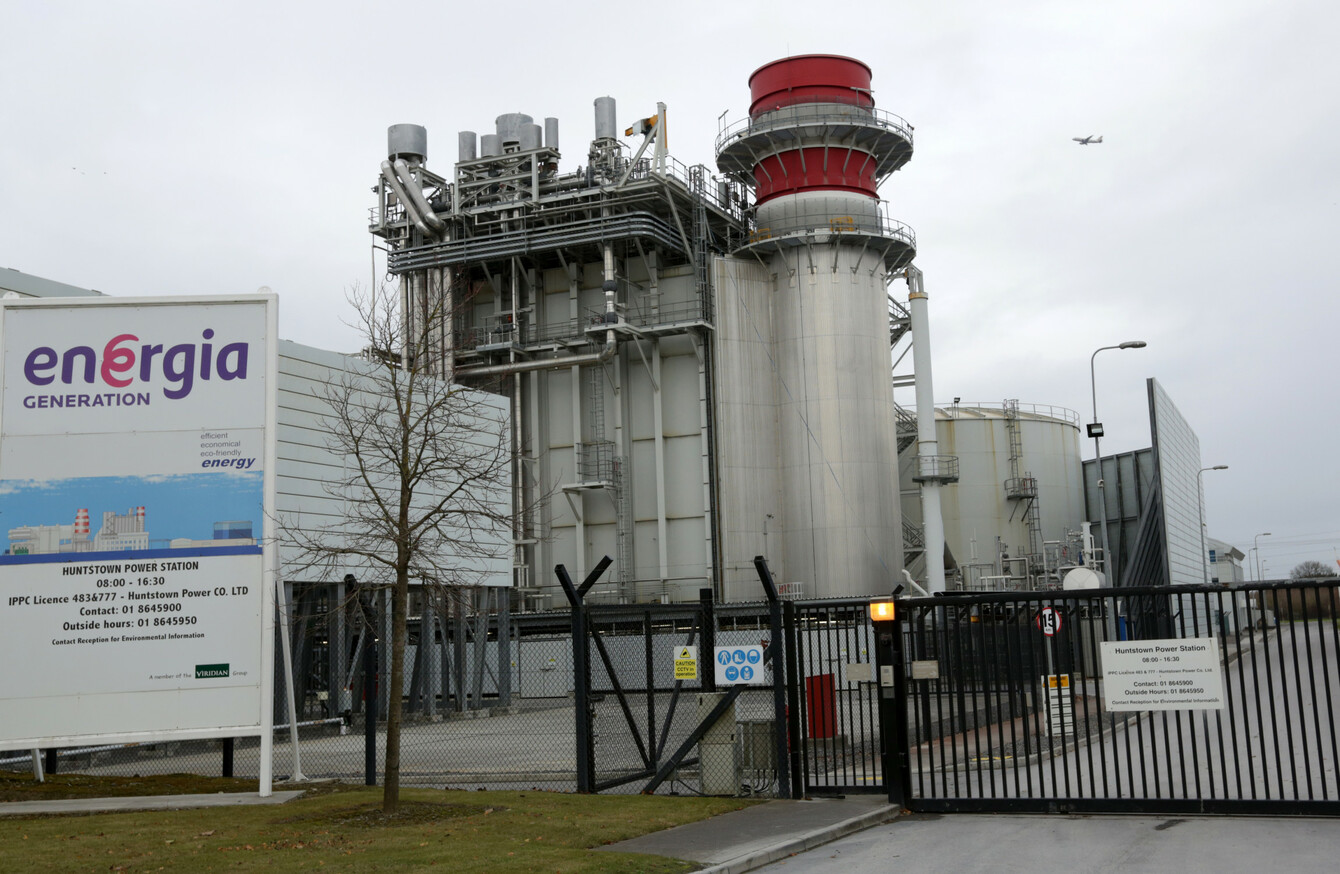 Image: Laura Hutton via RollingNews.ie
Image: Laura Hutton via RollingNews.ie
STAFF AT TWO major power plants in Huntstown, Dublin 15 have been notified of redundancy as it plans to close both plants this May.
All-Ireland energy company Viridian said that because one of its plants was awarded a "reliability operation" contract by the energy regulator and the other wasn't, that it wasn't possible for the company to recover its costs, and would have to close both plants as a result.
RTÉ News, who first reported the story this morning, report that the decision will have no impact on Viridian's retail arm, Energia.
On Friday, the joint system operators of the electricity market in Ireland announced those who were awarded contract under a new system (the Integrated Single Electricity Market).
Under this new system, the Huntstown 1 plant was awarded a contract but the second plant, Huntstown 2, did not.
The Commission for Regulation of Utilities, which regulates the energy sector in Ireland, said that the key objective of this new system was "to deliver a more competitive electricity generation market, focussed on delivering services customers need at the least possible cost and maintaining security of supply".
The outcome of the recent auction process will result in savings of approximately €150 million to Irish energy consumers and a further €50 million to Northern Ireland consumers.
"Following the completion of the auction, it was expected that generators would receive lower capacity revenues as a result of greater competition. Generators which were unsuccessful in the auction will receive no capacity revenues, reflecting the increase in competition."
Viridian employs around 630 staff across Northern Ireland and the Republic, and has been included among Ireland's Top 50 Businesses.
Possible solution
The Huntstown Power Plant is a gas-fired power station in north Dublin which the Viridian Group claims is capable of powering 1.5 million homes, or providing 20% of Ireland's electricity needs.
Viridian says that it has invested over €1 billion in Irish energy generation infrastructure since 2000.
In a statement to TheJournal.ie, the company said that it "continues to believe the Huntstown plants are critical to the security of electricity supply in the Dublin area".
It said that it has had "a number of constructive interactions" with the Department of Communications, Climate Action and Environment and the Irish energy regulator the Commission for Energy Regulation, but a solution to ensure the Dublin plants remain in operation has yet to be found.
The Commission for Regulation of Utilities said that "it had been expected" that their decision to change the process in which contracts are awarded would result in "some generators taking the commercial decision to close particular plants".
In the event of this, there remains sufficient generation capacity on the island of Ireland, with some areas of local constraint.
"In these areas, a process has been put in place to be managed by the Transmission System Operator (EirGrid) to deal with such a scenario to ensure the continued local security of supply."
An information paper on this process was published by the regulator on 18 December 2017.
"Viridian remains firmly committed to playing its part in urgently progressing discussions to resolve this issue," the company said.
This article was updated at 12pm to include a statement from the Commission for Regulation of Utilities.