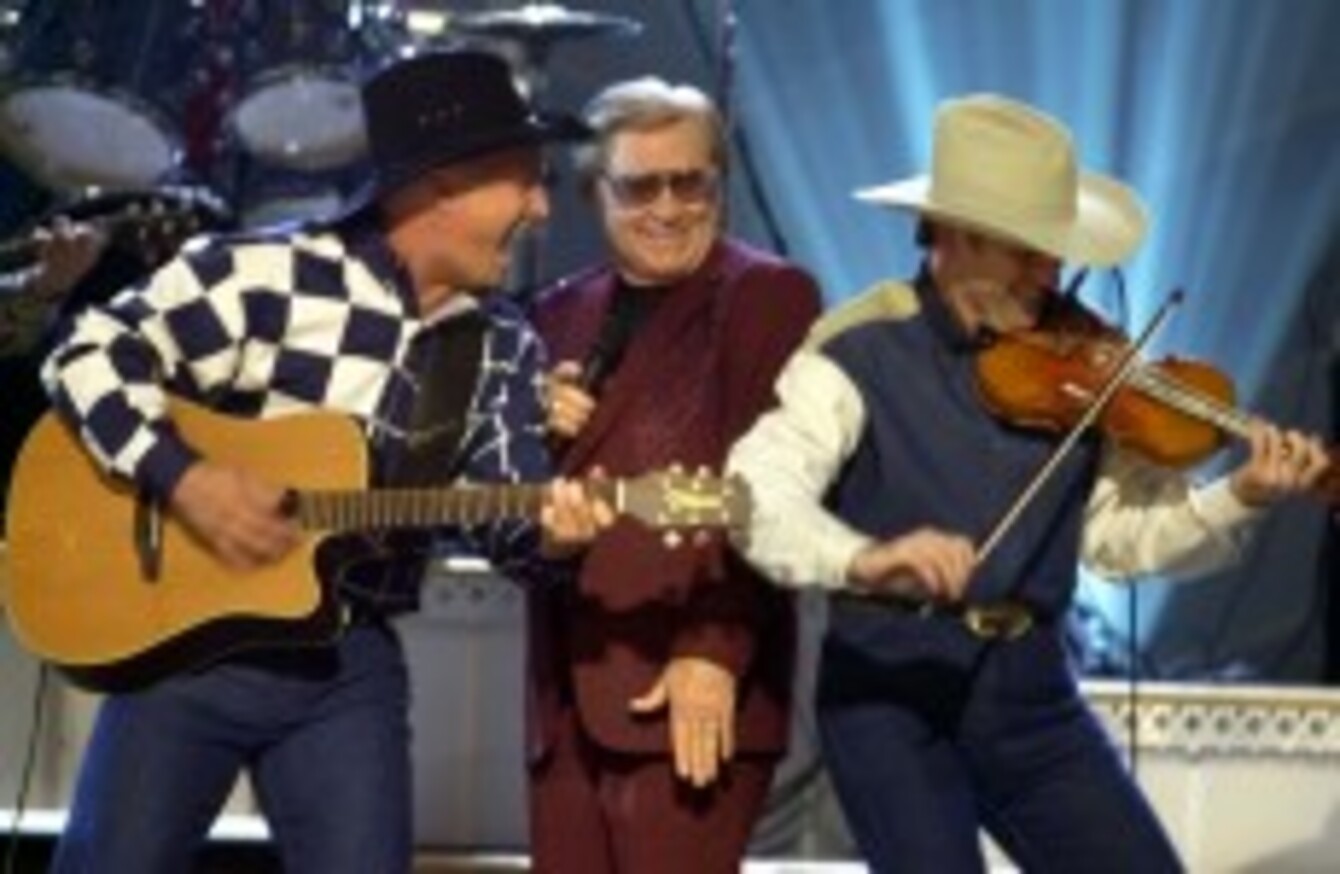 Garth Brooks, left, and George Jones perform on stage in 2001
Image: AP/Press Association Images
Garth Brooks, left, and George Jones perform on stage in 2001
Image: AP/Press Association Images
THE BATTLE TO take over the FM frequency currently occupied by Sunshine 106.8 goes to the 'oral presentation' stage next Monday afternoon.
The two groups vying for the BAI broadcast licence will be Star Broadcasting (current operators of 'Sunshine') and Easy FM (which is proposing a new station named 'Country FM').
Each side will make a 15 minute presentation to the BAI Contract Awards Committee, before answering questions from members. Once that process is wrapped up, the committee scores each submission, and passes its recommendation on the the Authority.
At stake is a Dublin-wide 'niche' music driven licence — and while the two groups are each proposing a broadly country-based service, one is decidedly more country than the other…
The current backers of 'Sunshine', which began life back in 2001 as 'Dublin's Country Mix' argue in their submission to the broadcasting authority that any new attempt to reintroduce a 'pure country' format to the market would be unviable:
Our experience over more than a decade clearly shows that any music-­‐led radio service focusing exclusively on the 'pure country' format will not only struggle to survive in today's market but will also be unviable if it is to provide any meaningful employment and garner a reasonable audience share in the medium to long term.

Our extensive market research backs this up.

In contrast, our research demonstrates that a niche service that includes country music as one element of its music content, combined with other compatible genres, will not only garner a wider appeal but will be viable.
But that's just not enough country, claims the rival submission from the 'Easy FM' group:
Country FM has been created first and foremost as a pure Country Music Station. It will be clearly and immediately different from all the stations that exist in the Dublin marketplace.Its aim is to be a small-scale station of distinction-easily identified for its quality and credibility with a country audience.

Put simply, the philosophy behind Country FM will be an uncompromising approach to satisfy its listeners with great country music.

We respectively submit that a niche radio service should focus solely on a targeted subset of a market sector, in our case country music, and not a hybrid format of music that can be heard on existing stations.
Sunshine's backers include current chief executive Sean Ashmore, Radio Nova CEO Kevin Branigan, showband star Paddy Cole and Senator Paschal Mooney.
Former Sunshine programme director Keith Shanley is among the names behind the new 'Country FM' bid. Radio veteran Martin Block, founder of FM104 and 4FM, is also involved, as is JJ Kavanagh (of the well-known coach company).
Sunshine's current contract expires in September of this year.
The oral presentation takes place in the Radisson Blu Hotel, on Golden Lane in Dublin next Monday afternoon. Disappointingly, the BAI missed out on an opportunity to provide this website with a cheap headline by declining to schedule it for 'high noon' (it's at 2.30pm).
It's open to the public — but probably only of genuine interest to radio anoraks.