File photo
Image: Leon Farrell via RollingNews.ie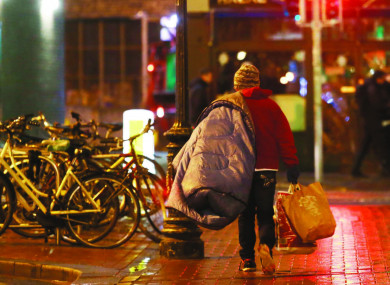 File photo
Image: Leon Farrell via RollingNews.ie
"I WAS LITERALLY just rock bottom. I was seven years out on the streets."
Geoff, a Dublin Simon Community client, had been homeless for seven years after he could no longer afford to rent. 
He tried to give up alcohol on numerous occasions and attempted counselling a number of times, but it never worked out for him. 
Geoff spoke at the Dublin Simon Community annual impact report launch today, where he told the audience about his journey through the charity's detox and recovery programmes. His story was also included in the report.
"I was rock bottom, I had lost the will to live," he said. 
The report noted that Geoff was "nervous" about entering the charity's treatment services, but that he "knew in his own heart and soul" that he wanted to try. 
"I don't know how many times I tried to give up drink and I don't know how many times I went for counselling. None of them worked out," he said in the report. 
Geoff took part in Dublin Simon Community's detox programme for three weeks. He remains in recovery and has been provided with a home. 
"I entered detox and in a matter of hours, something sparked inside me," he told the audience. "The amount of support I have received is unbelievable."
Since then, Geoff has linked in with the Community Employment Scheme through his key worker and has been working in maintenance. 
"This morning I woke up, the minute I got out of bed I was singing, just totally full of joy. It's great to be alive I was saying to myself. There's no way I'm going back. That's how I just keep going forward and forward," he said in the report. 
"The person I see when I'm looking in the mirror now is the person I always wanted to be." 
Impact report
Geoff spoke as Dublin Simon Community launched its annual impact report earlier today. He represents just one of the thousands of people the charity supported last year. 
In 2017, Dublin Simon Community delivered housing, health and support services to 6,285 people in Dublin, Wicklow, Kildare and Meath. This was a 22% increase in overall service delivery on 2016. 
Last year, the charity resettled 1,006 adults and 1,028 children (797 households) out of homelessness and into homes. 
It provided treatment services to 694 people, a 24% increase on the previous year. 
Meanwhile, 1,042 people accessed the charity's Medical Residential Treatment and its Sure Steps Counselling services. 
#Open journalism No news is bad news Support The Journal

Your contributions will help us continue to deliver the stories that are important to you

Support us now
In all, the charity provided 2,250 hours of one to one counselling and mental health support to clients accessing its Sure Steps Counselling service. 
Speaking about the report, Sam McGuinness, CEO of the Dublin Simon Community, emphasised the need for additional housing to significantly reduce the number of people who are stuck in emergency accommodation. 
He also said that housing alone is not the answer. 
"As this crisis advances, there continues to be a surge in people who desperately need help with housing. In 2017, we also focused on the provision of housing to turn into homes and move people off the streets and out of unstable temporary accommodation," McGuinness said. 
"In order for this work to continue, additional housing must be delivered at a more accelerated rate."
Latest figures for July show that the number of homeless people and families in the State has increased to a new record level. 
The Department of Housing has recorded that there were 6,024 adults and 3,867 children in emergency accommodation during the week of 23-29 July.
Dublin Simon Community provides services to people in Dublin, Kildare, Wicklow and Meath. It has recently expanded its service delivery to Cavan, Monaghan and Louth.