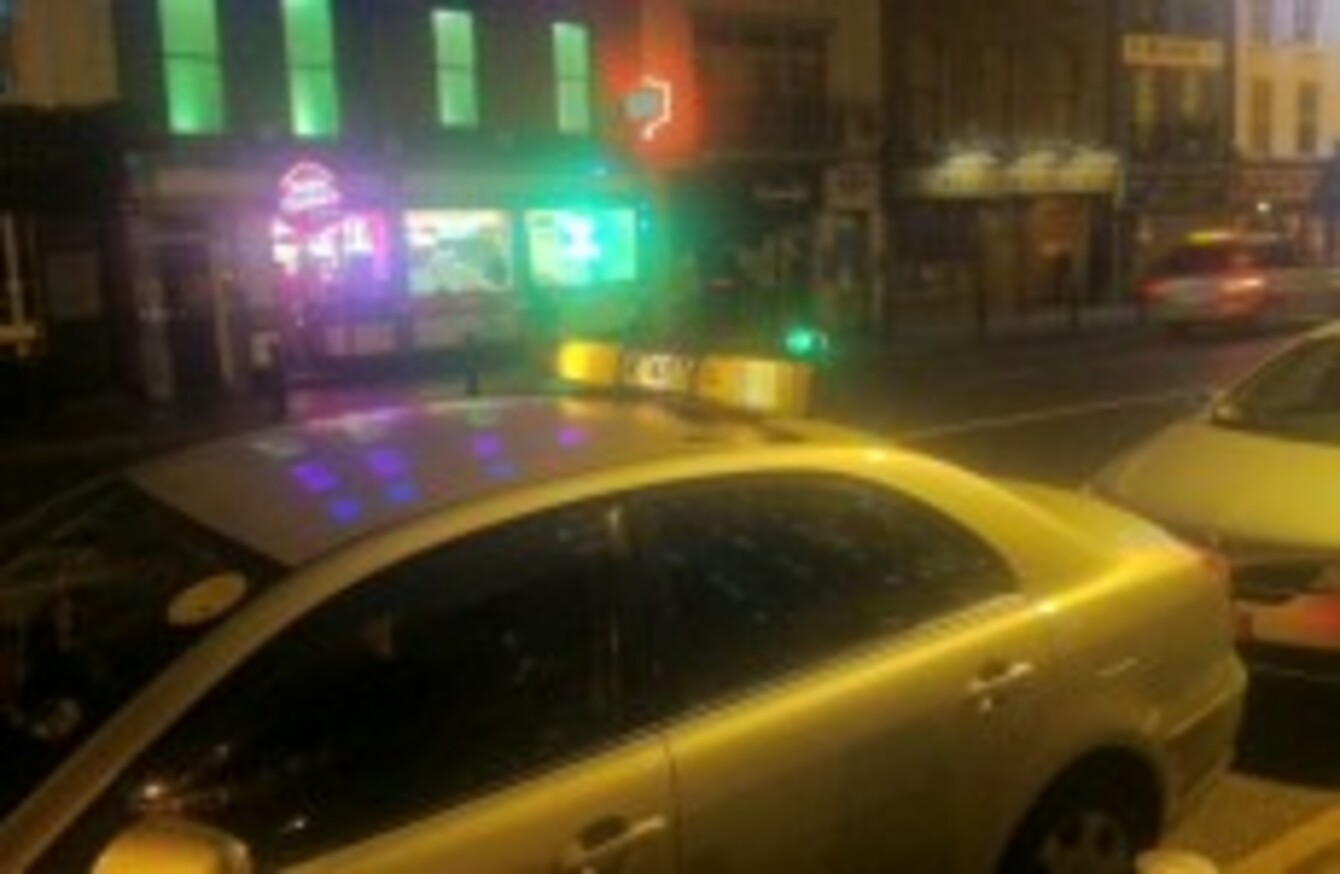 Dame Street, Dublin
Image: Image: © TheJournal.ie
Dame Street, Dublin
Image: Image: © TheJournal.ie
A NUMBER OF taxi drivers in Dublin may be using a covert symbol to signal – to each other and to interested punters – that they are Irish.
TheJournal.ie has learned the green lights fitted to the top of some taxi roof lights are intended – in some instances – to let potential customers know that the driver is of Irish origin – and not a non-Irish national.
One customer was told by a driver that it is not something being advertised widely but that drivers are "just telling folk that get into taxis", if they are interested, that the purpose of the green light is to indicate that the driver is Irish.
Although they won't be seen on every taxi rank, the green lights are becoming more common on Dublin streets.
When asked about the growing number of lights on taxis, another driver told TheJournal.ie that he didn't want to get one but may be forced to if "the idea took off".
On St Patrick's Day, yet another taximan who had installed a green light on his car told TheJournal.ie that some people feel better knowing their driver is from Dublin. "He'll know the area, you won't get ripped off," he said. "It's not racist."
One of the drivers we spoke to, originally from England, told TheJournal.ie that he was aware of the increasing popularity of the lights. He said that he has had some bother from other drivers about his accent and that ranks can get quite competitive. He believes the lights are also a signal to each other that the drivers are full-time and Irish.
When asked by TheJournal.ie about the purpose of the green light, the NPHTA (National Private Hire & Taxi Association) said they are used for an entirely different reason. A spokesperson for the union said they are being sold as a European-friendly sign to indicate to potential punters during the day time that taxis are available for hire as sometimes the illuminated yellow roof signs are "difficult to see" in the daylight. He noted that similar lights are used in Spain to indicate when a taxi is available for hire.
One garage which fits the lights to Dublin cabs told TheJournal.ie that his company sells them to anyone who wants them, regardless of nationality. The owner said that his understanding is that the lights are just a way of showing that a vehicle was available for hire.
However, our investigation and a popular internet forum for taxi drivers seems to tell another version.
On IrishTaxi.org, the use of green lights was discussed as a possible sign to show availability to tourists who might not understand the yellow sign.
While there was some support for using the lights for this reason, other suggested that they were a "covert" signal that the driver is Irish. One commenter noted:
The installer was handing out flyers on the Mines [Rathmines rank] some weeks ago. He claimed that he got the OK from TR [Taxi Regulator]. Part of his sales patter was the Irish angle.
Another simply said:
Green light=Paddy.
On the same thread, a different commenter was adamant he was pitched the idea of a green light to help him indicate he was Irish.
My statement that the Green light is a pseudo Irish driver indicator is based on the FACT that  is how it was pitched to me by one of the people fitting them.
Posing as an interested customer, TheJournal.ie asked about the purpose of the lights on the blog. This was the first response received:
my understanding of the green light is to let customers know that the driver is irish , and the hope is people will come to realise what the significants [sic] of the light is in time
On another thread titled "Are Black drivers taking over the Dublin taxi fleet?", one contributor claimed that "punters generally don't travel with Africans outside of the city", a statement supported by other contributors.
Are the lights legal?
During our initial enquiries, there seemed to be some confusion surrounding the legalities of having a green light. The Gardaí confirmed to TheJournal.ie that rules pertaining to car lamps relate to front and back lights and not anything on top of the car, as long as it is not an attempt to imitate a siren or emergency vehicle of some sort. They will also not affect a taxi's suitability test.
#Open journalism No news is bad news Support The Journal

Your contributions will help us continue to deliver the stories that are important to you

Support us now
The lights are imported from the UK and sold at various locations across Dublin, including Rathmines and Walkinstown.
TheJournal.ie tried to put an order for one of the lights from a reputable garage and were not asked about our nationality or reason why we wanted the device. However, on a callback asking for a price and confirmation, the stockists became vague and evasive. This week, staff eventually told TheJournal.ie that they couldn't confirm a price until we put in the order.
The National Transport Authority, which is now responsible for the regulation of taxi services in Ireland, issued a statement to TheJournal.ie when asked about the alleged existence of green lights to say it "will not tolerate racism in any form nor from any source, driver or passenger".
"The Authority takes any incidences of discrimination extremely seriously and refers all such matters to the authorities with the power to investigate such complaints i.e. the Gardaí or Equality Authority," it continued.
In recognition of the multicultural society we are living in, a module on diversity and equality was included in the small public service vehicle driver skills development programme launched in 2009. All new entrants since May 2009 have had to sit this driver skills programme, which results in a certificate on successful completion of both the industry knowledge and area knowledge modules.
[Update]
The National Transport Authority issued an updated statement this afternoon to say it has not, to date, seen a prevalence of additional green taxi roof sign lights.
However, it can confirm that any such lights, regardless of the reason for their display, are contrary to rules relating to customising taxi roof signs and should therefore be removed.
The following slideshow shows the green light being used in Dublin in the past two months:
Green Light

Image: © TheJournal.ie

Green Light

Image: © TheJournal.ie

Green Light

Image: © TheJournal.ie