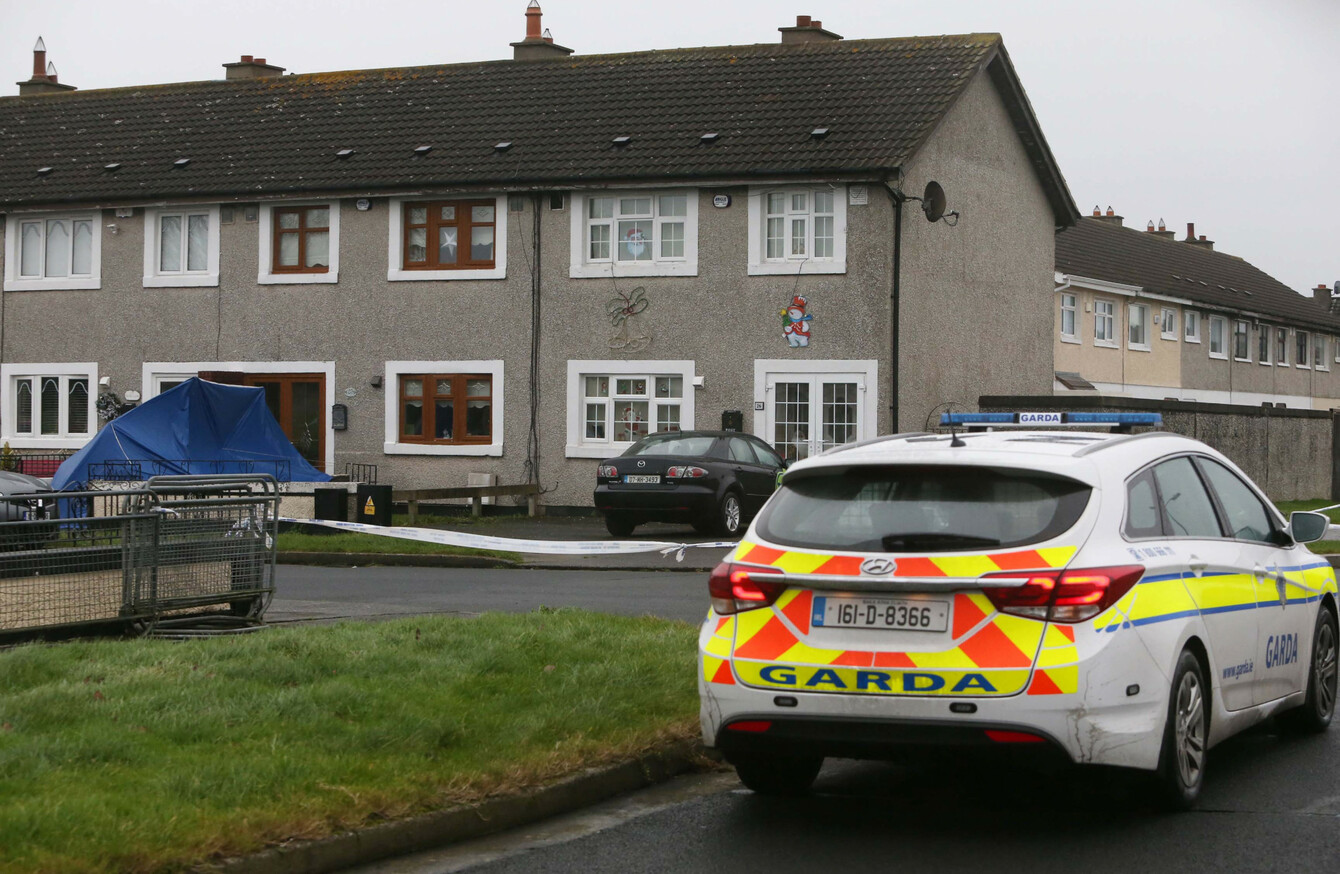 The scene following the shooting in December 2016.
Image: Sam Boal/Rollingnews.ie
The scene following the shooting in December 2016.
Image: Sam Boal/Rollingnews.ie
A PHONE ANALYST has described the workings of a tracking device which the prosecution claim was put under Noel 'Duck Egg' Kirwan's car weeks before he was shot dead outside his Dublin home.
The court also heard today that Kirwan suffered multiple gunshot wounds, including a shot to the face, during evidence from Deputy State Pathologist, Dr Linda Mulligan, today.
Kirwan (62) was sitting in his car at St Ronan's Drive, Clondalkin, Dublin 22 on 22 December 2016 when a gunman shot him six times with a Makarov handgun which was later recovered at the scene.
The deceased's partner, Bernadette Roe, was in the passenger seat of his Ford Mondeo at the time of the attack. They had just returned from a Christmas lunch in Crumlin with Ms Roe's daughter.
Jason Keating (27), of Lower Main Street, Rush, Co Dublin has pleaded not guilty to the murder of Mr Kirwan.
Sergeant Damien Gannon gave evidence yesterday that he found a 'Gotek 7′ electronic tracking device underneath Kirwan's car on 23 December. It was covered in black rubber and was attached to the undercarriage of the vehicle with two very strong magnets, he said.
James Kennedy, attached to the telecommunications section of An Garda Síochána, gave evidence today that his duties include examining mobile phone devices using software systems.
Kennedy told prosecution counsel Paul Greene SC that he was given the 'Gotek 7' tracking device from Sergeant Gannon on January 5, 2017. The device had a SIM card in it which came from Holland.
The witness explained to the court that tracking devices are normally "stuck under the chassis" of cars as they have very strong magnets.
Kennedy testified that he examined the device which is powered by an internal battery but he was unable to decode the information using his software tools. He was able to read the SIM card but there was no evidential information on it.
He had to get a "log-on" identification in the form of an "internet link", the court heard, in order to download the online movements of the tracking device.
The tracker uses a GPS positioning system to work out one's location, he said and it then uploads information to a web server. Notifications can be set on the 'user interface' to be alerted when the device is moving, he added.
Kennedy explained that the device can be managed remotely saying, "one can enable it, disable it and have three contact numbers saved on it so when the device moves that information is sent to those three mobile numbers".
The witness agreed with Greene that he did not retrieve any location data from the internal memory of the device.
Under cross-examination by Michael Bowman SC, defending, Kennedy agreed these devices can also be deployed on taxi fleets when they are leased out and are not just used for "nefarious" purposes.
The witness also agreed with Bowman that he did not "interrogate" the information as this task was passed onto someone else.
In his opening address, Greene told the three-judge court that the murder of Kirwan arose from a "notorious feud" between two criminal factions but the deceased had no connection with either side.
Multiple gunshot wounds
Dr Mulligan told prosecuting counsel Paul Greene SC that she carried out a post-mortem examination on Kirwan's body on the morning of December 23 at Tallaght Hospital.
Dr Mulligan agreed with Greene that the deceased was shot six times and she identified eight gunshot wounds to his body. Signs of attempts to resuscitate him were present and five intact bullets were recovered at the post-mortem, she said.
#Open journalism No news is bad news Support The Journal

Your contributions will help us continue to deliver the stories that are important to you

Support us now
The court heard there was evidence of bullet holes on his wax jacket, jumper and polo shirt which all had extensive blood-staining.
In her evidence, Dr Mulligan said Kirwan was shot six times, once in the right of the face below his eye, once in the right shoulder and anterior chest, once in the anterior abdomen, two shots in the right arm and once in the right side of his body.
The fatal gunshot wound, which entered his chest via his shoulder, caused extensive damage to the main blood vessel in his body. The amount of blood loss would have led to death, she said.
The first gunshot, which entered the right of Kirwan's face 4cm below his right eye, would have led to difficulty breathing and expedited death, the court heard.
Dr Mulligan also explained that an abrasion to the right side of his face was consistent with shattered glass from the driver's window of his car.
Dr Mulligan noted that his stomach contained recently digested food namely red meat, vegetables and potatoes. There was no evidence of alcohol or drugs, she commented.
There was significant heart disease present in Kirwan but this was not a contributory cause to his death, she said.
In conclusion, she gave his cause of death as multiple gunshot wounds.
The trial continues tomorrow before Mr Justice Tony Hunt, presiding, sitting with Judge Sinead Ni Chualachain and Judge Cormac Dunne.