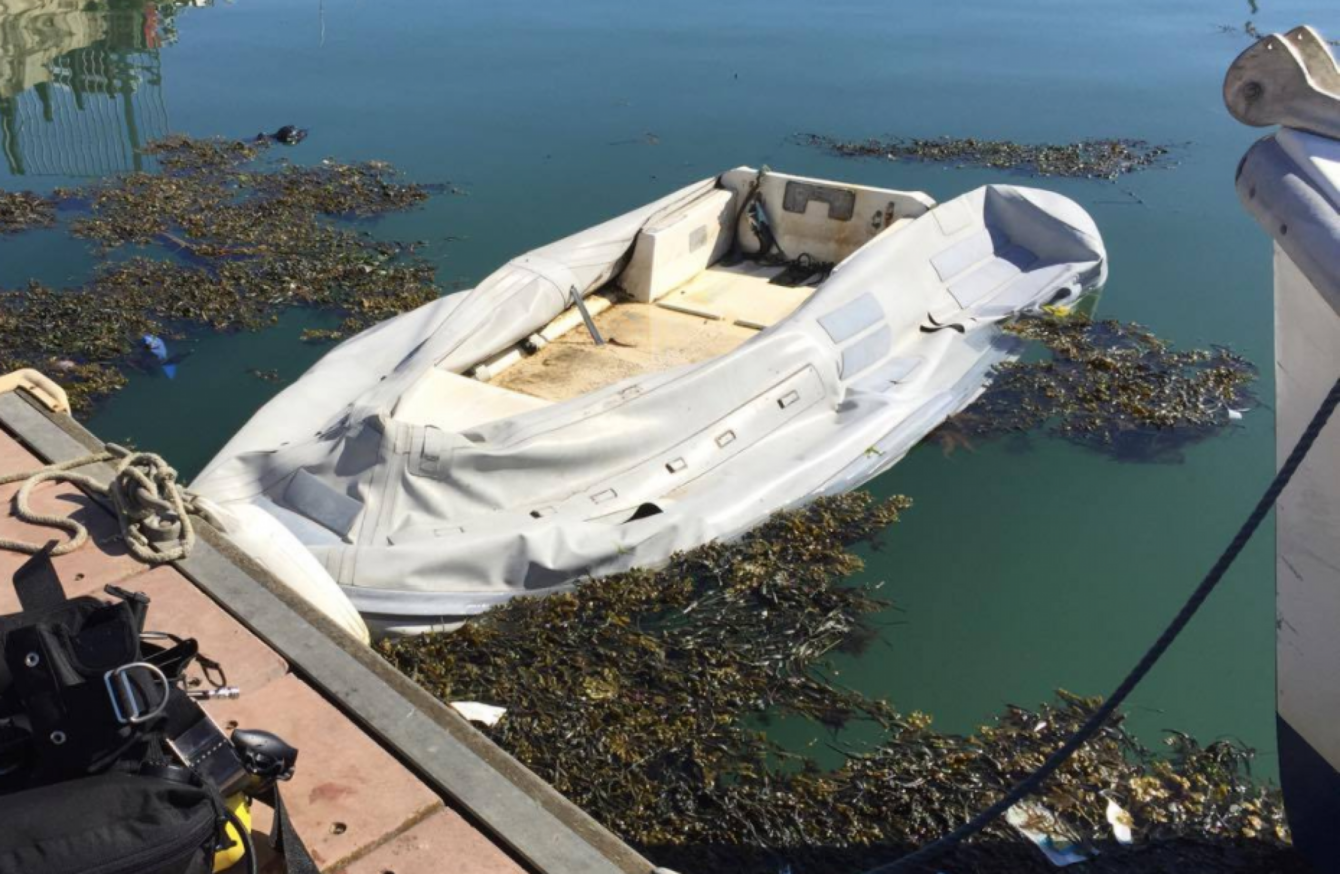 The boat was slashed so much it's been destroyed.
Image: Kyron O'Gorman
The boat was slashed so much it's been destroyed.
Image: Kyron O'Gorman
A VOLUNTEER-LED sailing club for children in Dublin is among those counting the cost after its training boat was destroyed and its engine stolen by vandals.
The theft and damage were discovered in Dún Laoghaire harbour yesterday morning with fuel cans, paddles and other debris strewn in the water.
In total, three small boats had their engines stolen while other boats were also damaged.
Kyron O'Gorman of the Irish Youth Sailing Club says the boat they use to train young children has been completely destroyed.
"The engine is gone off it. Anything that has been in it was thrown off it," he says.
There was a fuel tank thrown in the sea and the tubes that would make up the boat have been slashed, and slashed and slashed.
Another youth-orientated club on the west pier, the Dún Laoghaire Sea Scouts, also had their engine stolen with a third engine stolen from a yacht in the inner harbour.
The Curragh Sub Aqua Club was in the harbour on Sunday and conducted a number of searches for the engines but they were not found.
O'Gorman explains that it's difficult to put a figure on the amount of damage done but that replacing the boat and engine as new could run to at least €7,000.
There would have been equipment on boats like paddles belonging to scouts that the fishing trawler picked up. Unfortunately some things wouldn't float. So just out of pure badness they were throwing everything overboard that they came across like paddles, oars boat hooks, petrol cans. They were just throwing everything away.
O'Gorman adds that theft and vandalism have been on the increase in the area lately and that gardaí are doing their best to tackle it.
"It's gone sterile in the West Pier. There's a car park at the back of the pier people can't actually park in. There's victims every Sunday morning. The gardaí have been brilliant. They're doing all they can do but their hands are tied."